Yu Hong from Jilin Force-fed with Alcohol, Mustard Oil, and Horseradish
July 04, 2013 | By a Minghui correspondent from Jilin Province, China
Name: Yu Hong(于洪)
Gender: Male
Age: About 40
Address: Jilin City, Jilin Province
Date of Most Recent Arrest: August 9, 2012
Most Recent Place of Detention: Chaoyanggou Forced Labor Camp(朝阳沟劳教所)
City: Changchun
Province: Jilin
Persecution Suffered: Detention, home ransacking, damaging force-feeding, torture, forced labor
(Minghui.org) In August 2012, Falun Gong practitioner Mr. Yu Hong was arrested by officers from the Henan Police Station in Jilin and brutally tortured. Several strong stimulants were mixed together and poured into his nose. He nearly suffocated.
When Mr. Yu went to work on the morning of August 9, 2012, four plainclothes officers picked him up and took to the Henan Police Station. They seized his E-book, cell phone, 1,400 yuan cash, and house keys. They used the keys to break into his home and arrested his wife, Li Xintong. They ransacked the place, confiscating Falun Gong journals, books, cash, laptops, MP3, MP5, flash drives, and cell phones.
At the station, the police removed Mr. Yu's pants and shoes. They interrogated him, demanding to know where he obtained the Falun Gong materials. He refused to give any information. Two more policemen came in. One of them, Yang Hao, warned Mr. Yu that they would move him to another location and things would "get serious," if he refused to answer their questions.
Mr. Yu was then taken to a room on the fourth floor, and he was handcuffed to an iron chair. They brought out alcohol, mustard oil, horseradish, sesame oil, and salt, and mixed them all together. They covered his mouth and poured half a bottle, about 8 ounces, up his nose.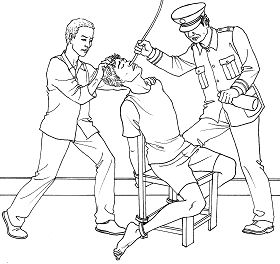 Torture reenactment: Damaging force feeding
The pain was intense, and he felt as if he was suffocating. Later they took lit cigarettes and inserted those into his nose, too. They put his feet in a basin with salt and threatened to pull his toenails out.
Another man came in to interrogate him further but still did not get any answers. They sent Mr. Yu to Jilin Detention Center at around 8 p.m.
On August 27, 2012, he was taken to Chaoyanggou Forced Labor Camp in Changchun.
Contact information:
Gao Xin, director of Henan Police Station in Jilin: 86-13944278900(Cell)
Ye Hailong, deputy director: 86-13904401528(Cell)
Yang Hao, Qingfeng Community police officer: 86-13844247111(Cell)