Practitioners Introduce Falun Gong at Toronto Dragon Boat Festival (Photos)
July 04, 2013 | By Zhang Yun, a Minghui correspondent in Toronto, Canada
(Minghui.org) Falun Gong practitioners in Toronto along with young practitioners from the Toronto Minghui School introduced Falun Gong during the 25 th Toronto International Dragon Boat Race Festival. The event was held on Toronto Centre Island from June 22-23. Their activities provided a great opportunity for many people to learn about Falun Gong and the persecution in China.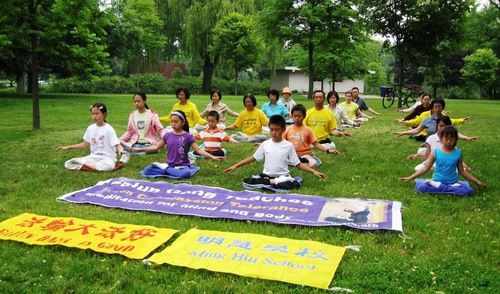 Minghui School children and parents in group meditation
More than 160 dragon boat teams from local communities, around the nation and other countries participated in the race, and 100,000 people attended the festivities.
Minghui School students and parents demonstrated Falun Gong exercises, and distributed introductory materials and paper lotuses near the ferry terminal. Many people showed great support to practitioners, signing a petition which called for an end to the persecution of Falun Gong in China. Some Chinese decided to quit the Chinese Communist Party and its affiliated organizations upon hearing facts of the persecution.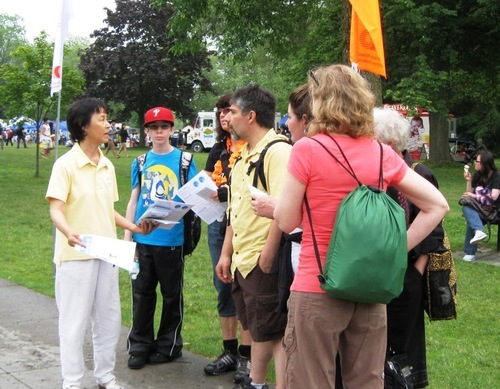 A practitioner (far left) speaking about Falun Gong
Locals learn about the practice
A lady named Amy watched the young practitioners' exercises with great interest. She took pictures and commented that it's such a great practice. She would certainly tell more people about it. She felt upset upon hearing about the persecution of Falun Gong in China and live organ harvesting and said she would find out more about it online and help stop the persecution.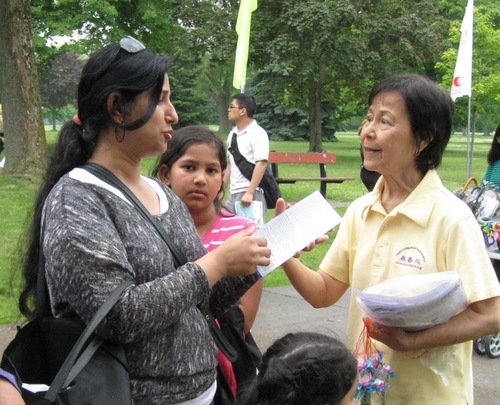 Hina (left) admires and supports Falun Gong
Hina brought her whole family from Brampton, a town west of Toronto. They watched the young practitioners do the exercises, and Hina's children happily copied the exercise movements. They were excited to receive paper lotuses. Hina said she knew about Falun Gong. She had read a lot about it and heard about the persecution as well. She said she admired and supported Falun Gong practitioners. She wished the practitioners good luck and success, and thanked them.
Ms. Wang shares her family's story of persecution
Ms. Wang came from Shenyang, China. Her mother, sister and brother-in-law are practitioners in China. She told Toronto practitioners tearfully, about the terrible persecution her family had experienced: "My family has been imprisoned five times - my mother twice, my sister twice and my brother-in-law once. I rescued them one by one. As soon as one was released, another was arrested. This has been going on for the past five years. It's such a terrible experience! I can't stand to think about it. The Communist Party is extremely evil! I truly believe the accusations that they've conducted live organ harvesting from Falun Gong practitioners! My mother is in her seventies and was in glowing health before she was imprisoned. By the time she was released, she looked pale, old and emaciated. My heart broke when I saw her."
It started raining, so practitioners shared their umbrella with Ms. Wang. She said, "I really admire Falun Gong. You have been working persistently the past dozen of years, rain or shine. Only Falun Gong practitioners can do it so well. It's time for the persecution to end. The world is better with such a group of great people!"
Learning the exercises at the festival
Maggie and Rosa are from Toronto and wanted to know where they could learn how to practice Falun Gong in the city. They got some information from practitioners and started learning the exercises. Maggie said in excitement that she'd finally found what she had been looking for. She and her husband had been looking for a traditional Chinese practice. She said they were lucky to find it at the dragon boat festival.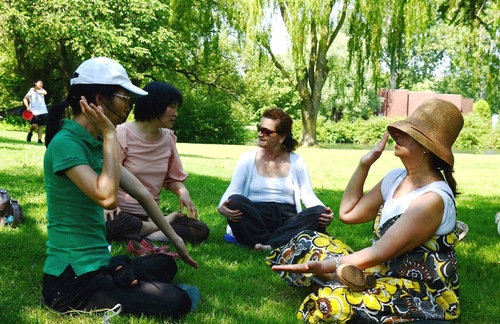 Maggie (middle) and Rosa (right) learning Falun Gong exercises from practitioners
Chinese have lost hope in the Communist Party
A young Chinese couple watched the student practitioners' exercises for a long time. They were happy for the children because they enjoyed the freedom of openly practicing Falun Gong. They knew how serious the persecution was in China. Practitioners explained the significance of quitting the Communist Party and its affiliated organizations, and the couple immediately withdrew from the Youth League and Young Pioneers.
Mr. Xia from China was amazed watching the young practitioners, and said, "Some of my friends practice Falun Gong. I read the Epoch Times often. There are so many signs showing the imminent collapse of the Chinese government. The Party is doomed. Many Chinese would leave the country if they were able to. I feel very sad that my fellow countrymen were forced to leave their motherland. They lost hope in the Party."