New Zealand: Practitioners Hold Candlelight Vigil in Front of Chinese Embassy in Auckland (Photos)
July 24, 2013 | By a practitioner in Auckland, New Zealand
(Minghui.org) On July 19, 2013, practitioners in New Zealand held a candlelight vigil in front of the Chinese Embassy in Auckland. They commemorated fellow practitioners who were tortured to death by the Chinese Communist Party (CCP) and called for an end to the regime's 14-year-long brutal persecution against Falun Gong.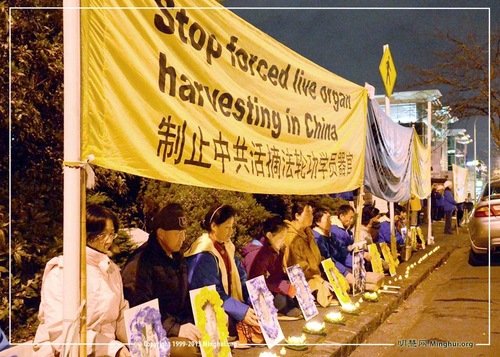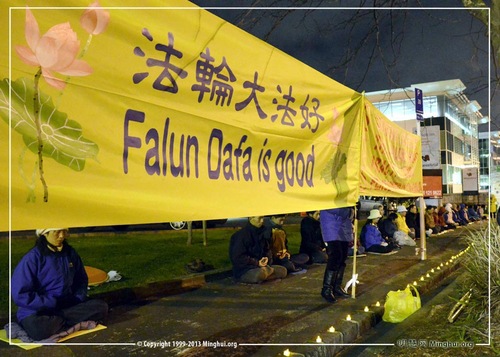 Practitioners hold candlelight vigil to protest CCP's persecution of Falun Gong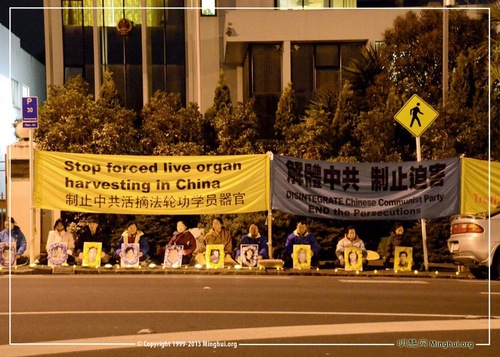 Some practitioners held photos of fellow practitioners who were tortured to death, while others did the five Dafa exercises. The line of practitioners stretched over 100 yards long and drew the attention of passersby. Many people who were driving past beeped their horns to express their admiration and support.
Falun Gong, also known as Falun Dafa, is a high-level cultivation practice of the Buddhist school. The practice, which is guided by the principle of Truthfulness-Compassion-Forbearance, was first introduced in China by Mr. Li Hongzhi in 1992. Since then, it has spread to over 100 countries worldwide, with many people reporting improved health, new-found energy, mental clarity, stress relief, and peace of mind.