Capitol Hill Forum Exposes China's Forced Organ Harvesting
July 23, 2013 | By a practitioner in Washington D.C.
(Minghui.org) On July 20, 2013, Friends of Falun Gong, in collaboration with Doctors Against Forced Organ Harvesting (DAFOH), sponsored a human rights forum at the Rayburn House Office Building on Capitol Hill, in Washington, D.C. The forum was titled: "Forced organ harvesting in China and its effect on the U.S."
A startling comparison was made concerning wait times for organs in the United States versus wait times in China. "In the U.S., the average waiting time for a kidney transplantation is three to five years, while in China it is less than one month," explained Dr. Mai He, one of the forum's guest speakers and assistant professor of the Alpert Medical School at Brown University.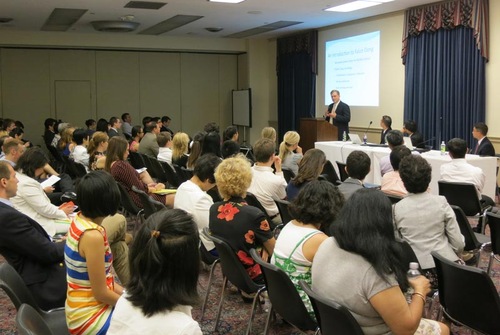 Forced organ harvesting forum held at Rayburn House Office Building on Capitol Hill
Also participating in the forum was Jianchao Xu, a medical doctor at the James J. Peters Veteran Medical Center and assistant professor at Mount Sinai Hospital, New York; and Levi Browde, director of the Falun Dafa Information Center. The forum was hosted by Dr. Damon Noto, spokesman for DAFOH.
Organs on Demand?
"Actually, in China the number of voluntary organ donation is very small," said Dr. He. "To date, there is no organized or effective organ donation and allocation system in China. Then from whom are the organs coming from?"
Dr. Franz Immer, chair of the Swiss National Foundation for organ donation and transplantation, noted, "During my visit in Beijing in 2007, a hospital invited us to watch a heart transplantation operation. The organizer asked us whether we would like to have the transplantation operation in the morning or in the afternoon. This means that the donor would die, or be killed, at a given time, at the convenience of the visitors. I refused to participate!"
"In 2005, I was approached one day by a patient of mine with an unusual message," said Professor Jacob Lavee, M.D., director of the Heart Transplantation Unit at the Sheba Medical Center, Tel Hashomer, Israel. "This patient … was told by his medical insurance company to go to China in two weeks' time, as he was scheduled to undergo heart transplantation surgery on a specific date.
"The patient, indeed, went to China and underwent the operation on the exact date that he was previously promised. This indicates that there was a live organ donor waiting for the patient and the donor was killed during the organ transplantation!"
Falun Gong Detainees Are the Major Source of China's Organs for Transplantation
Dr. He pointed out that "former Vice Minister of Health, Huang Jiefu, said the majority of China's organs for transplantation came from death row inmates. But the sudden rise in China's organ transplantations in the beginning of this century, is far greater than the number of executed prisoners."
Referring to tables and graphs, he pointed out that the sudden rise in organ transplantations coincided with the persecution of Falun Gong. In a phone interview in 2006, 17 hospitals admitted to using "fresh" organs from Falun Gong practitioners.
Dr. He said that an independent investigation conducted by renowned human rights lawyer David Matas, and former Secretary of State David Kilgour, revealed that about 41,500 more transplants were performed from 2000 to 2005 than in the previous six years—the only explanation being that they were sourced from Falun Gong practitioners.
Another independent investigation by China expert and investigative journalist, Ethan Gutmann, estimated that 65,000 Falun Gong practitioners had been killed for their organs from 2000 to 2008.
Levi Browde gave a brief introduction about Falun Gong and why the Chinese Communist Party (CCP) has been persecuting this peaceful cultivation practice. He pointed out that a large number of Falun Gong practitioners who were arrested after appealing for justice did not give their names, because of the CCP's implication policy in which family members, colleagues, and friends are severely persecuted as well. A large body of "nameless" prisoners, coupled with a virulent policy of defamation and genocide, created a situation ripe for organ harvesting abuse.
Medical Community and Governments Taking Action
Dr. He said that the CCP's organ harvesting from executed prisoners violates both the ethical and moral standards of the international medical community. He noted that large-scale organ harvesting from living Falun Gong detainees is unacceptable and constitutes a crime against humanity. He feels that the only way to stop this criminal behavior is for the international community to become actively involved.
Dr. Xu talked about how the international medical community is responding to this news of live organ harvesting and noted that major medical journals are now rejecting organ transplantation manuscripts from China if the organs used were from executed prisoners.
He also gave examples of how some countries are taking a proactive stance to stamp out illegal organ harvesting. The Israeli government passed the Organ Transplantation Law to restrict Israelis from participating in illegal organ transplantation in other countries. As a result, the number of organ transplantation tourists was reduced from 155 in 2006 to 26 in 2011, and domestic, voluntary organ donation increased by 68% from 2010 to 2011. Malaysia has also enacted similar laws, resulting in a drop, from 140 patients going to China for organ transplantation in 2004, to 40 in 2011.
Dr. Xu pointed out that the U.S. Congress conducted two hearings in 2006 and 2012 on live organ harvesting in China. Since 2011, the U.S. Department of State has added a question to the DS-160 Visa Application Form: "Have you ever been directly involved in coercive transplantation of human organs and bodily tissue?" The department's 2011 Human Rights Report also included allegations of live organ harvesting of Falun Gong practitioners and other prisoners of conscience in China.
Dr. Xu noted that on October 28, 2012, the Congressional-Executive Commission on China (CECC) conducted a hearing on Falun Gong. Chris Smith, Chairman of the CECC, said that he was paying close attention to the issue of live organ harvesting in China. He called on American organ transplantation candidates not to go abroad to participate in illegal organ transplantation and for insurance companies to restrict medical insurance to patients accepting organs from unknown sources.
On June 27, members of both parties in the U.S. Congress jointly initiated House Resolution 281. The resolution calls on China to immediately stop forced organ harvesting of Falun Gong and other prisoners of conscience, and to end its 14-year-long persecution of Falun Gong.