Lille, France: Divine Land Marching Band Performs to Raise Awareness about Falun Gong (Photos)
July 16, 2013 | By Rong Fa
(Minghui.org) On June 29, 2013, the European Divine Land Marching Band held a truth clarifying event in the city of Lille, France. They introduced Falun Dafa to the public and exposed the Chinese Communist Party's (CCP) persecution of Falun Gong in China.
Lille, which is located in northern France, is the fourth largest metropolitan area in the country and a major financial, cultural and educational center.
Shortly after the practitioners set up their booth, people started lining up to sign a petition condemning the Party's crimes against humanity. Many people expressed an interest in learning Falun Gong and left their contact details.
Many spectators sincerely thanked the band for raising awareness of the plight of Falun Gong in China and for their upbeat music. "Your group is really great and very courageous," wrote one young man on the petition form. "Although I don't know you people personally, I do know that you all have great values!"
Crowds Gather to Learn More about Falun Gong
Dressed in blue and white uniforms, the Divine Land Marching Band played a series of Dafa songs for the growing crowds of spectators.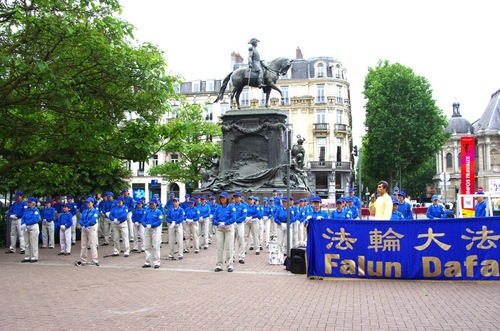 Practitioners demonstrate the exercises in Lille city's Richebe Square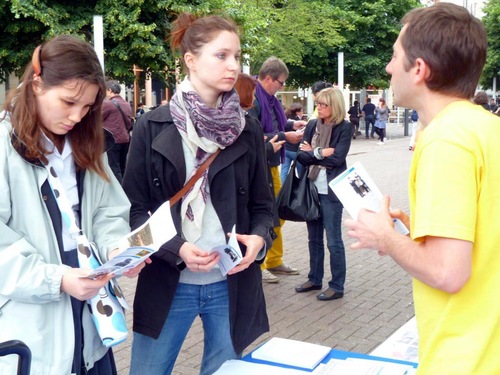 People listen to the facts about Falun Dafa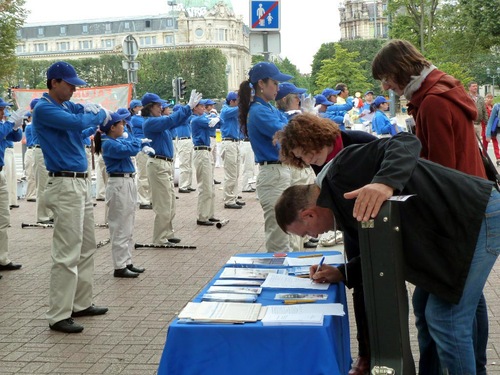 Passersby sign a petition condemning the CCP's persecution of Falun Gong
Following the performance, the band members demonstrated the gentle Falun Gong exercises with one practitioner introducing each of the five sets of movements to the spectators. The practitioner also spoke about the Chinese regime's persecution of Falun Gong in China and its practice of harvesting organs from living Falun Gong practitioners.
Many passersby stopped to watch and showed an interest in learning more about Falun Gong. People were very enthusiastic about signing the petition condemning the CCP's persecution of Falun Gong.
After the exercise demonstration, the band set up on Place Charles de Gaulle (translated as "Square of the Star"), a large, public square in Paris. Within a short time, hundreds of people gathered around to listen to them perform.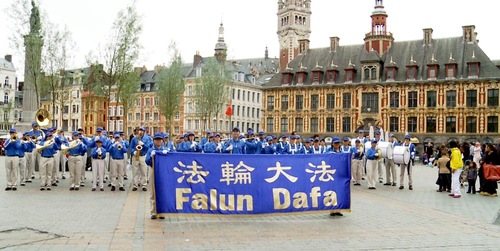 The Band performs on Place Charles de Gaulle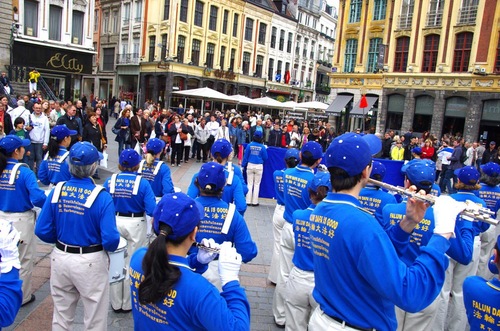 Spectators take in the performance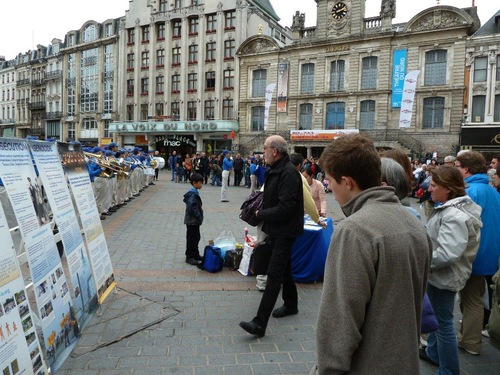 People learn the facts about Falun Gong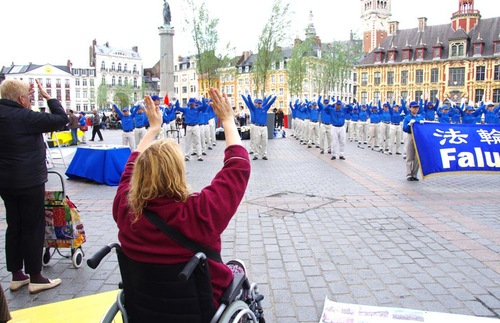 Passersby follow the Falun Dafa exercise movements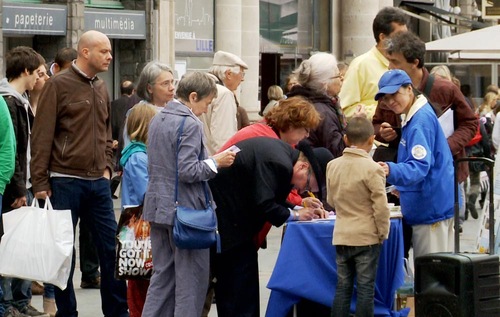 People wait to sign the petition condemning the CCP's practice of organ harvesting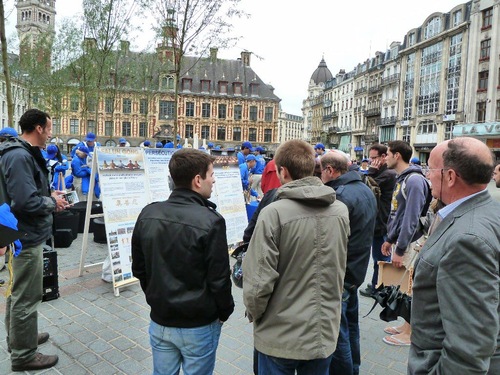 Passersby are visibly shocked by the Chinese regime's treatment of Falun Gong
Next to the band, practitioners set up two tables with petition forms and Dafa-related fliers and brochures on them. Several large banners and informational boards were also on display, exposing the persecution of Falun Gong over the past 10 years.
No One Wants to Be Unwitting Accomplices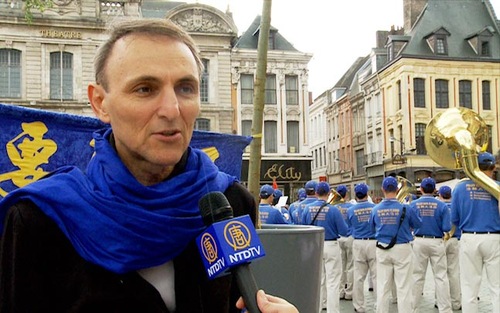 Joel Bilan, a project coordinator for a finance company
Joel Bilan, who works as a project coordinator for a finance company, was shocked to find out that the Chinese regime not only condones the removal of organs from living Falun Gong practitioners, but actively participates in the illegal practice.
"Today, I have learned what is happening in China," Mr. Bilan wrote next to his signature on the petition form. "I am shocked that the Chinese Party is involved in illegal organ harvesting and torturing people! We need to know where our government stands on this most important matter because no one wants to be unwitting accomplices in the CCP's crimes."
Organ Harvesting Is Unacceptable and Evil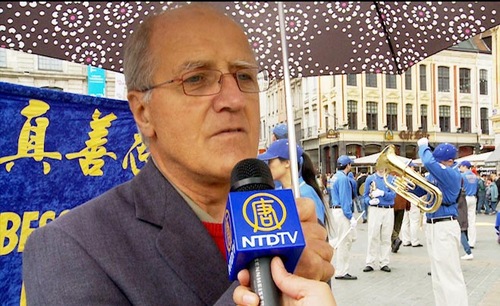 Julian Kirghizistan, a retiree
"Removing organs from living, breathing people for the sake of profit, goes against the rules of nature. It is totally unacceptable and evil!" said Julian, a retiree. We as a country, must commit to a long-term goal of freeing the people of China from the Party's despotic rule. Only in this way will China grow into a normal society and experience peace.
"Now, people in China live in fear. People should not fear their own government. China's rulers will be punished for what they have done. This is certain.
"Something must be done, not only in France, but in every country in the world. Only by standing up to violence and putting human welfare first, will mankind find happiness."
No One Should Buy Organs from China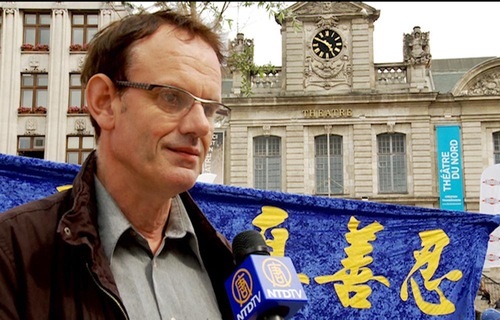 "This persecution of innocent Falun Gong practitioners is a very important human rights issue," explained Benoît, a medical worker.
"I don't understand why the Chinese regime persecutes Falun Gong, as any form of persecution is wrong. I think this must be stopped as soon as possible. There is no reason to persecute this peaceful movement [Falun Gong]."
Responding to the CCP practice of harvesting organs from living Falun Gong practitioners, Benoît said, "This is horrible! I do not understand why they're doing this. Such actions denote a society in decay. People should not buy organs from China, lest they become accomplices in the crime of organ harvesting."
Justice Will Prevail
"People believe in Falun Gong," said Li Ran, a Chinese teacher in France, "and as such, no individual, group, or government has the right to ban such a practice.
"People should be allowed to have their own spiritual beliefs. However, that simple logic runs counter to the atheistic education that the CCP has been force-feeding Chinese people since grade school.
"The more worried the regime becomes about losing its power, the more police it employs to suppress ordinary citizens. Actually, the Party has repeatedly referred to itself as a 'cult.'"
"I hope that all of those who have participated in organ harvesting will be brought to justice."
During the four-hour event, groups of students from mainland China came over to take photos of the practitioners. Some were very surprised to see so many Falun Gong practitioners gathered in one place. One student even shouted "Falun Dafa!"
The practitioners told the students why it was important for mainland Chinese to quit the Party and its affiliated organizations, then said, "Please remember 'Falun Dafa is good,' and 'Truthfulness, Compassion, and Tolerance is good.'"
Many students nodded in agreement and accepted the practitioners' informational materials including the Nine Commentaries on the Communist Party. A lot of students said that they will try to find out more about Falun Gong when they returned to China.
A Thoughtful Email
Ms. Chen, a local practitioner, received an email from Benoît, a medical worker who had visited the practitioners' booth earlier in the day. "Thank you for organizing this event in Lille," he wrote. "Your group has won the battle against an evil persecution, which has been unjustly thrust upon you.
"The different facets of the persecution that you highlighted during the event today, makes me very sad. I like the Chinese people, their culture, and their 5,000-year history which promotes wisdom, tolerance, and respect!"