Canada: Falun Dafa Entry Makes Its Mark in the Calgary Stampede Parade
(Minghui.org) The Calgary Stampede is an annual rodeo, exhibition, and festival that draws over one million visitors each July.
On July 5, Falun Dafa practitioners participated in the opening ceremony of this 10-day event featuring the second largest parade in the world. With 350,000 spectators lining the streets, another 2 million TV viewers in Canada, and millions more in other countries, the parade is eagerly anticipated each year by Stampede fans around the world.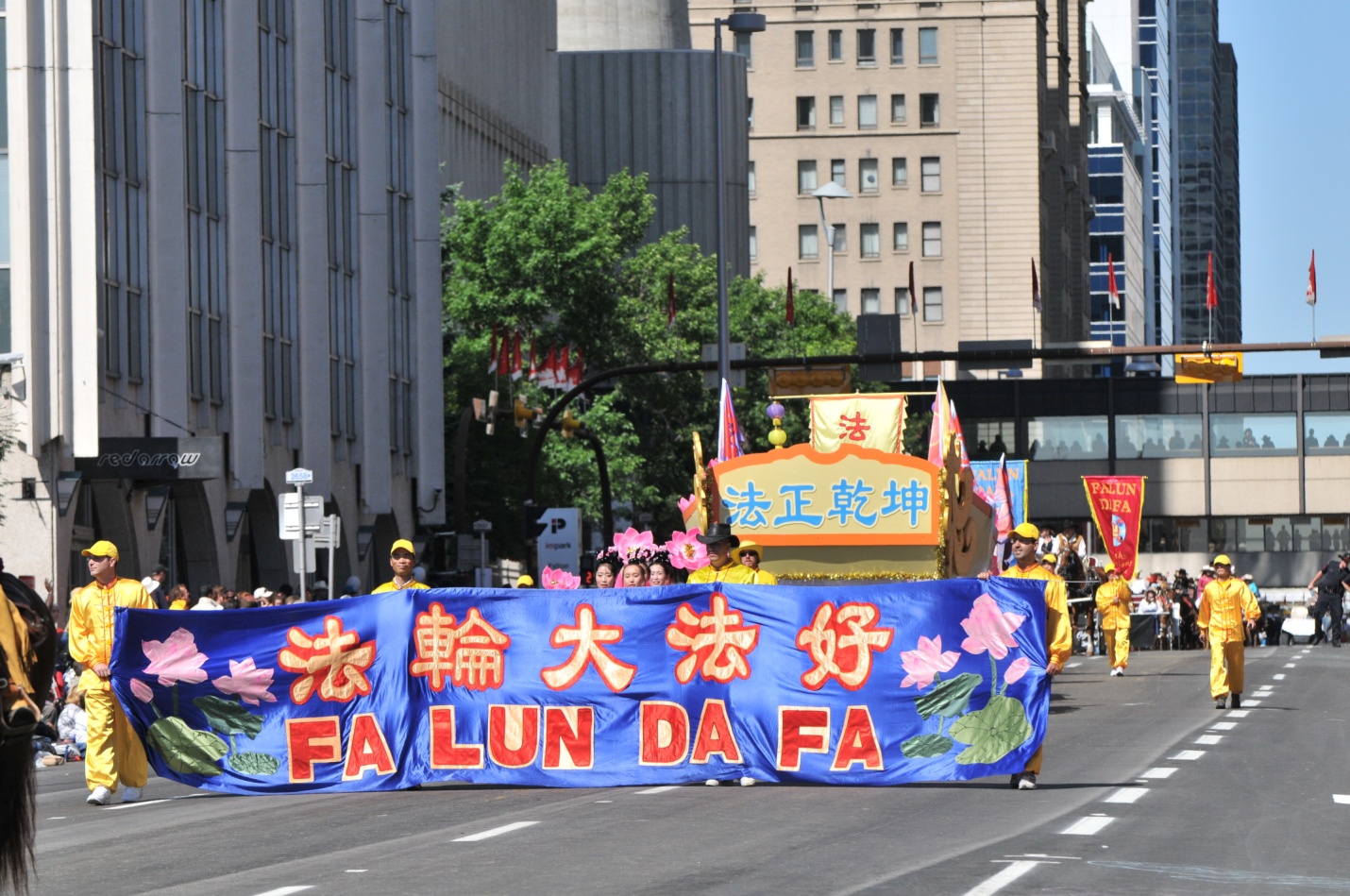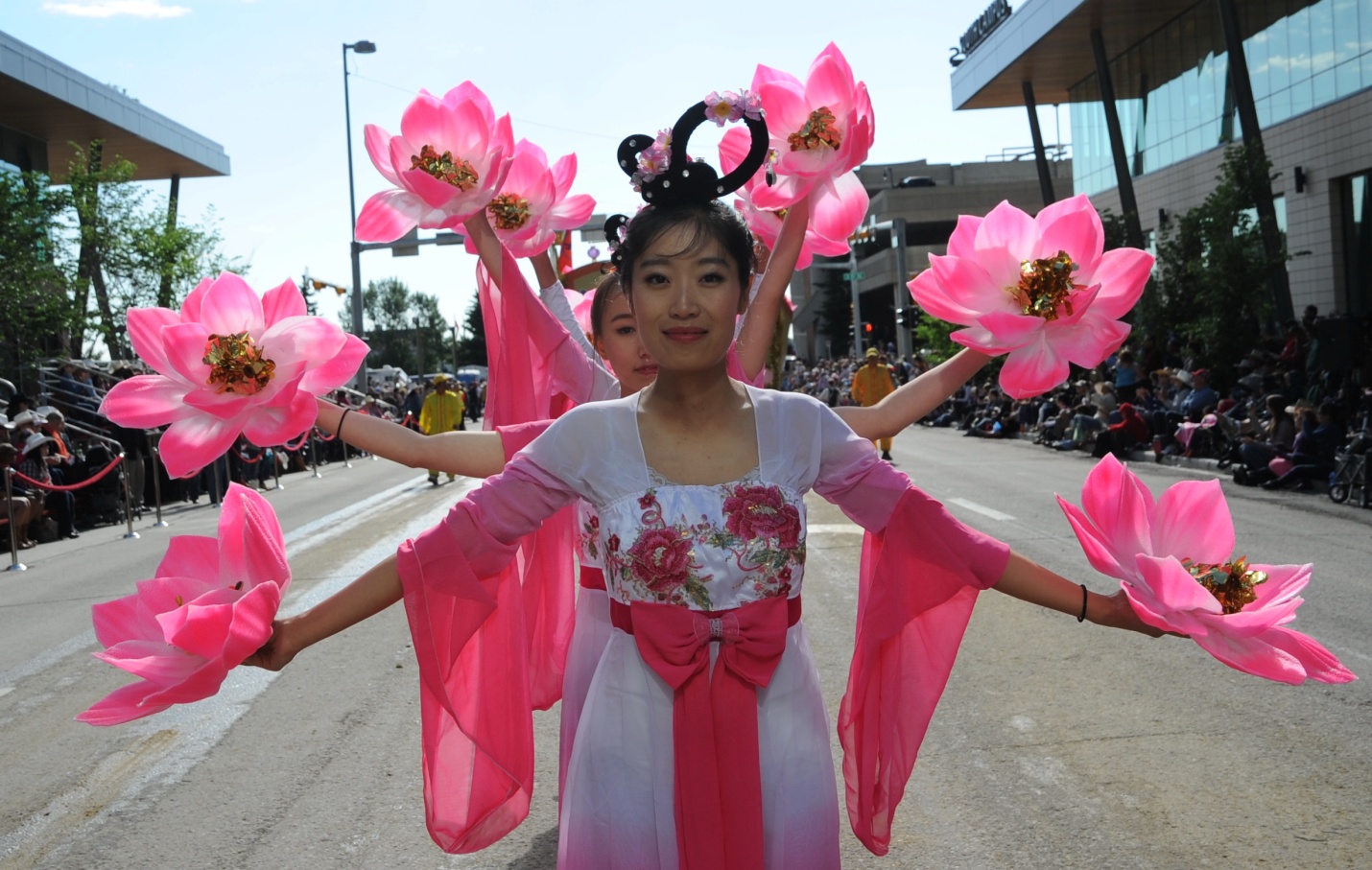 The Divine Land Marching Band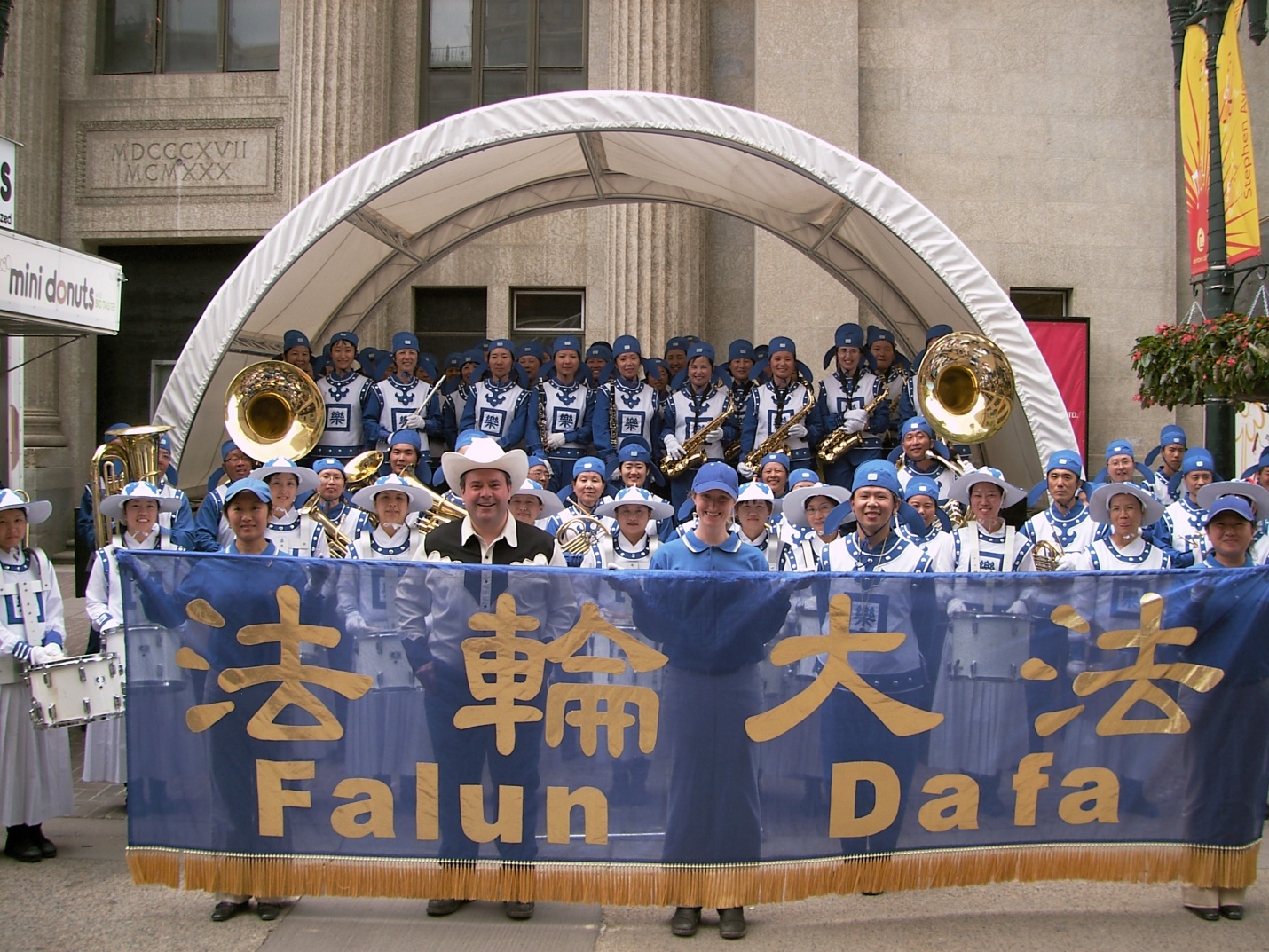 Jason Kenney, Canada's Minister of Citizenship, Immigration
and Multiculturalism, with Divine Land Marching Band.
This year's Falun Dafa procession included a colorful float and the Divine Land Marching Band. The float was a large boat, on which practitioners demonstrated the exercises and performed Chinese dance dressed as "celestial maidens." Then came the Divine Land Marching Band, 100 musicians strong.
During the live TV broadcast, a reporter from the Canadian Broadcasting Corporation marveled at the Falun Dafa float and traditional Chinese dance. He kept saying, "It is so beautiful. The costumes are beautiful, the lotus flowers are beautiful, and the float is beautiful, too."
He also praised the Divine Land Marching Band, saying it was a unique band that contributed a fresh cultural component to the Cowboy Stampede. He commented that the Falun Dafa practitioners' contribution was significant not only to Calgary, but also to Canada as well as the whole of Western culture.
Many Chinese spectators who did not realize Falun Dafa was so well-received outside of China were surprised to see the Falun Dafa contingent. Ms. Zuo from Hunan, China, said to practitioners, "When your float passed by, the music touched me deeply. Tears came to my eyes." Another lady from Xi'an, China, enthused, "Falun Dafa is so beautiful! This totally changed my mind about Falun Dafa."
Mr. Kang, who just moved to Calgary six months ago, said, "I've never seen an actual celestial maiden, but I believe that the celestial maidens on the Falun Dafa float are the real thing. Their smiles are so pure, and their dances are so elegant. That is how I picture celestial maidens."
Seventy-year-old Ms. Zhang came with her friend, Ms. Yang. She told a young Chinese couple, "I've come to see this parade every year since 2008. The Falun Dafa entry is the best. They bring profound Chinese culture to the Western society. I like them a lot."
After the parade, the Divine Land Marching Band performed downtown. They ran into Hon. Jason Kenney, the Canadian Minister of Citizenship, Immigration and Multiculturalism. Hon. Mr. Kenney told the practitioners that he stopped by to express his support for Falun Gong. He said the Divine Land Marching Band did an excellent job and should receive a top award. Before he left, he shouted, "Falun Dafa is good!"