France: Falun Gong Practitioners Participate in the International Parade in Calais (Photos)
(Minghui.org) The European Divine Land Marching Band, which is made up of Falun Gong practitioners from several European countries, performed at the International Parade held in Calais, an important port in northern France, on June 30.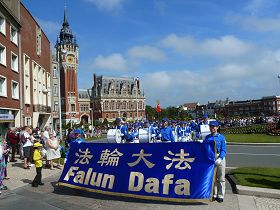 The Divine Land Marching Band in the parade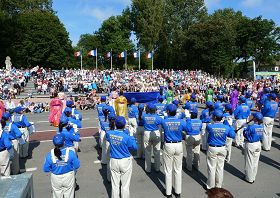 Performing in front of the stage
24 groups from all over Europe participated in the parade, which set off from the Place Crevecoeur. Many of the spectators had never seen a Chinese marching band before. The Divine Land Marching Band was the final entry. During the parade, practitioners also performed traditional Chinese dances. Many spectators accepted the Falun Gong flyers.
A dozen photographers followed the band from the beginning of the parade to the end and took photos of the musicians from different angles.
At the end of the parade, the organizers had set up a stage with 500 seats in the audience at Place Armes. The host introduced each group. Practitioners played "Falun Dafa Is Good" and performed a celestial maiden dance.
After their performance, the band played as they marched away, all the way to Bassin Ouest on the beach. Among those that followed were a couple, tourists from Paris. The husband, a musician, said to the practitioners, "Do you know that you were the only group that the host praised? He kept saying good things about you. You did very well." When they learned that there were exercise sites in Paris, they expressed an interest in learning them.