Shenyang Police Hammer Bamboo Sticks under Ms. Fu Hui's Fingernails
July 11, 2013 | By a Minghui correspondent in Liaoning Pro, China
(Minghui.org)
Summary of Key Persecution Facts:
Name: Fu Hui (付?)
Gender: Female
Age: 43
Address: Harbin, Heilongjiang Province
Date of Most Recent Arrest: March 21, 2013
Most Recent Place of Detention: Shenyang No. 1 Detention Center (沈?第一看守所)
City: Shenyang
Province: Liaoning
Persecution Suffered: Electric shock, torture, interrogation, detention
Ms. Fu Hui is a 43-year-old Falun Gong practitioner from Harbin City, Heilongjiang Province. She faced a brutal two-day interrogation after she was arrested in Shenyang City, Liaoning Province on March 21, 2013 for informing people about the persecution of Falun Gong. The police tortured her with electric batons and hammered bamboo sticks under her fingernails during the interrogation. Police were attempting to obtain intelligence on Falun Gong practitioners who work together on producing and handing out materials containing information about Falun Gong. In doing so, the police officers involved violated multiple articles in China's Constitution, including the freedom of spiritual belief, speech, assembly and press.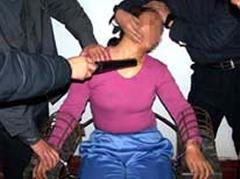 Torture Reenactment: Using electric batons on a victim tied to a metal chair
Ms. Fu started practicing Falun Gong in 1997 when she was very ill. She became perfectly healthy and more cheerful and optimistic because of Falun Gong. After the Chinese Communist regime announced its unlawful ban on the practice of Falun Gong on July 20, 1999, its state-run media started running false propaganda about Falun Gong around the clock to justify the ban and to incite public resentment towards Falun Gong. Ms. Fu decided to exercise her constitutional right and appealed to the State Appeals Office in Beijing for Falun Gong in 2000. She ended up being arrested and spent 12 months in detention.
She was arrested again in Harbin City, Heilongjiang Province in March 2009 for informing people about Falun Gong, despite Article 35 of China's Constitution warrants its citizens the freedom of speech. She spent the next two years in Qianjin Forced Labor Camp where she faced insult, abuse and torture, including being forced to stand in the snow.
Ms. Fu was last arrested on March 21, 2013 at Shenyang Train Station by officers from Dadong Police Department in Shenyang City. She was kept in Shenyang No. 1 Detention Center where the police interrogated her with violence and torture as adjunct. After she passed out, the police woke her up by pouring cold water over her body and continued the torture. Her health condition is alarming as she is unable to speak or walk without help.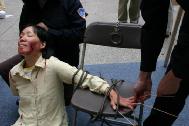 Torture Reenactment: hammering bamboo sticks under the fingernails
Ms. Fu's parents had traveled from Harbin to Shenyang to see her, but the police denied their request and threatened to have the arrest of Ms. Fu be approved to extend her detention.

Dadong Police Department:
Address: Dabeiguan Street, Dadong District, Shenyang City, Liaoning Province
Telephone: 024-88503258 24830645
Police Chief: Pu Qiang
Chairman of Political Committee: Zu Liansheng
Chairman: Li Hui and Wang Xiaodong

Domestic Security Division of Dadong Police Department:
Address: 36-2 Dabeiguan Street, Dadong District
Telephone: 024-88538659
Officer: Zhen Yunlong and Wang Jinyi
Captain: Qiao Yi and Tao Zhongxin