2,000 People Demand Release of Persecuted Practitioner Ms. Dai Meixia
June 05, 2013 | By a Minghui correspondent from Hubei Province, China
(Minghui.org) Following an initial signature drive of 300, 1,861 local villagers from Huangmei County signed their names and attached their fingerprints to a petition demanding the release of Ms. Dai Meixia, who was given an illegal five year sentence by the Huangmei County Court in Hubei Province. She is appealing the sentence at the Huanggang City Middle Court. Two lawyers from Beijing and Guangzhou are defending her.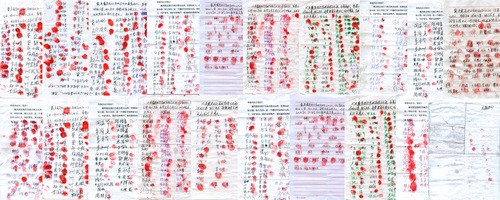 1,861 villagers sign their names and give their fingerprints, demanding the release of Ms. Dai Meixia.
Ms. Dai, from Tuzui Village, Xiaochi Town, Huangmei County, Hubei Province, recovered from many illnesses after she began practicing Falun Gong. She became kinder and more respectful of her parents and her in-laws. She joyfully helped others. She has been arrested again and detained for nearly a year, suffering mentally and physically. Scars now cover her body. Her parents and her parents in-law cannot remember how many times they've gone to the police department and court to plead on her behalf. They are physically and mentally exhausted.
Ms. Dai and her family were forced to move to Jiujiang City, Jiangxi Province after the Chinese Communist Party (CCP) began persecuting Falun Gong in 1999. For over ten years they made a living by collecting recyclables. She wasn't able to raise her young son normally or meet with her relatives. She was ruthlessly persecuted many times by police from Hubei and Jiangxi during this period of time. She was harassed, arrested, her home searched, her property confiscated, and funds extorted. She was taken to a brainwashing center where she was forced to stand for long periods of time, brutally beaten, deprived of food, and savagely forced fed. She was deprived of sleep and forced to take unknown drugs that wreaked havoc, both physically and mentally.
Ms. Dai was arrested by Huang Wei from the Huangmei County Police Department and other police officers from Jiujiang City, on the morning of May 10, 2012, while she was shopping for a security door near the Jiujiang No. 3 Middle School. At around 9:00 a.m. on May 12, 2012, the director of the Huangmei County Police Department pointed a finger at another police officer and said to Ms. Dai, "We will send you on a trip to Wuhan for a few days. I guarantee that you will return within a week."
She was sent to the Hubei County Legal System Education Center, which functions as a brainwashing center, where she was subjected to cruel mental and physical torture. She was in critical condition. One evening Chief Hu of the No. 1 Division entered her room and threatened her, "You must sign a guarantee statement promising not to practice Falun Gong. I don't care if it is true or not. If you don't sign it you will wish that you were dead rather than suffer the torture that I will inflict on you. You won't be able to wear clothes and you will be made to run outside. If you don't believe me, you will see."
While Ms. Dai was at the brainwashing center, the 610 Office in Huanggang City, Hubei County, the Wuxue City 610 Office in Hubei Province, Huang Wei from the Domestic Security Division in Huangmei County, and Chen Yunyue took Ms. Dai to court. They gave Ms. Dai their notes to read. Huangwei threatened her, "Quickly tell us what you know and who is involved. The guards here treat you too well. If I was here, we would cut you up, piece by piece."
On August 10, 2012, police officers Huang Wei and Chen Yunyue transferred Ms. Dai from the brainwashing center to the Huangmei County Detention Center. Ms. Dai was tried in the Huangmei County Court on the morning of March 25, 2013. Two righteous lawyers from Beijing and Guangzhou pleaded that practicing Falun Gong was legal from the perspective of the law. The constitution guarantees freedom of belief. They demanded the release of Ms. Dai. A judge suddenly lost consciousness during the court session, reinforcing the traditional belief that good is rewarded and evil punished.
Huanggang City Middle Court
Director and Chinese Communist Party(CCP) Secretary: Gu Shisong
Assistant Director and CCP member: Qin Yonggao, Ni Guiwu
Related articles:
http://en.minghui.org/emh/articles/2008/9/20/100813.html http://en.minghui.org/html/articles/2012/10/28/136066.html http://en.minghui.org/html/articles/2013/1/2/136917.html http://en.minghui.org/html/articles/2013/5/3/139168.html