Ms. Wang Zhili, a Falun Gong Practitioner from Hebei Province, Has Endured Persecution for More than 10 Years
June 25, 2013 | By a Minghui correspondent from Hebei Province, China
(Minghui.org) " All the doors and windows were broken, all the pigs and donkeys were taken, even all 11 hens that had been laying eggs were killed and their eggs taken away. All the farm tools and articles for daily use were carried off, and those items that could not be taken away were destroyed. Not even a single grain was left..."
This was what Ms. Wang Zhili, a countrywoman in Zhaizi Village, Yi County, Hebei Province, saw when she returned home. The predators were all from the local police station and local regime office. They robbed Ms. Wang because she is a Falun Gong practitioner.
Ms. Wang, 59 this year, is an ordinary countrywoman. She refuses to give up her belief and continues to legally appeal for the persecution to end. For years, she has been beaten, robbed, and imprisoned, and has had funds extorted from her by local police officers and regime officials.
She began her practice of Falun Gong in 1996, became mentally and physically healthy, and enjoyed a happy life. She enjoyed good relations with family members and neighbors.
The communist regime began its persecution of Falun Gong in 1999.
Because Ms. Wang had benefited from practicing Falun Gong and knew practitioners had not committed any crimes, she went to Beijing to appeal with several fellow practitioners in April 2001. They were arrested in Tiananmen Square and were kicked and shoved into a police car.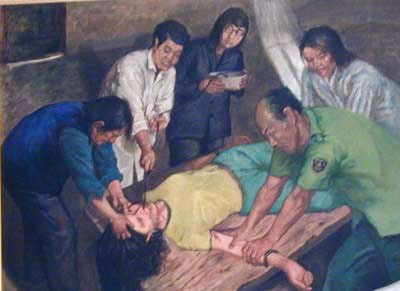 Torture reenactment: Force-feeding
At the detention center, guards grabbed Ms. Wang by her hair and knocked her head against the wall and ground, and then shoved, punched, and kicked her. She went on a hunger strike to protest and was force-fed. They cuffed her hands behind her back, grabbed her hair, stomped on her feet, inserted a rubber tube into her nose and down into her stomach, and poured in outdated milk powder. She couldn't move, threw up white foam, and almost suffocated. The evildoers forced practitioners to walk around in the yard to stop them from throwing up the force-fed substances. Ms. Wang was beaten again because they thought she walked "too slowly."
After 11 days at the Pinggu County Detention Center, Ms. Wang was sent to the county government by village official Zhao Liyuan and someone surnamed Xi. Just as she got out of the car, Xi fiercely kicked her in the lower back and almost knocked her down. She was locked in a brainwashing session organized by the county government. Whenever she refused to cooperate, they would beat her. At night, they tortured her more severely by slapping and kicking her. Xue Tiejun shouted while hitting her with a metal rod, "Still want to practice? Still want to go to Beijing?" They tortured her like this for three days and then let her go home after they extorted 13,000 yuan from her family.
When she got home, she found her home had been ransacked by people from the Dule Township government and police station: All the doors and windows were broken, all the pigs and donkeys were taken, the hens were killed and their eggs taken away, and all the farm tools and articles for daily use were taken. Anything that could not be taken away was destroyed, with not even a single grain left.
Furthermore, the village leader forced Ms. Wang and other practitioners to go to the village Party branch office every day to attend a "'transforming' and brainwashing session." After that, some people assigned by the county government went to them to video-record the "transformed" examples. Ms. Wang resolutely refused to cooperate, and the county government official had to leave. Village Party head Zhao Yunfang cursed Ms. Wang, ordered her to write a Guarantee Statement, and locked her up with other practitioners at the brainwashing facililty for a long time. They also demanded that each practitioner find five "guarantors," which was, in fact, a form of implication.
In 2002, Ms. Wang went to her son's home in Beijing. Head of the Dule Township Police Station Lu Fengli, village Party head Zhao Yunfang, and two others followed her to her son's home and forced her to write guarantee statements not to go to Tiananmen Square and not to "assemble." Her son endured the malicious harassment.
In June 2005, head of the Dule Township Police Station Lu Wei and officers Cheng Yonggang and Zhao Xinxing searched Ms. Wang's house again. They confiscated one Dafa book and sent her to the brainwashing facility again for seven days.
In October 2007, Ms. Wang was framed and arrested again by officers led by head of the Dule Township Police Station Lu Wei. They took her to the police station and cuffed her to a bed for an entire night. Later, they sent her to the Yi County Detention Center. Ms. Wang went on a hunger strike. Two days later, she was transferred to the Heibei Province Women's Forced Labor Camp in Shijiazhuang City but was rejected when a physical detected that she was in poor condition. When she was sent back, officer Lu Wei did not release her until her family paid 7,000 yuan.
In October 2009, officers Lu Fengli, Cheng Yonggang, Zhao Xinxing, and others went to search Ms. Wang's house again and planned to arrest her. Her husband fainted due to the stress. Ms. Wang had to take her husband to the hospital and take care of him. People from the Dule County 610 Office and police station showed no mercy and even followed Ms. Wang to the hospital, and ordered her to write the Guarantee Statement there.
Due to the harassment and threats, Ms. Wang developed symptoms of sickness. In the next round of persecution, she was sentenced to a one-year prison term, to be served "outside." She was ordered to have another physical at the end of the year. To avoid further persecution, she left home when the year ended. The local police and 610 Office threatened and forced her family members to find her. After she returned home, officers from the Yi County arrested her, extorted 5,000 yuan from her family, and sentenced her to another five years of prison, to be served "outside."
During the more than ten years of persecution, the local regime leaders and officers have gone to Ms. Wang's home every sensitive day to harass her, harming her mentally and physically. She and her family have endured unbearable suffering during the persecution.