Over a Dozen Practitioners from Nong'an County Brutally Tortured in Police Custody (Images)
June 24, 2013 | By a Minghui correspondent from Jilin Province, China
(Minghui.org) More than 13 practitioners from Nong'an County, Jilin Province, were arrested in early June 2013. Many were brutally tortured in police custody and subsequently detained for further persecution.
The illegal arrests, as well as barbaric abuse that followed, were carried out by officers from the Nong'an County Domestic Security Division, 610 Office, Changchun City Police Department and Shaoguo Town Police Station.
Below is a partial account of the persecution some of these practitioners have suffered at the hands of the police and related units.
1. Arrested in the Middle of the Night and Grossly Abused
Domestic Security Division director Tang Ke led more than 20 police officers, including Zhou Dahai, to the home of Ms. Fu Guihua on June 3, 2013. They smashed the door open with a hammer around 3 a.m., entering the premises and ransacking the place.
The police confiscated two printers, two notebook computers and all valuable items in the home. In the process, Tang Ke gleefully proclaimed that the family would now be bankrupt.
The agents threw the photo of Falun Dafa founder to the ground and attempted to force Ms. Fu, her daughter Xiao Yan (in her early 20s), and Ms. Sun Yanxia, who was visiting the family, to step on it.
When the women refused, Tang Ke pushed Ms. Xiao on the bed and beat her. Ms. Xiao cried out, "Falun Dafa is good!" Tang threatened, "I will throw you into prison for those words."
The agents did not show any identification, but proceeded to arrest all three practitioners, sending them to the Gucheng Police Station in Nong'an County.
Ms. Fu and Ms. Sun were brutally tortured. They were hung up, shocked with electric batons and subjected to "flying an airplane" torture. Their screams could be heard from far away. They lost consciousness several times while being tortured. They were then sent to the Changchun No. 3 Detention Center.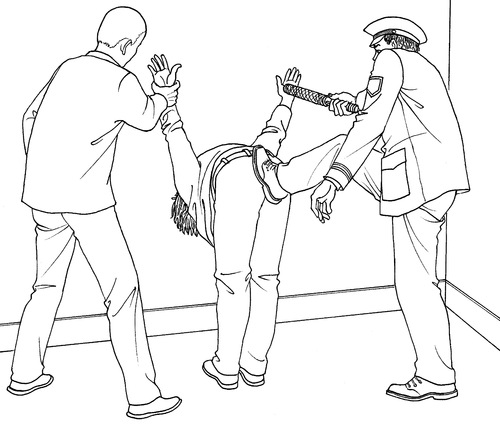 Torture Illustration: "Flying an Airplane"
Ms. Xiao was sent to the Nong'an County Detention Center. There was a huge bruise under her right arm and her left foot and calf were swollen from the beatings.
Ms. Sun's husband was later arrested at the couple's home. He was sent to the Nong'an County Detention Center.
2. Arrested while Visiting Family in Detention
Ms. Fu's husband, the couple's other daughter, Huanhuan, and Ms. Sun's daughter came to the Nong'an County Detention Center to visit the detained practitioners on June 5, 2013. They were arrested on the spot.
Tang Ke and 610 Office agents shut the gate after the family members had entered the detention center. Per Tang's orders, more than 20 officers then sprung into action and forcibly dragged them into a police vehicle.
All three practitioners were beaten when they resisted the arrest. Another practitioner visiting a detained family member was also pushed into the car.
Police then went outside and dragged eight more practitioners who had come to visit detained relatives and friends into a police vehicle.
Practitioners were sent to the Gucheng Police Station, where they were forced to squat in the corner for a prolonged period of time. Subsequently, they were interrogated, as police tried to force them to reveal their names and addresses.
Ms. Sun's daughter asked the police, "I came to visit my mother. Why am I being detained here?" One officer told her that she would be released soon. Shortly thereafter, police ordered her to curse the founder of Falun Dafa. When she refused, they threatened and cursed her with such viciousness that she burst into tears.
3. Brutally Beaten, Kicked and Insulted
When two practitioners refused to reveal their names and addresses, they were brutally beaten. One of them was an elderly woman over 70 years old. The police poked her arms with nails and stomped her feet. The other practitioner was repeatedly slapped and punched in the face. Her face became swollen and distorted, and her wrists bled from the handcuffs cutting into her flesh.
One male practitioner, who had driven some of the other practitioners to the detention center, was beaten up, which caused internal bleeding behind his eye area.
Practitioner Ms. Lu Xiaowei was so scared that her body twitched and she lost consciousness. Two police officers then carried her out and threw her to the ground. They made fun of her and shot cigarette ash on her face. One of them stepped on her face and kicked her.
Ms. Liu Guihong was very weak. She was unable to stand up to use the restroom. One policeman told her, "If you don't get up in 20 seconds, you'll have to do it in your pants." When Ms. Liu finally managed to get up, she nearly collapsed. Ms. Cui Guixian supported her.
On her way to the restroom, Ms. Liu was unable to cross the doorstep. She then had to urinate in a container, and the urine accidentally spilled to the floor. The police forced Ms. Gui to clean it up with her clothes.
4. Suffocated, Shackled and Shocked with Electric Batons
Ms. Cui's cell phone rang at the police station. When she answered the call, an officer took her phone away and threw it to the ground. He became enraged and began to beat her.
During interrogation, Ms. Cui's hands were handcuffed behind her back and her legs were shackled. Police put a rod between her arms and carried her suspended from this stick. They then threw her to the ground and shocked her with electric batons until she lost consciousness.
Subsequently, the perpetrators threw dirty water on Ms. Cui and used a hair dryer to blow hot air on her face. Her face became swollen, and she was unable to walk steadily thereafter. The handcuffs also caused swelling in her wrists, and her toe nails were bruised and extremely painful.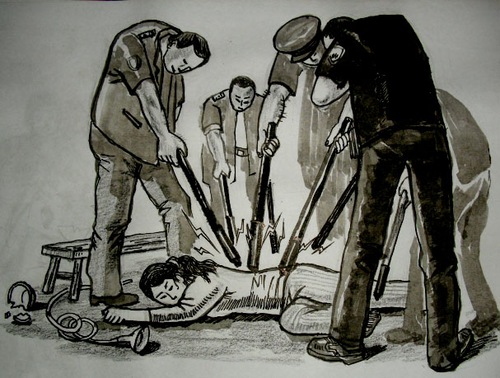 Torture Illustration: Shocked with Electric Batons
Another practitioner, Ms. Cui Ying, was hung up by handcuffs. As a result, her right arm was heavily bruised, the skin around her wrists blistered and peeled off, and she was unable to lift her arms. Her ankles and thighs also had bruises, and she had difficulty moving.
Police covered her head with a plastic bag to suffocate her several times. He family came to the police station on June 7, 2013, but were not allowed to see her.
Parties involved in the persecution:
Tang Ke, director of the Nong'an County Domestic Security Division: +86-431-83246865 (Office), +86-431-83238806, +86-15943107777 (Cell)