Female Teacher Humiliated and Hung Up in Qianjin Forced Labor Camp; Police Suggest That She "Commit Suicide"
June 15, 2013 | By a Minghui correspondent from Heilongjiang Province, China
(Minghui.org)
Summary of Key Persecution Facts:
Name: Ms. Hao Peijie (郝佩杰)
Age: 61 Address: Harbin City, Heilongjiang Province
Occupation: Teacher
Date of Most Recent Arrest: April 16, 2012
Most recent place of detention: Qianjin Forced Labor Camp (前进劳教所)
City: Harbin
Province: Heilongjiang
Persecution Suffered: Detention, forced labor, brutal beatings, electric shock, soaked with cold water, forced labor, insult, hanging by handcuffs, iron chair torture, forced long-term standing, denial of restroom use.
Retired teacher Ms. Hao Peijie has been imprisoned in Qianjin Forced Labor Camp for over a year for practicing Falun Gong. On March 28, 2013, she refused to report her prisoner number. Officer Cong Zhixiu and others then not only handcuffed her and hung her up to torture her, but also ripped off her clothes to humiliate her. They wrapped a long scarf around her neck and claimed that they would force her to hang herself and "commit suicide."
Arrested and Beaten
Ms. Hao is a former library teacher from the Chinese Medicine University of Heilongjiang Province. She was illegally arrested on April 16, 2012, and beaten by officers from the Wenzhengjie Police Station in Xiangfang District while she was distributing anti-web-blocking software CDs in Xiangfang District. Her hands became severely swollen and turned black due to beating, and she was sent to hospital for examination. The examination result showed that she had severe heart disease.
Forced Labor
Ms. Hao has been detained in Qianjin Forced Labor Camp for over a year, and has endured relentless brutal torture. She has been in critical condition several times.
She refused to report her prisoner number while going to the slave labor on the morning of March 28, 2013. Officer Cong Zhixiu, who was responsible for persecuting Ms. Hao, berated her publicly. After 8 a.m., Cong Zhixiu grabbed her out of the first team workshop and took her to the third floor of the forced labor camp to torture her.
Almost Suffocated
Cong Zhixiu verbally abused Ms. Hao, saying, "You should just die" and suggested that she hang herself and commit suicide. Later Gong Zhixiu found a long scarf and wrapped it around Ms. Hao's neck. She pulled it very tight until Ms. Hao almost suffocated to death.
Cong Zhixiu then ripped off all of Hao Peijie's clothes except her underpants. She used the long scarf to tie her arms and hang her up many times. She also kicked and hit her.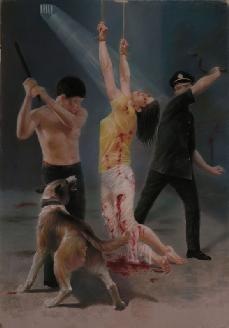 Torture reenactment: Hung up and beaten
After being tortured relentlessly for several months, Ms. Hao weakened, and she had another heart attack. She could not even stand up. Cong Zhixiu had to find a worn out pair of pants to put on Hao Peijie. She then forced her to sit on the iron chair torture device. Cong Zhixiu kept torturing Ms. Hao until April 7. Other Chinese Communist Party personnel who participated in torturing her included deputy captain Zhang Yanli, political instructor Yang Yan, and deputy captain Jiang Xuezhou.
Forced Labor
When Ms. Hao was taken to Qianjin Forced Labor Camp in April 2012, she was already 60 years old. Inside the camp, she was pressured to write the three statements promising to renounce her belief. Even though she was tortured so brutally that she had a heart attack, she was still forced to do hard labor.
Once when the factory came to pick up the products made by the prisoners, Ms. Hao had to lift a heavy container full of popsicle sticks. She worked for a while, then had to sit down and rest. Officers Liu Xianyu and Li Xiaoyu, who were on duty, saw this, and yelled at her and made her stand for a long time. Ms. Hao even approached the police captain and officer Cong Zhixiu to communicate with them many times. They all refused to talk to her.
More Torture
On or about December 6, 2012, Ms. Hao did not cooperate with the police to write a fake "document." The first team political instructor, Zhou Lifan (currently the second team political instructor), called her in. Zhou and Cong Zhixiu then ripped her clothes off, poured cold water over her, opened the windows to let in the cold air, and used an electric baton to shock her for a few hours.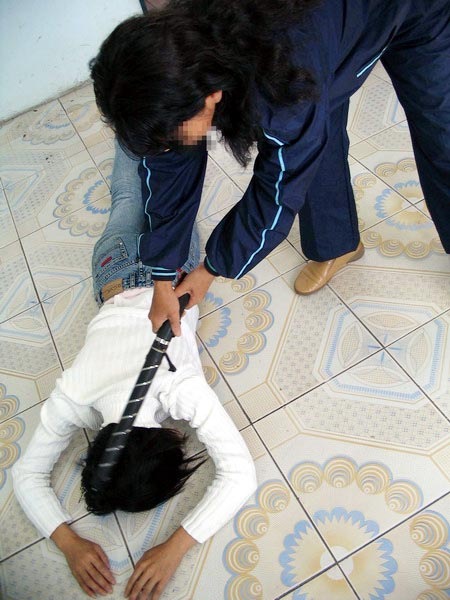 Torture reenactment: Electric-shocking
On January 23, 2013, because Ms. Hao refused to write a fake "document" again, officer Cong Zhixiu and captain Wang Min called her to the captain's office and started beating her. They stomped on her head and used electric batons to beat her.
Ms. Hao was severely injured during the beating. One eye was full of blood and she could not see clearly. The two officers beat her in turn for over three hours. They then ripped her clothes off, poured cold water over her, and opened the windows to freeze her. At that time, the temperature was minus 20 degrees Celsius (-4 F) in the daytime and minus 30 degrees Celsius (-22 F) at night in Harbin City.
On March 26, 2013, because Ms. Hao had taken off the camp uniform to protest Falun Gong practitioners being beaten, political instructor Yang Yan did not let her use the restroom, and made her to sit on the iron chair for a full day.
Officer Cong Zhixiu is the political instructor of the first team in Qianjin Women's Forced Labor Camp. She used filthy language and behaved vulgarly. She often slandered Falun Gong and the founder of Falun Gong with foul language. She frequently tortured practitioners brutally by hanging them, grabbing their hair to hit their heads against the bed frame, depriving them of sleep and restroom use, along with other cruel means.
Female Officer Wang Min, 41, is the captain of the first team in Qianjin Forced Labor Camp. She graduated from a sports school. She is very strong, and ruthless in her treatment of practitioners. She beat and kicked them every day, used wooden clubs to beat them, dragged them down from the upper bunk beds, grabbed their hair to hit their heads against the bed frame, incited criminal inmates to push the practitioners down from the second floor, and dragged the practitioners through their own food. She enjoys torturing people and exhibits no humanity at all.
Communist Party personnel Cong Zhixiu and Wang Min have brutally persecuted and mistreated Falun Gong practitioners for many years. They have committed serious crimes. In the future, they will be liable for the consequences of their crimes. They will have to pay the price for their evil deeds.
Related article: "Female Teacher Tortured to the Brink of Death at Qianjin Forced Labor Camp in Harbin City" http://en.minghui.org/html/articles/2013/2/18/138189.html