Germany: Falun Gong Practitioners Peacefully Protest During Chinese Premier's Visit to Berlin (Photos)
(Minghui.org) On May 25-27, 2013, practitioners in Germany rallied to protest during China Premier Li Keqiang's visit to Berlin. They urged him to stop the persecution of Falun Gong in China; end the organ harvesting of Falun Gong prisoners of conscience, and bring the instigator of the persecution, Jiang Zemin, and his accomplices to justice.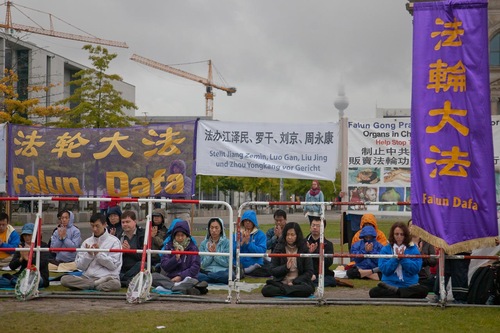 Practitioners protest the persecution in front of the German Chancellery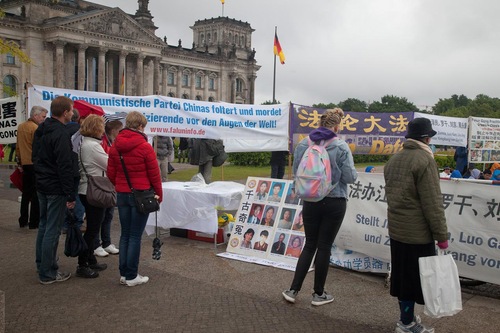 People learn about the persecution of Falun Gong outside the German parliament building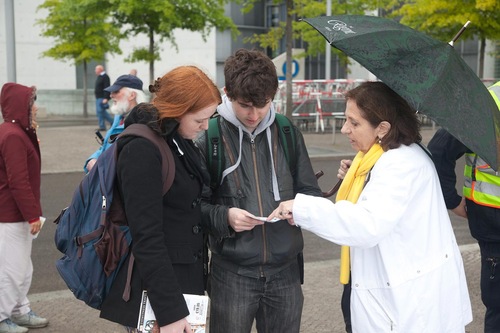 Passersby learn about the persecution of Falun Gong in front of the German Chancellery
Wherever Li went, be it the Chinese embassy in Berlin, the German Chancellery, the the InterContinental Berlin Hotel, or the Bellevue Palace—the official seat of the German president—he always saw Falun Gong practitioners demonstrating and urging him to stop the persecution.
On May 25, despite the cold and rain, practitioners gathered in front of the Chinese embassy in Berlin and stayed there till dark.
It rained the following day, too, but that did not stop the practitioners from going to the German Chancellery to demonstrate the exercises and raise awareness.
The practitioners also held vigils, late into the evening, near Bellevue Palace and the InterContinental Hotel, which is where the Chinese delegation was staying.
Most passersby who stopped to talk to the practitioners, signed a petition calling for an end to the persecution. People who did not know about the persecution were deeply shocked when they found out about it. "I cannot believe what you're telling me!" sobbed one young woman. "My God! I cannot believe it!"
Practitioners Recount Experiences in China's Labor Camps
Guo Jufeng recounted his experience of being arrested and detained four times in China. He said that he had come to Berlin to appeal for his friend, Lu Kaili.
"Lu Kaili is a very kind person," Guo explained. "We were held in the same prison on two separate occasions. Altogether, Lu Kaili has been illegally detained for ten years since the persecution of Falun Gong started fourteen years ago. Lu suffered 23 different kinds of torture in six different labor camps and prisons across Liaoning Province."
Mr. Guo specifically mentioned the infamous Masanjia Forced Labor Camp, which is located in Yuhong District, Shenyang City. He noted that the camp occupies a large area, with over 2,000 acres of rice paddies and vegetable fields. Practitioners are forced to work these fields under the scorching sun, for more than 14 hours a day.
Their legs are submerged in water for about seven hours a day, and although they wear boots, their boots are filled with water, too. It is hard to walk in the sticky mud and often their ill-fitted boots would slip off their feet, exposing themselves to the countless leaches lurking in the water. Some practitioners fainted because of the intense heat and long hours of strenuous work.
Lu was forced to shell corn and plant rice. After being subjected to physical torture, mental stress, being overworked, and suffering from chronic malnutrition, Mr. Lu's feet began to swell to the point that he could not walk. However, instead of offering him some medical assistance, the guards simply loaded him into a basket and took him to a room to shell corn.
For the past two years and nine months, Lu has been paralyzed and is unable to walk. He is currently detained at the Jinzhou Prison hospital in Liaoning Province. It has been about 18 months since his family and lawyer had last been allowed to see him.
One practitioner, who dared to protest the persecution in Masanjia, was repeatedly struck on the back with a piece of wood. His back became very swollen; ulcerated, then got infested with maggots. When he took off his shirt, some of the maggots that were crawling on his skin became dislodged and fell to the ground. It was a very shocking scene!
"Although I am more than 8,000 kilometers away from China," Guo Jufeng explained, "I can deeply appreciate Lu Kaili's longing for freedom and the right to practice his belief."
"This feeling," Guo said, "often keeps me tossing and turning at night, unable to sleep. Twelve of my Falun Gong friends have been persecuted to death. I do not want to lose Lu Kaili, as well. I will do everything that I can to help him because he has demonstrated extraordinary courage and patience in face of the persecution."
Practitioners and many kind-hearted people across the world are working tirelessly to stop the persecution of Falun Gong in China. As long as this atrocity has not ended, practitioners will continue to call for and end to the persecution.