A Spanish Student Finds Falun Dafa in England (Photos)
June 11, 2013 | By Tang Xiuming in the United Kingdom
(Minghui.org) May 13, 2013 marked the 21 st anniversary of Falun Dafa having been introduced to the public. Falun Dafa has since spread to over 100 countries and regions around the world. Fernando, from Spain, is one of the many Falun Dafa practitioners around the world who has a story about how he came to learn the practice.
Celebrating World Falun Dafa Day
Bristol is a beautiful historic city in southwestern England. Fernando is an exchange student in England for one year from Zaragoza, Spain, and majoring in History. Six months ago, Fernando met some Falun Dafa practitioners and heard about the spiritual practice for the first time.
On May 11, 2013, he joined other practitioners at Trafalgar Square in London to celebrate the 14 th annual World Falun Dafa Day.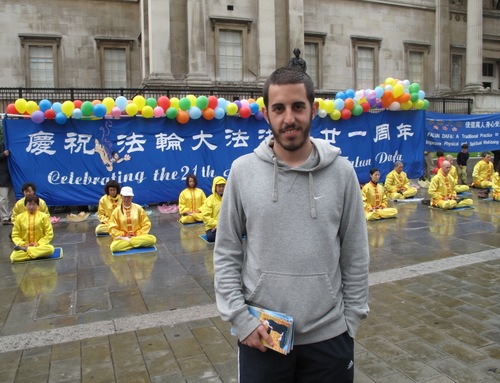 Fernando has experienced the beauty and energy of Falun Dafa
"Falun Dafa is so great, so great that my life has seen a lot of positive changes in the past few months," said Fernando. "Yes, even though I've only practiced for a short period of time, it is so powerful."
"I need to be more tolerant, more openminded, more compassionate. I believe Falun Dafa has planted these values in my heart."
He said that practicing the exercises and reading the Falun Dafa books have brought him peace and positive energy. "I feel very peaceful while reading the book Zhuan Falun, along with practicing the exercises. Doing the exercises every day and reading the book help me to keep calm and avoid troubles. I'm now more willing to help other people," said Fernando.
Participating in the World Falun Dafa Day celebrations encouraged Fernando a lot. "I have seen some videos about Falun Dafa online. Now I see that so many people are practicing Falun Dafa. I am more diligent now. It encourages me to continue my cultivation practice and study of Falun Dafa."
Trafalgar Square is a busy tourist spot in London. Fernando patiently stood on the street to pass out flyers to passersby for a long time. "I told people, including the bus driver who stopped here for a short break, 'Please give me one minute to tell you about Falun Dafa, because Falun Dafa is so beautiful,'" he said.
Learning about the practice at the Art Exhibition
Fernando came across Falun Dafa about six months ago, in early December 2012. He was walking through downtown Bristol when he ran into Ms. Becky, a Falun Dafa practitioner who was preparing for the Art of Zhen, Shan, Ren International Exhibition.
The truck loaded with the paintings arrived earlier than scheduled so the arranged helpers had not arrived yet. Becky was anxious and happened to see Fernando walk by. She asked if he could help her to unload the paintings. He agreed immediately and thus came across Falun Dafa.
Fernando practices the exercises and introduces Falun Dafa to people almost every week in Bristol, UK.
Fernando went to the exhibition a few times with his friends. On opening day, he looked at each painting and read the descriptions carefully. After going through the exhibition, he decided to learn more about Falun Gong. Later, the practitioners taught him the exercises.
One month later, in January 2013, he began to join the group practice site at least once a week and also joined the weekly Fa study group. Now he is reading the book Zhuan Falun for the third time.
A few weeks after he started practicing Falun Dafa, he went home to Spain for a vacation and decided to find Falun Dafa practitioners in his hometown so he could join them after he finishes his exchange program. To his surprise, a major group exercise site in Zaragoza is close to his home.