A Family Torn Apart: Falun Gong Practitioners' Children Are Silent Victims of the Persecution
May 08, 2013 | By a Minghui correspondent from Liaoning Province, China
(Minghui.org) "Yuanyuan, why didn't you go to school today?" the concerned neighbor asked.
"After my mother was arrested, I miss her every day. My brother left to work in another city. I can't concentrate on my schoolwork. I don't want to go to school any more." As the child said this, he sadly lowered his head.
When Yuanyuan heard that his grandmother went to visit his mother, but was not allowed to meet her, he became even more worried.
Yuanyuan is the younger son of Falun Gong practitioner Ms. Wu Limei who is from Xinchengzi District in Shenyang City. He is eleven years old and just started junior high school. Yuanyuan and his older brother spent their childhood living in constant fear after their father was illegally arrested and imprisoned. They missed their father very much. Now their mother is also imprisoned. Yuanyuan's fear and longing for his mother show on his face.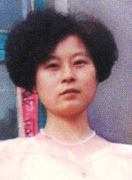 Yuanyuan's mother Ms. Wu Limei
Once Happy Family Life Disrupted
Yuanyuan's family was very happy and lived in peace: His grandmother, father, mother and a brother who is six years older than him. They live in Xinchengbao Village, Huangjia Township, Xinchengzi District, Shenyang City. In 1996, his father Mr. Liang Zhihong and mother Ms. Wu Limei started practicing Falun Gong and following the principles of Truthfulness-Compassion-Forbearance. They became healthier, more hard-working and more compassionate. Things were happy and harmonious in the family.
Yuanyuan's parents took good care of the grandmother and their two children. Mother Wu Limei owned a grocery store. She never sold any counterfeit or tainted goods to her customers. She taught her children to be tolerant and kind. Her children are very well behaved and never cause any trouble.
Father Arrested
After the Chinese Communist Party (CCP) launched the persecution of Falun Gong in 1999, Mr. Liang Zhihong was arrested by agents from the Xinchengzi Street Police Station on July 31, 2001 and was sentenced to six years of imprisonment. During those six years, Ms. Wu Limei was left alone to take care of the two young children and the grandmother. It was very tough.
In the terror-filled climate that permeates China after the persecution began, Yuanyuan, his brother, mother and grandmother have been living in fear and longed for the return of Yuanyuan's father. Whenever Ms. Wu was allowed to visit her husband, she would carry Yuanyuan on her back along with his brother to visit their father. When their father was being tortured in the prison, their mother never told them. However, Yuanyuan and his brother could feel their mother's sadness. They anxiously hoped that their father would soon come home.
Mother Arrested and Imprisoned
In 2007, their father Liang Zhihing finally came home. At that time, Yuanyuan was already 8 years old and his brother was 14. They became happier after their father's return.
However, not long after the father's release, the CCP agents targeted their mother Wu Limei. A group of officers broke into their home at 7:50 p.m. on June 7, 2012 and arrested their mom. The police took away their computer and other personal belongings worth 20,000 yuan. Mr. Liang Zhihong (the father) and Yuanyuan's brother were arrested the same evening and released the next day. Ms. Wu was detained at Shenyang City Detention Center.
On October 18, 2012, Shenbei New District Court fabricated "evidence" to frame Ms. Wu Limei, charging her with "undermining law enforcement." During the trial, Ms. Wu stated, "I did not break any law. It is you that violated the law. I have been denied my basic rights, and I have not been allowed to eat or use the toilet."
Ms. Wu has practiced Falun Gong for 16 years and as a result, she became very healthy. After she was detained for four months, she started having the symptoms of high blood pressure and heart disease. She almost passed out several times in court. She had to rely on others' help to walk into the courtroom. She was sentenced to five years of imprisonment. Due to her condition of high blood pressure and heart disease, the prison officials rejected her. Later, Shenbei New District 610 Office used underhanded tactics and sent Ms. Wu to Shenyang Women's Prison.
At the end of February 2013, the perpetrators from the prison called the family to come "visit" Ms. Wu. They said she had "leiomyoma" in her stomach. Yuanyuan's father and grandmother went to the prison at the beginning of March to visit Ms. Wu. When they came back, they said that she was very weak.
Prison Guards Refuse to Allow Ms. Wu's Family to Visit Her Again
On April 3, 2013, Yuanyuan's grandmother and father returned to the prison to visit Ms. Wu Limei during the specified visitation time. However, this time the guards would not let them in and threatened them, "If you ask for the head of the prison, we will call the police." Yuanyuan's grandmother and father had no choice but to return home.
Ms. Wu Limei has resisted the prison officials' attempt to "transform" her. Why didn't they allow her family to see her? Could it be that she had been tortured so severely that something terrible happened and they were trying to cover it up? Because the prison refused to allow her family to see her, they were now even more worried.
After Ms. Wu was arrested, the eldest son could not endure the pressure of his mother's persecution. He left home to work in a different city as soon as he turned 18 years old. He is not aware of his mother's current situation.
After going through the heart-wrenching persecution of their father and their mother's arrest, now the prison perpetrators refuse to allow the family to visit her. The 11-year-old son's heart has been hurt deeply. His sad look and his decision to drop out of school shows how distraught he is.
Practitioners' Children Are Silent Victims
The case of the persecution of mothers causing their children to suffer in Shenbei Area is not just limited to what is happening to Yuanyuan and his family. This tragedy is being repeated throughout China.
Ms. Niu Guifang is detained in Shenyang City Detention Center. Prison officials refused to allow her to attend her own daughter's wedding. The festive atmosphere could not conceal her daughter's sadness.
Ms. Chen Min is detained in the infamous Masanjia Forced Labor Camp. Her son is living with his uncle. Whenever Ms. Chen's son talks about his mother, he is always tearful.
After being detained for over six months, Ms. Qu Lihong returned home to her son. The child is so afraid of losing his mother again that whenever a stranger comes to their home, he tightly clutches his mother and sobs.
These few examples are just the tip of the iceberg. The persecution is not just being carried out against hundreds of thousands of Falun Gong practitioners, but their families are victims as well.