London: Practitioners Commemorate 14th Anniversary of the April 25 Peaceful Appeal (Photos)
(Minghui.org) On April 27, 2013, Falun Gong practitioners from all over Britain gathered near St Martin-in-the-Fields in central London to commemorate the 14th anniversary of the "April 25" appeal.
The practitioners introduced Falun Gong and exposed the Chinese Communist Party's (CCP) crime of organ harvesting from living practitioners, currently under brutal persecution in China.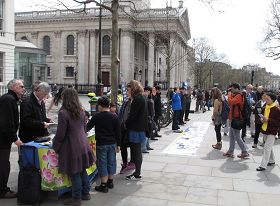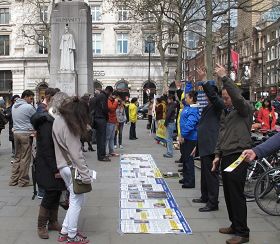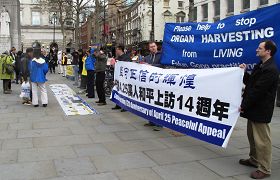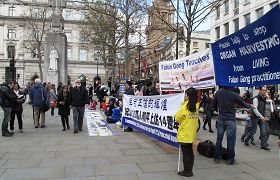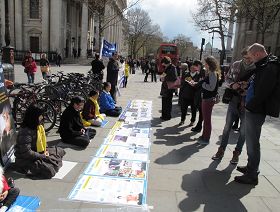 UK Falun Gong practitioners commemorated the anniversary of the April 25 appeal near St Martin-in-the-Fields by demonstrating the Falun Gong exercises, exposing the persecution, and collecting signatures on a petition calling for the UN to investigate the CCP's crimes of organ harvesting from living prisoners of conscience.
Despite it being a windy and rainy day, Falun Gong practitioners held up banners in both English and Chinese with the following messages: "Falun Gong Teaches Truthfulness, Compassion and Tolerance," "14 Years of Firm Belief in Falun Dafa" and "Please Help Stop the Crime of Live Organ Harvesting From Falun Gong Practitioners." While some practitioners demonstrated the Falun Gong exercises along with the graceful and peaceful Dafa music, others handed out informational flyers to passers-by with a smile.
Many people showed their support by signing a petition calling for an end to the persecution and for the United Nations to investigate the CCP's crimes of organ harvesting.
The Historic April 25 Peaceful Appeal
Fourteen years ago, on April 25, 1999, over 10,000 Falun Gong practitioners in China held a peaceful appeal in Beijing, which caught worldwide attention. For the past fourteen years, Falun Gong practitioners in the UK have been exposing the persecution of Falun Gong to visitors from around the world near St Martin-in-the-Fields.
Broad Support
David Kilgour, former Canadian Secretary of State for the Asia-Pacific and former Member of Parliament, as well as co-author of the book Bloody Harvest, visited St Martin-in-the-Fields during his short stay in London.
He expressed his admiration for Falun Gong practitioners' perseverance over the years to expose the persecution. He called for an immediate end to the persecution of Falun Gong and an immediate stop to the crime of forced organ harvesting that has been deemed a crime against humanity. Mr. Kilgour stated, "The CCP's crime against humanity that I mentioned refers to the crime of killing Falun Gong practitioners and prisoners of conscience who did not do anything bad, but whose organs were illegally obtained for trafficking. This is a very, very terrible crime against humanity."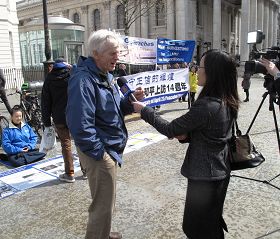 David Kilgour visited St Martin-in-the-Fields to lend his support to Falun Gong practitioners' efforts to end the persecution
Mr. Ethan Gutmann, who has been committed to independent research into the Chinese regime's organ harvesting crimes, said in an interview that Falun Gong practitioners' original April 25 peaceful appeal was of great historical significance. He believed that it was this large-scale peaceful petition that made the international media focus on Falun Gong.
Mr. Gutmann stated, "On April 25, 1999, the international media reported on Falun Gong, although many of them, influenced by the CCP's media, reported false facts. But this is not important. What matters is that all the reports brought Falun Gong into the sight of Western society, where everyone wished to understand what Falun Gong was. At the very beginning the Chinese regime tried to place the incident in the dark, not letting the world know about it. But Falun Gong refused to be placed in the darkness. What is essential about Falun Gong is that Falun Gong has always opened its doors to everyone. This is why Falun Gong today can stand in a bright place while the CCP is struggling on its last legs to suppress Falun Gong."
During the event at St Martin in-the-fields, many British people, as well as visitors from all over the world, stopped in front of the informational panels to learn about Falun Gong. After learning about the CCP's crime of organ harvesting from Falun Gong practitioners, people signed the petition calling for the United Nations to carry out an independent investigation into these crimes. About 500 signatures were collected that day.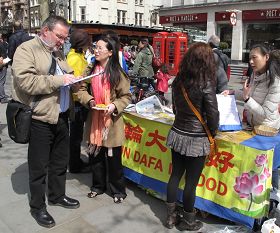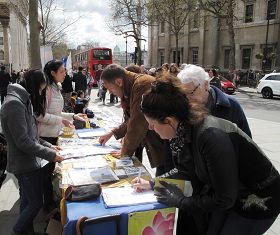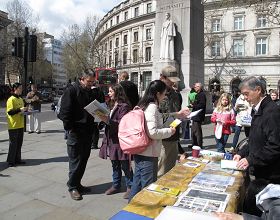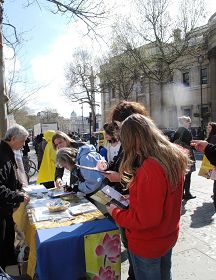 Londoners and tourists gather to learn more about Falun Gong.
Christie and Ross, mother and daughter, were visiting London from Coventry. This was the first time that they had heard about Falun Gong. They were shocked by the brutal persecution that the Chinese regime inflicted on Falun Gong. They signed the petition without hesitation and expressed their overwhelming shock in simple words: "I can't believe this is true! We are all human beings who are supposed to have freedom of belief and freedom of speech."
The practitioners were pleased to find that apart from British people, there were many tourists from all over the world who stopped by to learn about Falun Gong and sign the petition.
A number of people asked for more leaflets and materials so that they could pass them on to their relatives and friends. One man from London said that he had seen Falun Gong practitioners before when he passed by St Martin-in-the-Fields. It was a recent British media report that made him take note of the CCP's live organ harvesting from Falun Gong practitioners. He continued, "This is so shocking that every government in the world can't ignore it. We must take immediate action to stop the crime. I would like to know how I can help."
Hassan, a young man from London, stayed at the activity site for a long time. He said that he practiced qigong himself and could feel a peaceful energy field near the Falun Gong practitioners. Having learned that Falun Gong was a cultivation practice with a high moral standard, he said that he planned to find out more about it on the Internet.
In the evening, Falun Gong practitioners moved from St Martin-in-the-Fields Plaza to the Chinese Embassy in London to take a part in a candlelight vigil to peacefully protest the 14-year persecution.