Outstanding Teacher and Falun Gong Practitioner Mr. Kang Changjiang Sentenced to 14 Years in Jail
May 22, 2013 | By a Minghui correspondent from Heilongjiang Province, China
Name: Kang Changjiang (康昌江)
Gender: Male
Age: Unknown
Address: Shuangcheng City, Heilongjiang Province
Occupation: Teacher
Date of Most Recent Arrest: November 13, 2011
Most recent place of detention: Liaoning Hulan Prison (黑龙江省呼兰监狱)
City: Harbin
Province: Heilongjiang
Persecution Suffered: Detention, home ransacked, back cuff, brutal beatings, interrogation using torture, illegal sentencing, imprisonment
(Minghui.org) An outstanding secondary school teacher and Falun Gong practitioner, Mr. Kang Changjiang of Heilongjiang Province, was tortured in an attempt to extort a confession out of him by communist agents who knocked out 10 of his teeth and put him into a coma. Mr. Kang was illegally sentenced to 10 years in prison.
Professional excellence
Before the persecution began, Mr. Kang was a Chinese-language teacher in the Third Secondary School of Shuangcheng City, Heilongjiang Province, and held a senior professional title at the school. After he started practicing Falun Gong in 1996, he lived according to the principles of Truthfulness-Compassion-Forbearance. He always worked very hard as a teacher and never complained. For many years he taught third-level Chinese in his school. Because of his hard work and dedication to teaching, some of his students ranked among the top 10 of those taking the college entrance exam in the city each year. One of his students even scored over 130 (out of 150, considered to be the top). For a regular high school like the one where he taught, this was amazing.
Mr. Kang never accepted any gifts (bribery is quite common in present-day Chinese society) from students or parents. He even used his own time to tutor students he didn't even know. This is the kind of person the Communist regime persecutes.
Arrested
At noon on November 13, 2011, over a dozen plainclothes agents broke into Mr. Kang's home. They didn't show their IDs or a search warrant, nor did they introduce themselves. Without saying anything, they handcuffed Mr. Kang and Ms. Ge Xin (his guest at the time) to a chair. When Mr. Kang asked what they were doing, one of the agents (from Heilongjiang Provincial Public Security Bureau) said they were "from the Central Government."
The agents ransacked Mr. Kang's home. They repeatedly pushed him against the computer desk and took pictures of him (which were used as evidence to prosecute him at a later time). After the search, Liu Weidong and Yao Renku, police officers from Heilongjiang Provincial Public Security Bureau, took Mr. Kang and his guest to the Shuangcheng City Public Security Bureau.
Tortured to "confess"
When they arrived at the Bureau, the agents took Mr. Kang to a room on the right side of the second floor. They handcuffed him to the back of a chair and started punching and kicking him in the face, while trying to extort a confession from him. When he fainted, they poured cold water onto him to wake him up and continued hitting him in the chest and abdomen.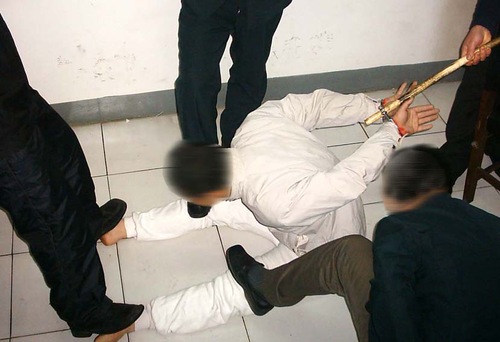 Torture reenactment: Inserting a stick between the handcuff and hand
Teeth knocked out
The agents carried Mr. Kang from the chair and stuck a heavy stick between his handcuffs and his hands. Then, they grabbed either end of the stick, lifted him off the ground, and held him up for a few minutes. They dropped him and lifted him up again until he fainted due to the excruciating pain.
During the torture, a little old man that appeared to be a leader from the Provincial Public Security Bureau entered the room. Mr. Kang told him that his teeth had been knocked out by the agents. The old man said, "You are a Falun Gong practitioner, and you deserve it." After the old man left, Liu Weidong and Yao Renku continued torturing him, saying, "How dare you report us to our boss!" Then they started hitting him even more brutally.
At the behest of the Provincial Public Security Bureau, Liu Weidong and Yao Renku tried to extort confessions from Mr. Kang for two hours, leading to the following injuries: Over 10 of his teeth were knocked out; the remaining teeth were loose; his visual acuity decreased (he could only see objects within 3 meters); the hearing in his right ear was impaired; one of his ribs was broken; his face was swollen; and his hands were numb and scarred.
First Detention Center
On the evening of November 13, the agents stopped hitting Mr. Kang and started writing the first report since he was arrested (there were two names on the reports). After that, they took him to the First Detention Center of Harbin. The doctor on duty refused to admit him because he saw a lot of blood on his mouth. The agents ordered Mr. Kang to rinse his mouth and then took him back to the detention center.
The doctor checked Mr. Kang's mouth and couldn't determine exactly how many teeth were knocked out. He told Liu and Yao to take Mr. Kang to the Fifth Hospital in Harbin. In the car waiting to be taken to the Fifth Hospital, Mr. Kang saw Liu and Yao speak to the doctor. Minutes later, he was taken back to the First Detention Center. Feeling muddle-headed, Mr. Kang filled out the "Entrance Physical Examination Form" that he was given.
Complaints fall on deaf ears
After Mr. Kang was injured, he tried repeatedly to complain to someone in charge. On November 25, 2011, he complained to the section chief, director Song, Lu Jun, and Yao Shoujun from the Barbin City Public Security Bureau, and officer Yang from the Provincial Public Security Bureau. They ignored him and threatened him "not to mention it again."
On February 21, 2012, Mr. Kang went to the procuratorate office in Shuangcheng City and complained to Zou Qingji about how he had been mistreated. Zou showed indifference and didn't file a report. Not only that, during the May 28, 2012 trial, Zou took out the "Entrance Physical Examination Form" that Mr. Kang had filled out on December 23, 2011 (when he was transferred back to the Shuangcheng Detention Center from the Harbin First Detention Center), and voided it.
When Mr. Kang was transferred back to Shuangcheng City Detention Center from the Harbin First Detention Center, he didn't undergo a physical. That day, as a routine, the personnel from the detention center just asked Mr. Kang about his health. The "Entrance Physical Examination Form" only contained a report about the history of Mr. Kang's health.
On April 19, 2012, Mr. Kang went to the Shuangcheng People's Court and told Hu Yelin, the presiding judge, about how he was tortured. On May 28, Mr. Kang again brought up the issue to him. However, Hu didn't acknowledge Mr. Kang's complaint on the basis that the time, location, and names that he specified were unknown.
Sentenced
However, if Hu had checked the notes taken during the arraignments on November 13, and 28, 2012, by agents from the Heilongjiang Public Security Bureau, he would have found the names of the agents and their boss (the little old man). If Hu had gone to the Shuangcheng City Public Security Bureau and played the surveillance video taken on November 13, 2011, then he would have known whether Mr. Kang was telling the truth or not.
Hu, however, didn't bother to investigate the incident. Relying on the story told by prosecutors Zou Qingji and Zhang Zhenting, Hu sentenced Mr. Kang to 14 years in prison.
Pleas ignored
On June 3, 2012, Mr. Kang again complained to Zhang Guodong (the presiding judge) and Fu Haitao (the director of the Harbin Intermediate Court) about how he was tortured. Their response was indifference and aloofness.
Desperate, Mr. Kang filed a complaint with the Heilongjiang Procuratorate and urged them to investigate the "extortion of confession using torture" he endured, but it was to no avail.
Law of the land ignored
According to China's Criminal Law Article 247, "Judicial officers who torture suspects or defendants to extract a confession commit the crime of 'extortion of confessions by torture.'" The Supreme Procuratorate has set forth the standard on this. In Article 2, it says "The following circumstances should be placed on file for extorting confessions by torture: beating, tying up, illegal use of harsh means to extract confessions... conniving, instigating, or forcing suspects or defendants to confess using torture belong to the above-mentioned circumstances."
Based on the facts and laws above, Liu Weidong, Yao Renku, and the little old man have committed the crime of extortion of a confession using torture against Mr. Kang. As a law enforcement entity, the court should bring the above three officers to justice. However, under the rule of the Chinese Communist Party, there is no justice or rule of law within the Public Security Bureau, the procuratorate, or the court. Especially in the treatment of Falun Gong practitioners, the communist thugs have been instructed that "killing is counted as suicide," so they do as they please with impunity.
The Harbin City Public Security Bureau should be aware of the fact that Mr. Kang was injured by its agents, who then waited until Mr. Kang's health improved before they decided to arraign him.
On November 24, 2011, the notes taken during the arraignment by the Harbin Public Security Bureau were just a deception. The agents told Mr. Kang, "You and your wife are now under arrest. (Mr. Kang's wife, Ms. Wang Yali, was arrested on November 24, 2011, at 12:20 p.m. near their home.) We can release one of you. If you admit that you alone made the discs we got from your home, then we will release your wife and send you to a forced labor camp, but you can still retain your public office position. Otherwise, we will hold your wife and child responsible for everything."
Agents who were taking notes included the section chief, someone surnamed Liu or Yu (about 50 years old, 1.75 meters tall), director Song (45 years old, 1.72 meters tall, medium-build), officer Yang (in charge of the education department, 45 years old, 1.74 meters tall, pockmarked), investigator Lu Jun, and Yao Shoucai. What these people said to Mr. Kang was a pack of lies attempting to trick him. In fact, Mr. Kang's wife, Ms. Wang Yali, was never released and had to serve one and a half years in a forced labor camp. Those agents also went to Mr. Kang's child's school to harass him. Luckily, the teacher refused to cooperate. No one knows what else these agents were capable of doing to further harm the Kang family.
After Mr. Kang was framed and sentenced to 14 years in prison, he was incarcerated in Heilongjiang Hulan Prison on July 25, 2012, and tortured for four and a half months. To "transform" him, the guards ordered inmates to beat him. Afterwards, he couldn't move, and someone had to carry him to the bathroom. Mr. Kang was emaciated, reduced to a bag of bones, and had scabies and lice all over his body. He was disfigured and looked like a completely different person than before. When Mr. Kang's 70-year-old parents went to see him, they couldn't recognize him and tears streamed down their faces.
Agents from the Heilongjiang Provincial Public Security and Bureau Shuangcheng City Public Security Bureau took the following of Mr. Kang's personal belongings:
1. Office supplies: A desktop computer and LCD monitor, two notebook computers, a printer, projector, scanner, a number of mp3 and mp4 players, cell phones, mobile hard discs, and U discs.
2. Household items: Four pieces of gold and silver jewelry, an agate bracelet, 24K gold embroidery thread, two new tea sets, a men's watch, a men's leather jacket (worth over 1,600 yuan), a bank card and an ID card.
Other than the desktop computer, printer, projector, and scanner, which were still in the hands of agents, all their other belongings disappeared. When Mr. Kang's father went to the bureau to re-claim the stolen articles, no one admitted that they had ever been taken.