India: Introducing Falun Dafa to Rajasthan Armed Constables and Jodhpur Central Jail Inmates (Photos)
(Minghui.org) In Jodhpur on April 14-21, 2013, practitioners were invited to introduce Falun Dafa to police personnel belonging to the Rajasthan Armed Constable (RAC) battalion, and jail inmates at Jodhpur Central Jail (both men's and women's jails). Jodhpur is a historical city, the second largest in the Indian state of Rajasthan.
Group exercises were held every morning for about 100 RAC police personnel. Falun Dafa introductory presentations and videos were also shown.
At Jodhpur Central Jail, exercise sessions were conducted every day separately for male and female inmates for two hours each. Though attendance was somewhat low in the beginning, each day more people joined the class.
During the introduction at the Jodhpur Central Jail, daily Fa study sessions were held in the second half of the day. Though these sessions also had only a few people to start with, the number of people increased later. Fa study sessions helped the inmates obtain a better understanding of Falun Dafa.
Many inmates shared their experiences at the end of the session.
One person mentioned that he was depressed and did not want to speak with anyone. He felt angry with everyone around him and felt like hitting others. After doing the Falun Dafa exercises and Fa study for a few days, this person started to relax. He was no longer angry with people around him. He mentioned that he would be released from jail in a few days and he would introduce Falun Dafa to his family.
Another inmate who was about 60-65 years of age mentioned that he has diabetes and heart problems, takes a lot of medicine daily, and does some other exercises. But after doing Falun Dafa exercises and Fa study for a few days, he felt that he was sleeping better, and felt better.
An inmate who is in his forties said that after doing Falun Dafa exercises and Fa study for a few days, he was now sleeping soundly.
Another person mentioned that his whole body used to ache. After learning Falun Dafa for a few days, he felt his aches and pains had almost disappeared.
A woman shared her experience on the last day. She said that she was reluctant to come on the first day, but something inside her told her that she should go and learn Falun Dafa. She started coming on the second day and did all the exercises sincerely. Although she is illiterate and could not read, she sat through Fa study sessions and listened very carefully. She came to Fa study sessions all through the week. She mentioned that she feels Falun Dafa is very good, and she is grateful that she had an opportunity to learn Falun Dafa in jail.
There were many other inmates who could not read, but were interested in learning. One wondered what crimes they had committed, as one could see the remorse on some faces, and sadness on some ravaged faces. But there was hope in their eyes, and they came to Fa study sessions every day and listened carefully.
Practitioners saw from this experience at Jodhpur Central Jail that having compassion for those who have had a bad past, and not holding it against them makes them feel less rejected by society. We also learned that having Fa study sessions with jail inmates requires persistence and righteous action to touch people's hearts.
The Deputy Inspector General (DIG) gave the practitioners a letter of appreciation. He was very grateful for our introduction of Falun Dafa to the Jodhpur Central Jail and looks forward to more sessions in the future.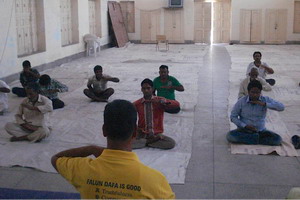 An exercise and meditation session with male inmates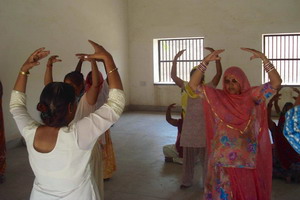 An exercise session with female inmates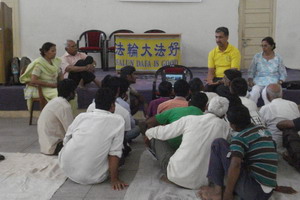 Introducing Falun Dafa at the jail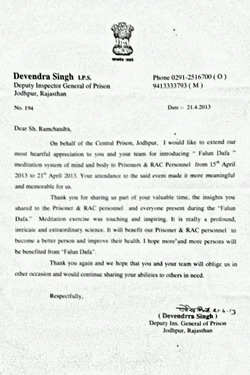 Letter of Appreciation from DIG, Jodhpur