New York: A Grand Parade of More Than 7,000 Falun Dafa Practitioners (Photos)
May 20, 2013 | By Minghui correspondents Tang Xiuming, Xiao Yan, and Zhang Jun in New York
More than 7,000 Falun Dafa practitioners from more than 50 countries and regions converged on Manhattan's Chinatown in New York on Saturday, May 18. They held a magnificent parade to celebrate the 21st anniversary of Falun Dafa's introduction to the public, demonstrating the wonderfulness of Falun Dafa and calling for justice and conscience. The vast procession impressed Western and Chinese spectators alike.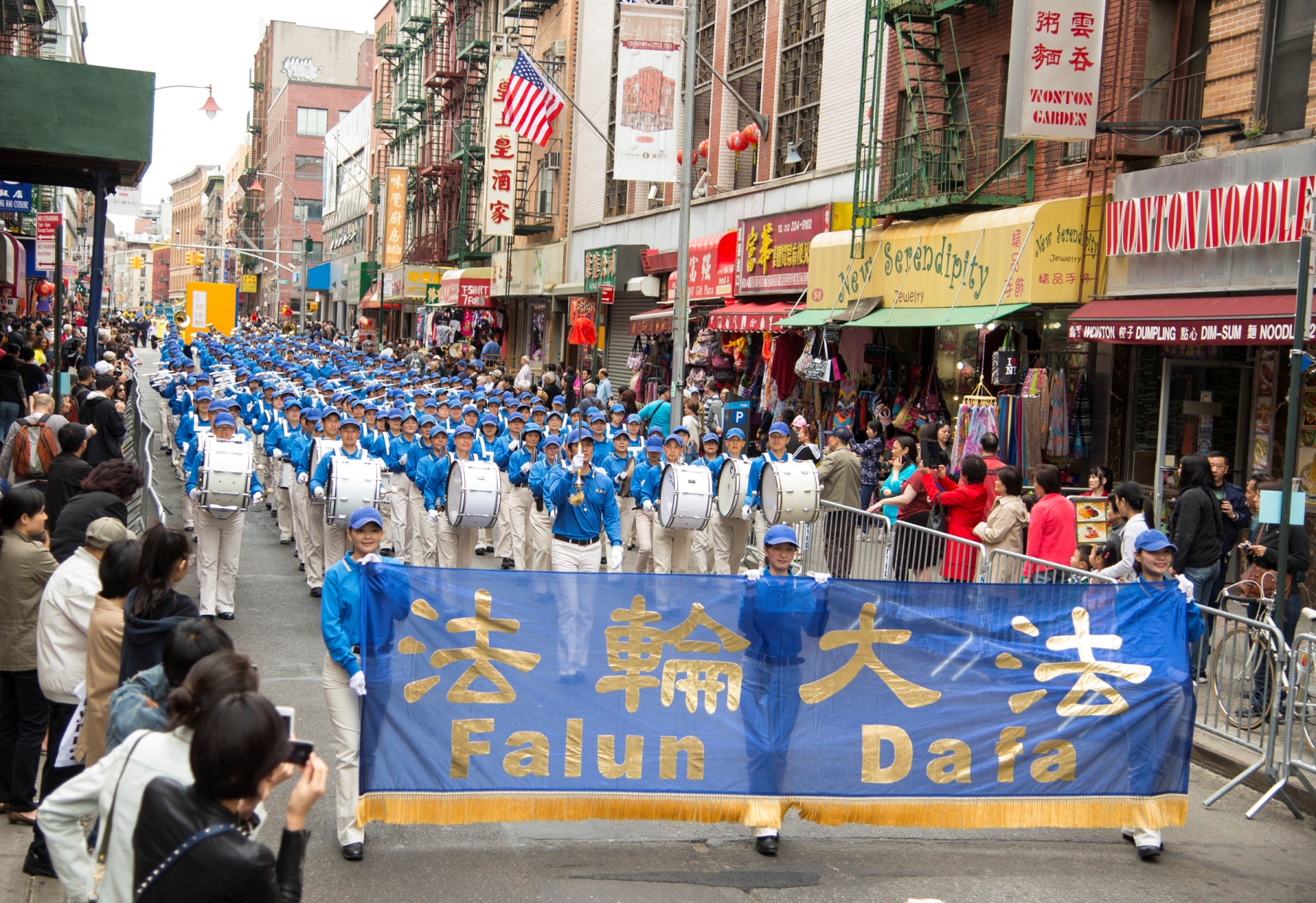 The Divine Land Marching Band leads the parade procession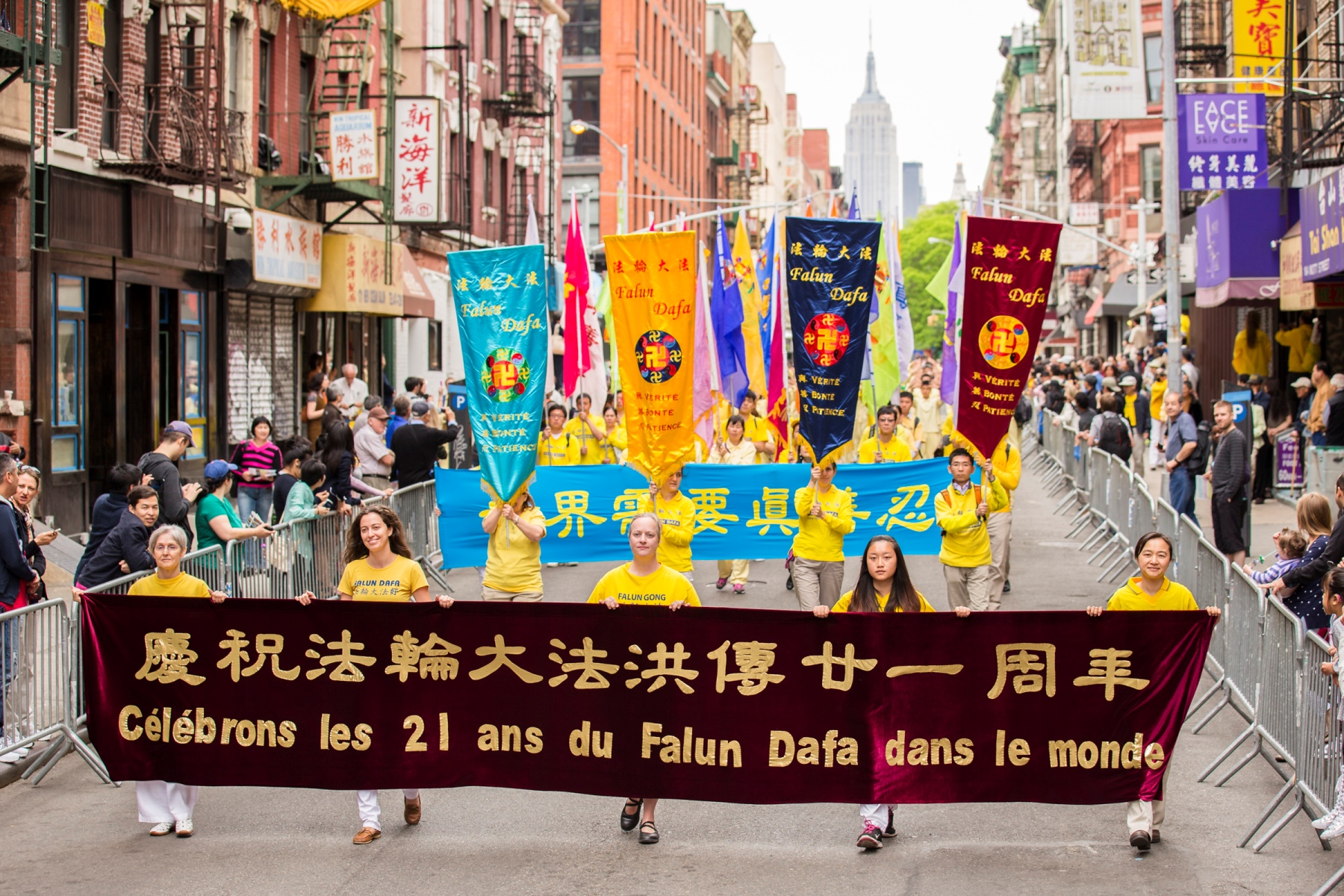 A grand procession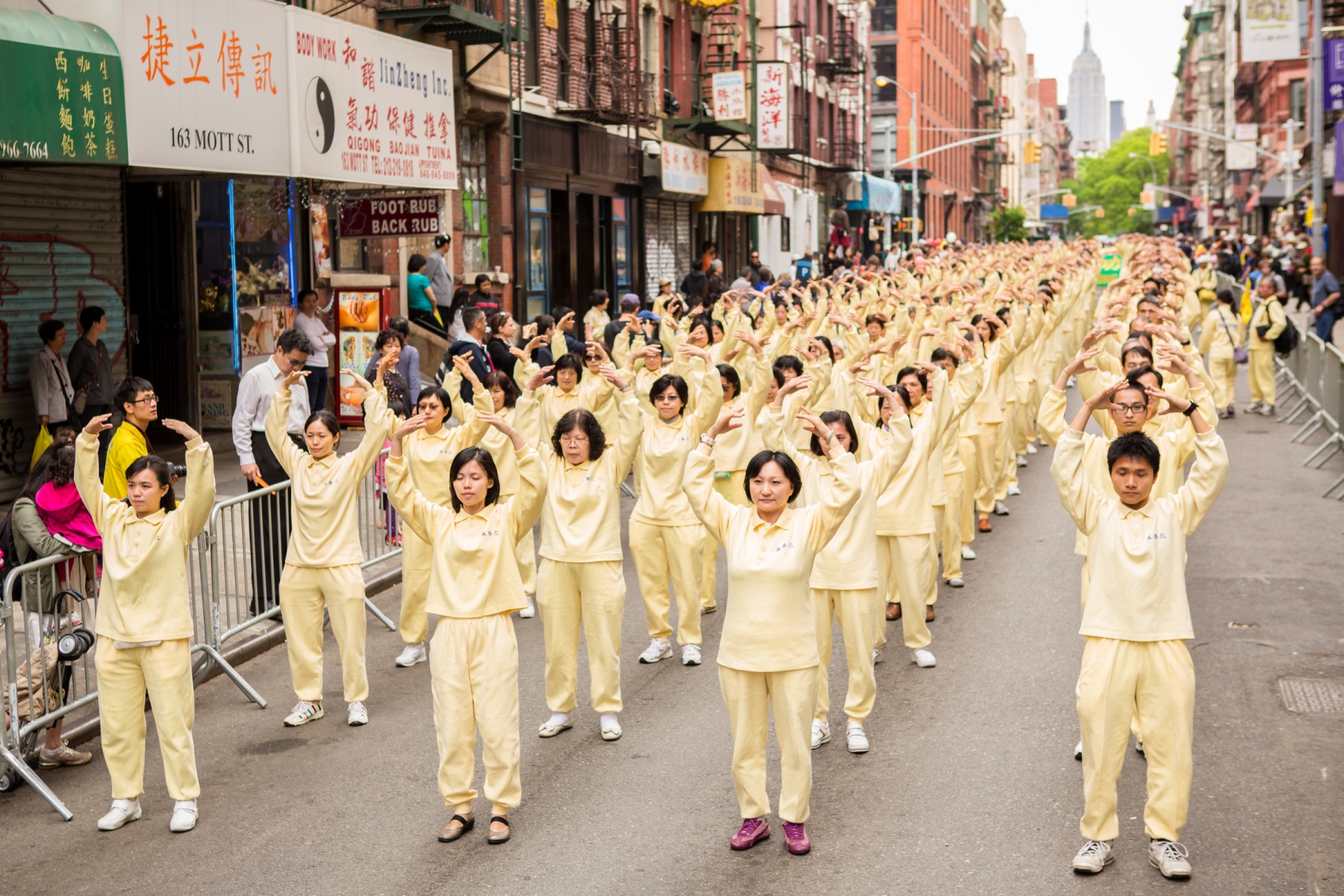 Falun Gong exercise demonstration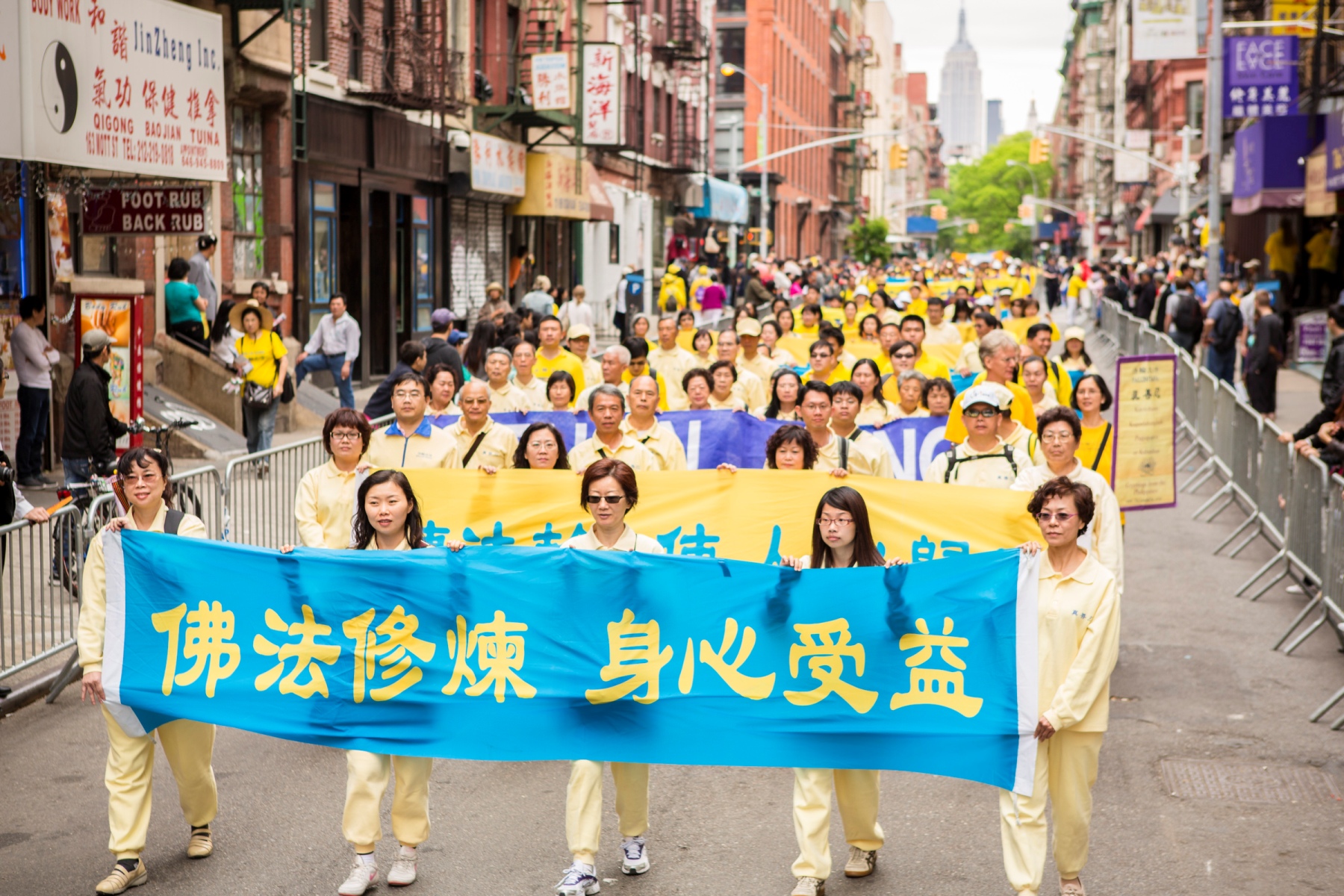 The banner reads, "Buddha Fa Cultivation Benefits People Physically and Mentally"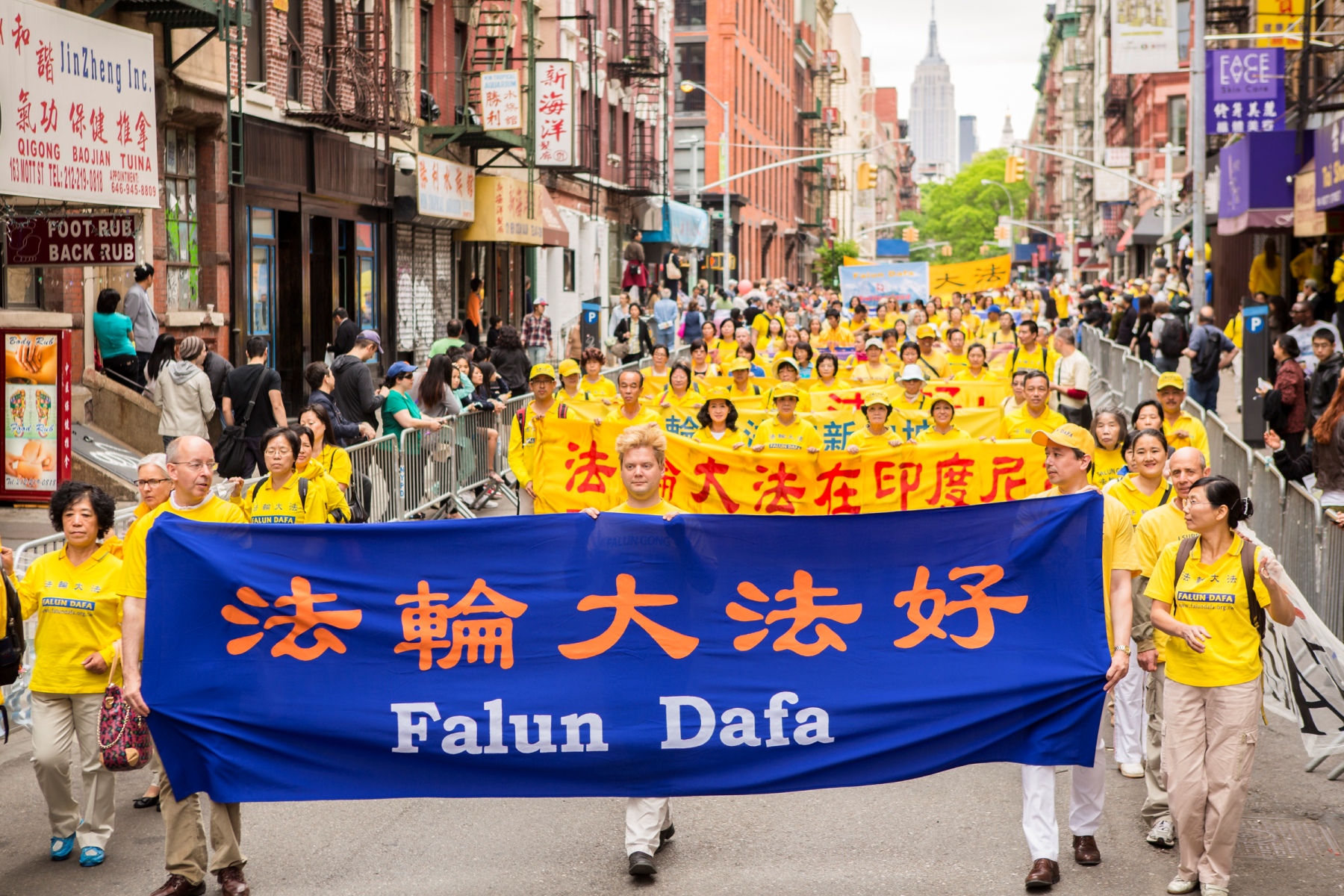 "Falun Dafa Is Good"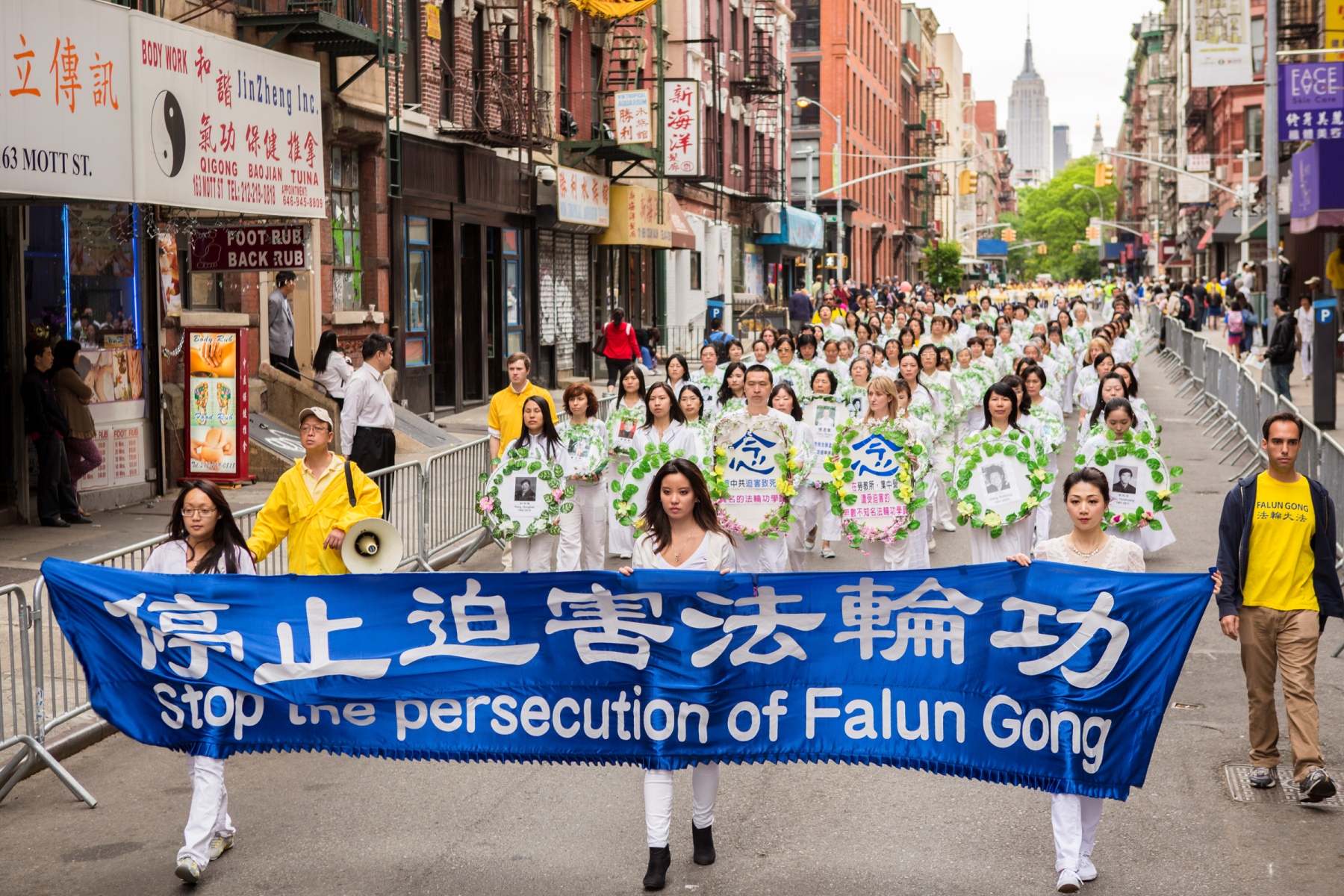 Banner reads, "Stop Persecuting Falun Gong"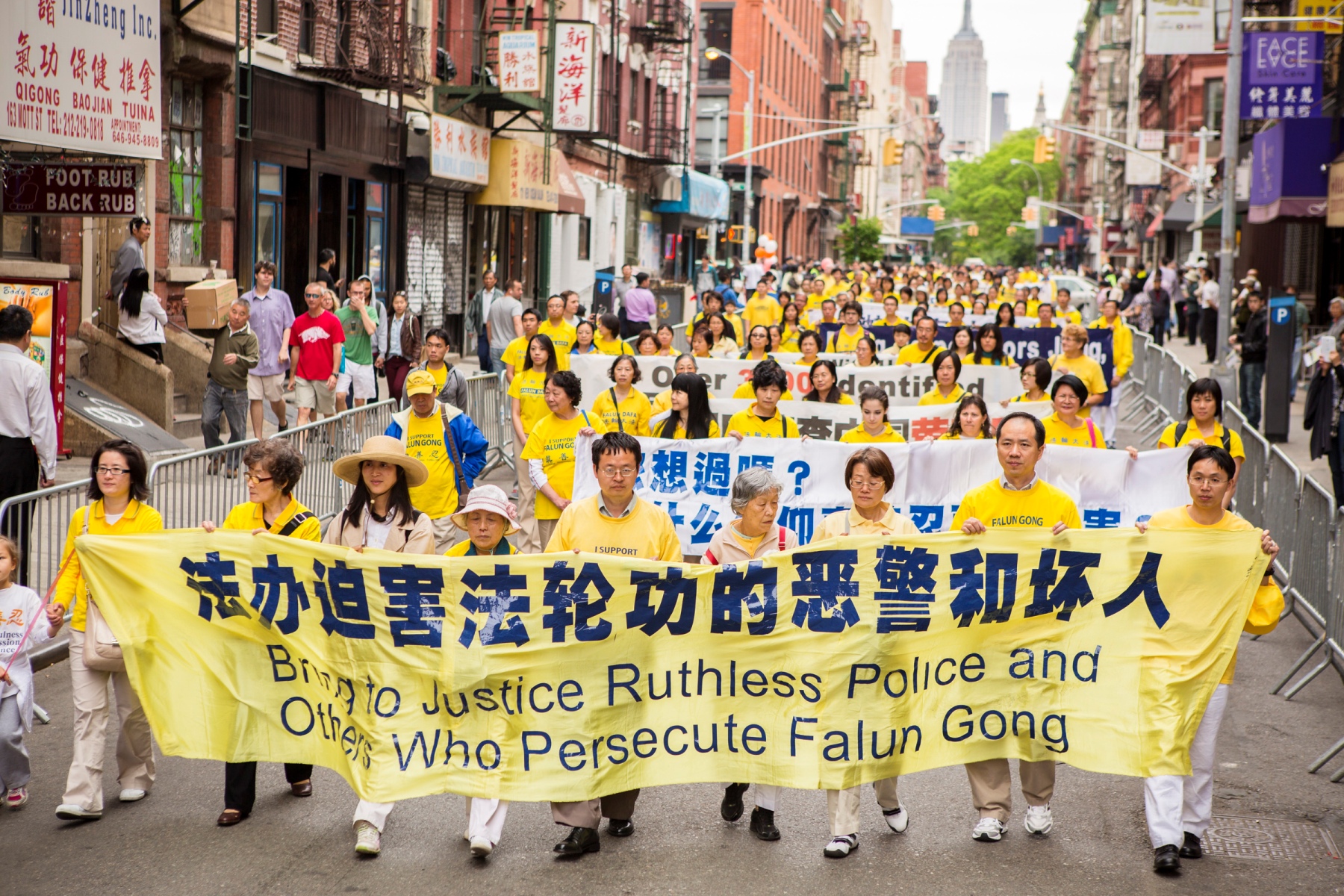 Practitioners holding banners that read, "Bring to Justice Ruthless Police and Others Who Persecute Falun Gong"
Beginning at noon, the march featured three large sections and 11 small sections, like a dragon with no tail in sight.
Each section presented a different theme: The first showed the wonderfulness of Falun Dafa and how it has been embraced worldwide; the second raised awareness and called for an end to the persecution of Falun Gong; the third section called upon people recognize the evil nature of the Chinese Communist Party (CCP) and to quit the Party and its affiliated organizations to ensure their own safety.
When the procession passed by, large crowds of people on both sides of the street stopped to watch. Many Chinese business owners came out of their shops to watch. Many Chinese were impressed and in awe: "How magnificent! So many people!" Some said they wanted to learn Falun Gong. Some people said, "Falun Gong has grown larger and larger."
"What the Falun Gong parade conveys is peace, love, and human dignity"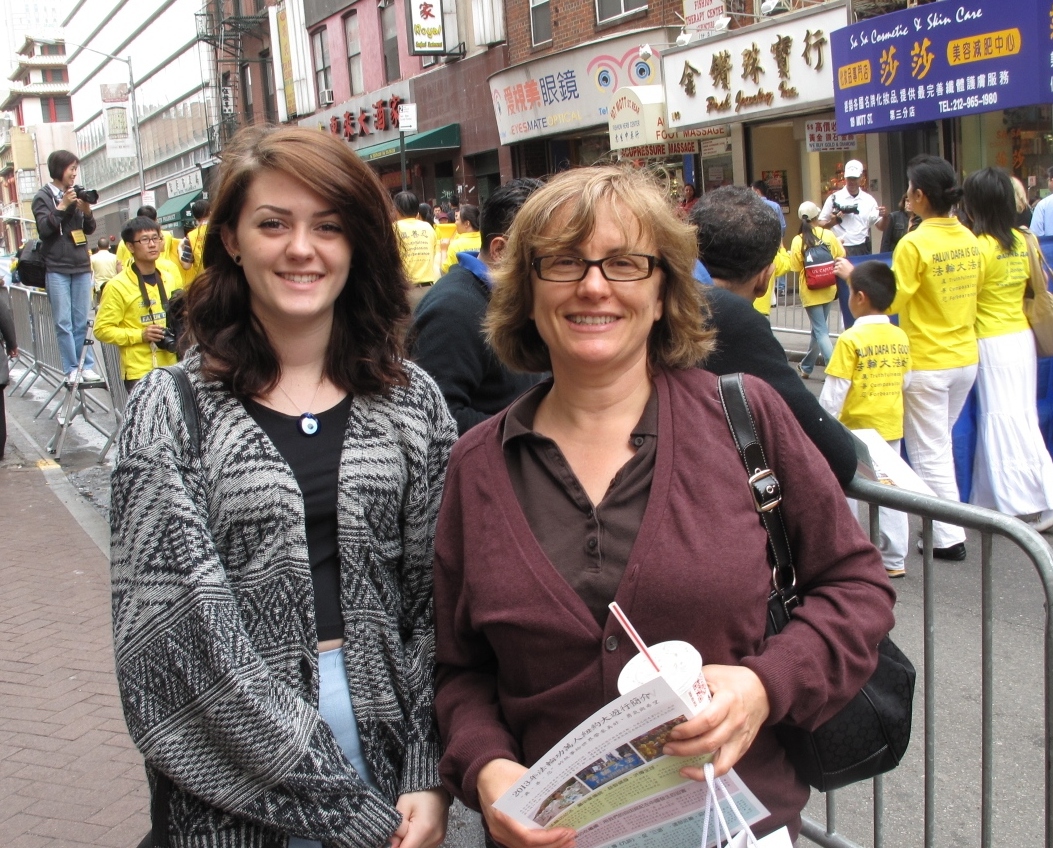 Caroline and her daughter
New York residents Caroline and her daughter Catherine came to Chinatown for fun, saw the Falun Gong parade, and stopped to watch. Caroline raved, "Wonderful! What they convey is peace, love, and human dignity."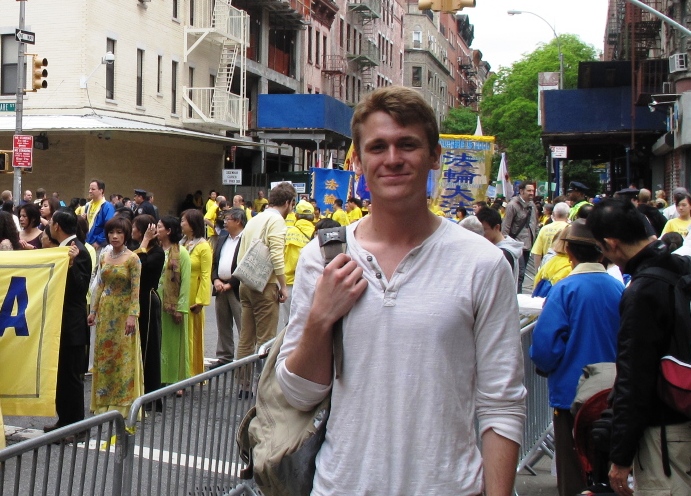 University student David said, "I've experienced something very rich."
Eighteen-year-old David is a university student studying business at a university in Pittsburgh. It was the first time he had ever been to Chinatown and the first time he had ever come across such a grand march held by Falun Gong practitioners. Before the parade set off, he took many photos. He said, "I've experienced something very rich, with splendid colors and smiles from people in the procession. I'm affected and smile, too."
"Exhilarating parade can't be missed"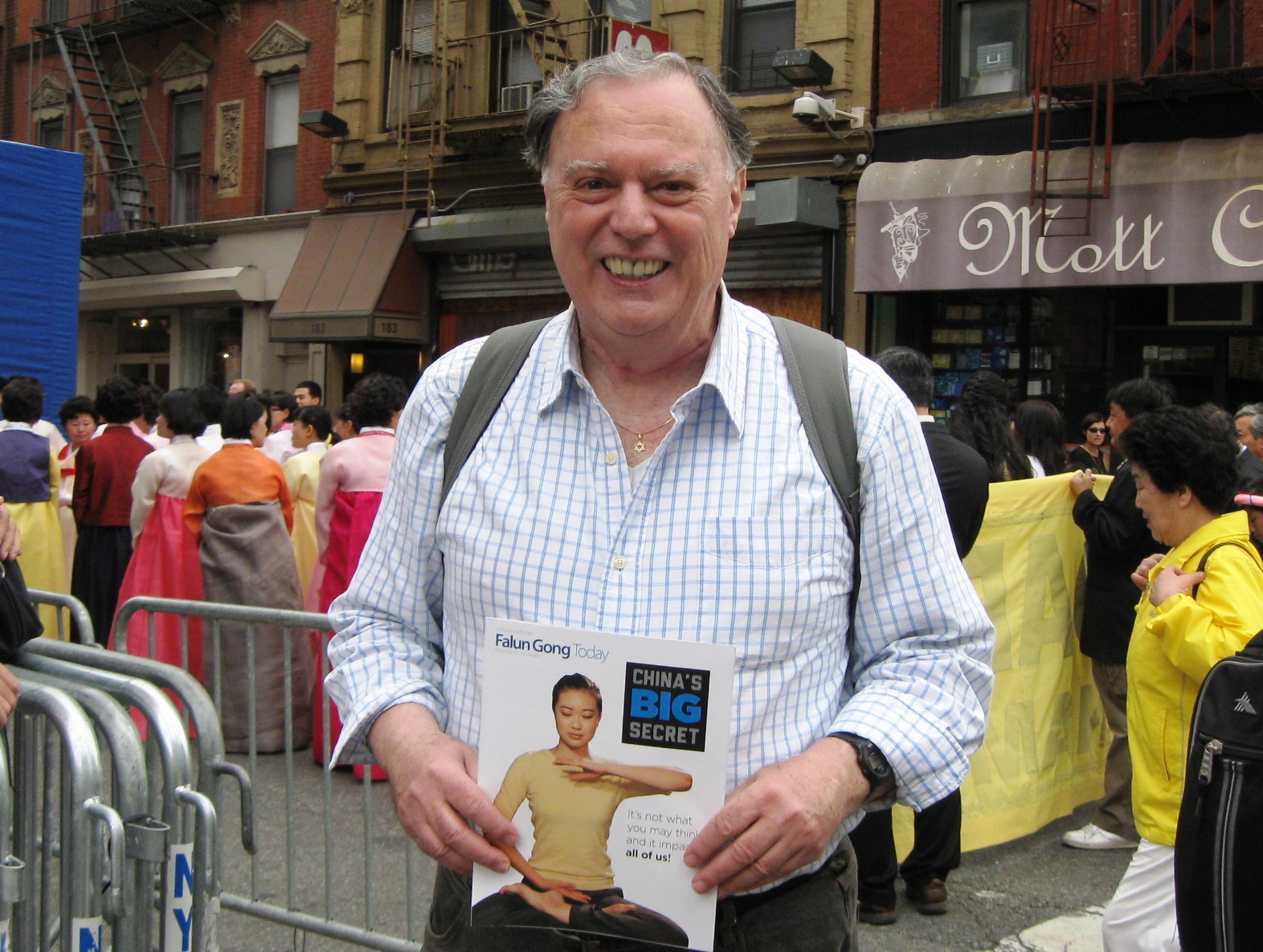 Fred Seiden
Fred Seiden has lived in Manhattan for more than 40 years. He said, "I never expected to see such a grand and exhilarating parade today. My friend came from India to take part in this event, and he told me to come and see it, so I came. I don't know how to describe my feelings. The band is so fascinating, those celestial maidens and those dressed in different ethnic attire--they are demonstrating traditional Chinese culture.
"Such an inspiring parade can't be missed." He carefully put the Falun Gong materials a practitioner gave him into his backpack and said that he would definitely learn more after he got home.
"I feel Falun Gong is good"
Mr. Xie is a retired doctor and loves photography. He held a long lens camera and took photos of the parade. He said that, since the CCP seized power in China, the people there have been subjected to all kinds of persecution. His father was labeled as a rightist by the CCP and was persecuted. He said that many Chinese people can't realize this and mistakenly consider the CCP and China one and the same. He finally said, "All in all, the existence of the evil CCP is a misfortune for the world."
Mr. Chen, in his 80s, was a businessman before he retired. He lives in Chinatown, and each time there is a Falun Gong parade, he comes to watch. He said, "The Communist Party is bad. What it has done are all bad things. I've been here for dozens of years. I feel Falun Gong is good and righteous."
"(The parade procession) is really phenomenal"
Another Mr. Chen from Guangdong Province has worked in Manhattan's Chinatown for more than 12 years. He said, "The parade is really fabulous! Wonderful! There are so many people." "The CCP is bad. It is autocratic, corrupt, and wicked. It will never change. America is free and democratic, so there is such a good environment for such a grand parade to be held."
Mr. Huang, who has lived in New York for over a decade, comes to see Falun Gong practitioners' parade each year. He said, "Falun Gong is a good practice. It enables people to be kind. Falun Dafa truly teaches people to be good. Over so many years, who has ever seen Falun Gong practitioners breaking any laws!?"
"There are so many practitioners, how can I learn it?"
Mr. Wang from Guangdong Province held a Falun Gong flyer in his hand and watched the parade intently. He told the reporter, "It's my first time to see a parade with so many people. There are so many people who practice Falun Gong. Can I can find it online? How can I learn it? Can I download its books online?" His questions answered, he said he would search for it online and begin to learn.