New York: Practitioners Gather in front of Chinese Consulate to Call for the Persecution to End (Photos)
May 19, 2013 | By Cheng Qing
(Minghui.org) On the afternoon of May 17, 2013, Falun Gong practitioners from around the world rallied in front of the Chinese Consulate in New York to protest the nearly 14-year persecution of Falun Gong in China.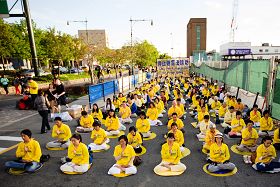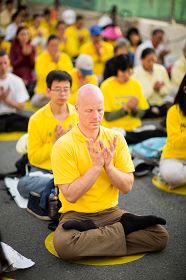 Falun Gong practitioners protest the persecution of Falun Gong in front of the Chinese Consulate in New York
Falun Gong practitioners held banners worded, "Stop the persecution of Falun Gong", "Falun Dafa is great" and others in both English and Chinese. They showed photos exposing the torture of Falun Gong practitioners by the communist regime and talked to passersby about the persecution.
Ms. Huang, a coordinator of the event, said, "For so many years, the Chinese Communist Party has persecuted Falun Gong in China. In other countries, the communist regime also harasses Falun Gong via the Chinese community. For example, when Falun Gong practitioners hold events, the Chinese Consulate will manipulate some groups to interfere and spread lies to slander Falun Gong. Falun Gong practitioners are here today to expose the Communist Party's despicable acts using peaceful means."
In addition to the large-scale event on this special day in advance of the New York International Fa Conference, Falun Gong practitioners gather in front of the consulate to expose the persecution and spread the facts every day.
Ms. Huang thought that the persecution of Falun Gong was damaging to morality in China and everyone is thus a victim. She truly hopes that more people can see through the lies told by the Communist Party.
Martin from Vienna is an engineer at a well-known telecommunications company in Austria. He and his wife started practicing Falun Gong in 1997. This is the fifth time they've come to New York to participate in the protest. He said he travelled to New York from Europe to help tell the American people about Falun Gong and call for an end to the persecution.
Shufen from France also participated in the protest. She said, "The Chinese Communist Party has persecuted Falun Gong for nearly 14 years. I hope Communist Party members and officials, and the police involved in the persecution, will learn the facts and stop participating in the persecution."