Sydney, Australia: Grand Parade Commemorates World Falun Dafa Day (Photos)
(Minghui.org) Falun Gong practitioners in Sydney, Australia, gathered in the city center on May 11, 2013, to celebrate the 21 st anniversary of the dissemination of Falun Gong to the public and Master Li Hongzhi's birthday.
Practitioners started the festivities with a large group exercise practice at Belmore Park, in front of Central Station. It was a lovely day with a blue sky dotted with white clouds. The peaceful music accompanying the Falun Gong exercises pleasantly reverberated in the air, and the practice site was filled with an immense warm energy.
In the afternoon, a large grand parade proceeded from Sydney Town Hall toward Chinatown. The procession was led by the Divine Land Marching Band, followed by waist drummers, a dragon dance team, a lion dance team, and "celestial maidens" in beautiful costumes.
Practitioners offered their artistic talents to express their deep gratitude to Master Li and Falun Gong (also known as Falun Dafa).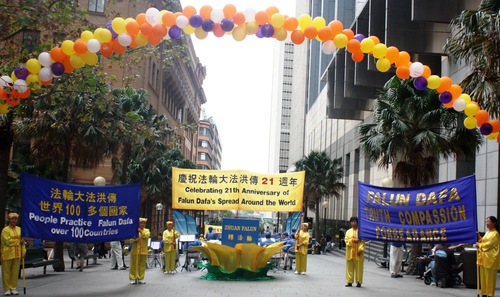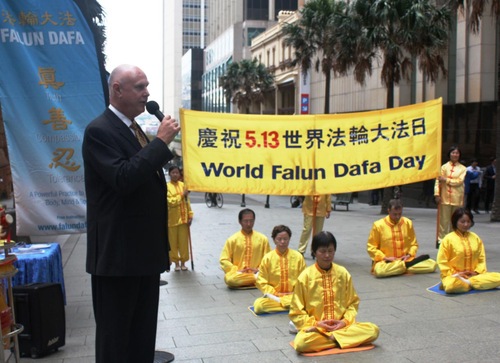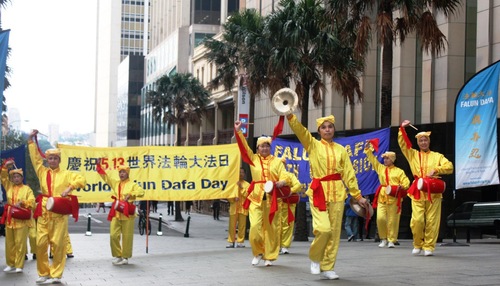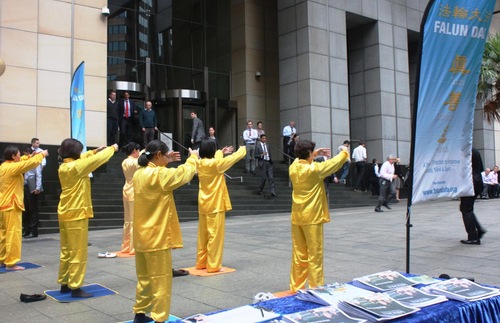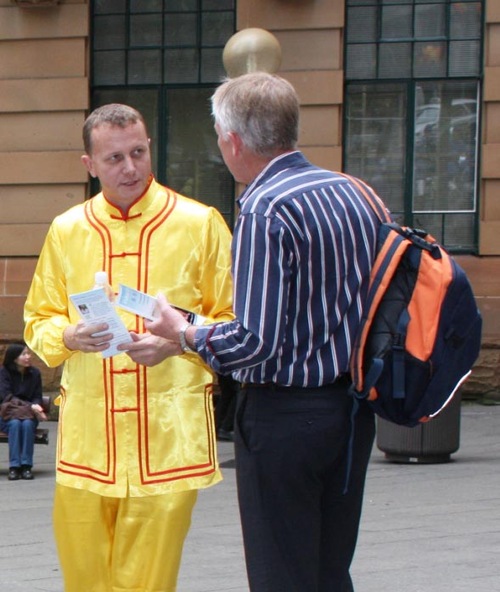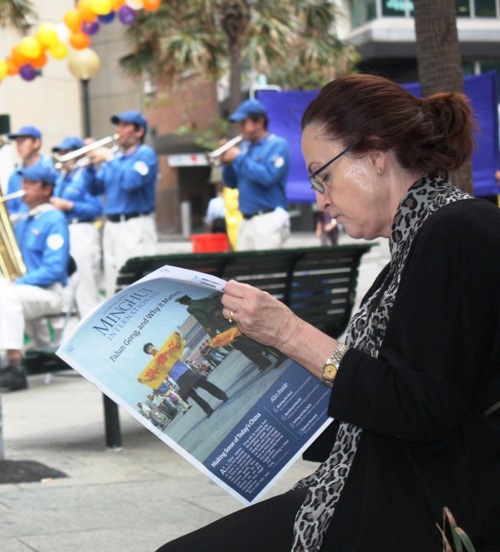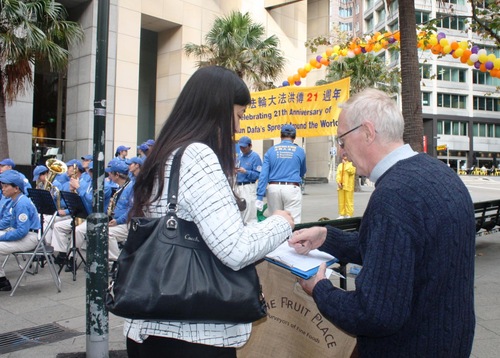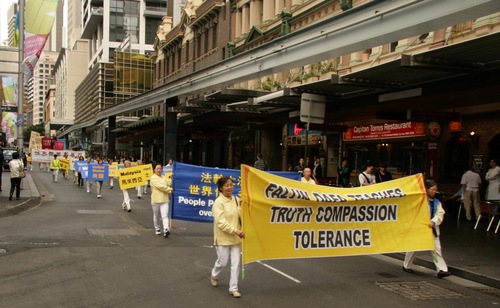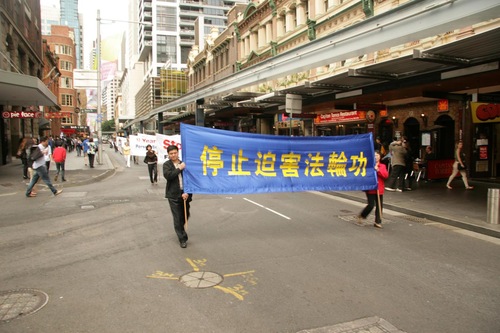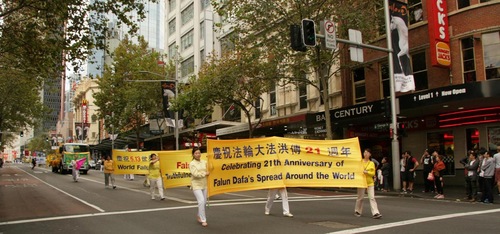 Falun Gong practitioners in Sydney celebrate World Falun Dafa Day. Many people learned about Falun Gong and signed a petition to demand the end of the persecution in China during the festivities.
Grateful for Falun Dafa
Falun Gong practitioner Wang Meifen said: "Our family runs a fast-food restaurant in Sydney. As we are very busy, my husband did not want me to go out to raise awareness to people in the past. However, when he saw the change in me from practicing Falun Gong and watched Shen Yun, he also started to read Zhuan Falun and do the exercises.
"He also encouraged our son the take up the practice. Falun Gong helped my husband become a better person. Once an elderly woman accidentally gave him two 50-dollar bills that had stuck together. He said to me, 'I would have kept the extra money if I had not practiced Falun Gong.'"
Ms. Pan said with tears in her eyes: "I'm very grateful that Master has given my daughter a second life and now she enjoys good health. I'm nearly 70 now and have been practicing Falun Dafa for 15 years. During these years I did not need to take any medication or see a doctor, because I'm in perfect health. People all say that I look like I'm in my fifties, and they feel quite envious of my good health. I'm very grateful to our great Master."
Ms. He Huaqiong's whole family practices Falun Dafa. She said that she used to have a strong competitive mentality, but after she began to practice Falun Gong she learned to do things according to the principle of Truthfulness-Compassion-Forbearance and to be kind and tolerant of others.
Her parents also became kindhearted and were always willing to help others after they started to practice Falun Gong. They do the exercises every morning and then go out to clarify the facts about the persecution in China to people and distribute truth-clarification materials.
Ms. He said her mother was illiterate and was only able to recognize three characters in the past, but now she can read all of Zhuan Falun .
"Today, we've come to join the celebration with deep gratitude. Thank you Dafa! Thank you Master!" she said with emotion.
Ms. Dong Hong, from northeastern China, stood on the Town Hall square, watching practitioners get ready for the parade.
She broke into tears when being interviewed by a reporter, saying, "I'm also a Falun Gong practitioner. We cannot see such scenes in China now. I feel really touched and excited, and that's why I'm in tears. This is the first time I've ever been overseas. I've been here for only two months on a tourist visa. I took many photos so that I can show my fellow practitioners back in China. They send their best regards to Master and wish Master a happy birthday!"
Spectators Show Their Support
Mr. Sun Miao was one of the spectators at the parade. He said: "I'm stunned to see such a grand parade. I think Falun Dafa is amazing. My wife also practices Falun Gong. She changed into a totally different new person. She used to be depressed and argued with me a lot, but not any more. I can see that she is very happy and also very kind to others.
"I feel Falun Dafa is helping people free themselves from misery. It is ridiculous that the CCP [Chinese Communist Party] is persecuting Falun Gong. The persecution must not be tolerated and should be stopped straight away. As a Chinese, I feel very proud to see the grand parade today, very proud indeed. I hope more and more people will come to practice Falun Gong. Thank you, Master Li!"
Ms. Sun Qiang, a well-known writer and member of the International PEN of UNESCO, said that she was very pleased to see the changes in Chinese people, as more than 100 million people have quit the CCP and its associated organizations. She believed the biggest freedom for the Chinese people is to be free from the control of the CCP.
"I came to join today's parade to show my support of Falun Gong and my support of the great movement of quitting the CCP. All this shows Falun Dafa is great and the Chinese people are awakening. I quit the CCP, so did my husband and my son, my elder sister and my nephew. Quitting the CCP is a great undertaking, and I believe that with the awakening of more and more Chinese people, it will enhance the democratic force in China," Ms. Sun said.
She concluded: "The principles of Truthfulness-Compassion-Forbearance brought forward by Master Li Hongzhi is a standard for people to follow. If all the Chinese people hold this standard in their hearts, then the society would become bright and the CCP would have nowhere to hide. So, every Chinese person should keep these three words 'Truthfulness-Compassion-Forbearance' in their heart."