Slovakia: Falun Gong Practitioner Detained in China Recognized for "Safeguarding Human Rights and Faith" (Photo)
(Minghui.org) Falun Gong practitioner Ms. Zhang Fengying has been illegally detained at the Tiantanghe Women's Forced Labor Camp in Daxing District, Beijing, since January 22, 2013. On May 10, Slovakia's St. Elizabeth University of Health and Social Services awarded Ms. Zhang a Gold Prize for "Safeguarding Human Rights and Faith."
Ms. Zhang's daughter Lisa accepted the award on behalf of her mother at a ceremony in Bratislava, the capital of Slovakia.
Lisa, who is now living in Australia, said: "I am very sad that my mother, who should be able to come to accept the prize in Slovakia, cannot make the trip, because she is currently being illegally detained by the Chinese Communist Party."
Ms. Zhang did not receive the notification of the award in detention, but learned about it from relatives, she added.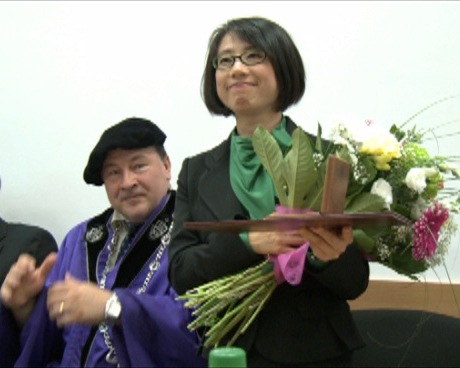 Ms. Zhang Fengying's daughter accepts the prize for "Safeguarding Human Rights and Faith" on behalf of her mother, as University Chancellor Dr. Vladimir Krcmery looks on.
Since the Chinese communist regime launched the persecution of Falun Gong in 1999, Ms. Zhang has been repeatedly arrested and tortured, simply because she insisted on keeping her faith. In custody, she was brutally force-fed, which induced internal bleeding in her stomach. She was also deprived of sleep for a prolonged period of time. After being released, she had to lead a vagrant lifestyle for a long time to avoid harassment from police. Now, she has been detained again.
St. Elizabeth University of Health and Social Services gives out annual awards to recognize people who have contributed to the plight of human rights and social justice throughout the world.
At this year's awards ceremony, University Chancellor Dr. Vladimir Krcmery introduced the efforts of Ms. Zhang to peacefully resist and raise awareness of the persecution in China. He then presented the Gold Prize for "Safeguarding Human Rights and Faith" to Ms. Zhang's daughter.
A local Western Falun Gong practitioner by the name of Marek also won the Bronze Award for "Fighting for Human Rights in China."
As the awards ceremony coincided with the graduation event, university students, as well as their relatives and friends, were in attendance.