Texas, USA: Congressman Kenny Marchant Presents Congressional Recognition in Celebration of Falun Dafa Day
(Minghui.org) May 13, 2013, marks the 14th anniversary of World Falun Dafa Day and the 21st anniversary of the introduction of Falun Dafa to the public by Mr. Li Hongzhi, the founder of Falun Dafa. On May 11, 2013, Falun Dafa practitioners from North Texas would celebrate World Falun Dafa Day at the Russell Creek Park. On this occasion, Congressman Kenny Marchant presented the following Congressional Recognition in Celebration of Falun Dafa Day.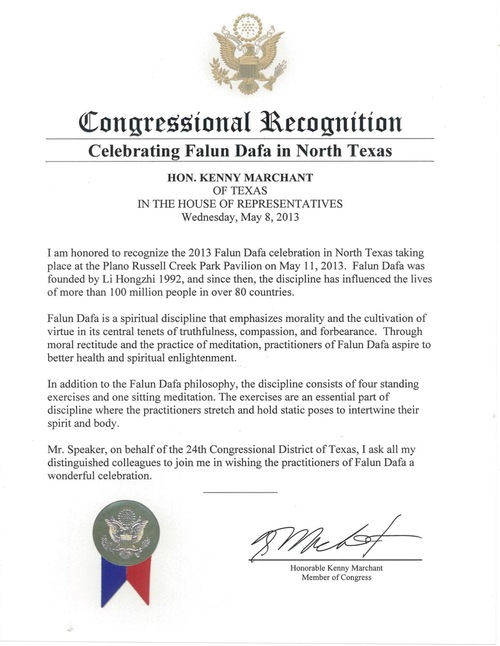 Congressional Recognition
Celebrating Falun Dafa in North Texas
HON. KENNY MARCHANT OF TEXAS
IN THE HOUSE OF REPRESENTATIVES
Wednesday, May 8, 2013
I am honored to recognize the 2013 Falun Dafa celebration in North Texas taking place at the Plano Russell Creak Park Pavilion on May 11, 2013. Falun Dafa was found by Li Hongzhi in 1992, and since then, the discipline has influenced the lives of more than 100 million people in over 80 countries.
Falun Dafa is a spiritual discipline that emphasizes morality and the cultivation of virtue in its central tenets of truthfulness, compassion, and forbearance. Through moral rectitude and the practice of meditation, practitioners of Falun Dafa aspire to better health and spiritual enlightenment.
In addition to the Falun Dafa philosophy, the discipline consists of four standing exercises and one sitting meditation. The exercises are an essential part of discipline where the practitioners stretch and hold static poses to intertwine their spirit and body.
Mr. Speaker, on behalf of the 24th Congressional District of Texas, I ask all my distinguished colleagues to join me in wishing the practitioners of Falun Dafa a wonderful celebration.
Honorable Kenny Marchant Member of Congress