San Francisco: Falun Dafa Practitioners Hold Grand March to Celebrate World Falun Dafa Day (Photos)
(Minghui.org) On May 11, more than 300 Falun Gong practitioners from the Bay Area of San Francisco held a grand march starting at city hall to celebrate the 14th World Falun Dafa Day.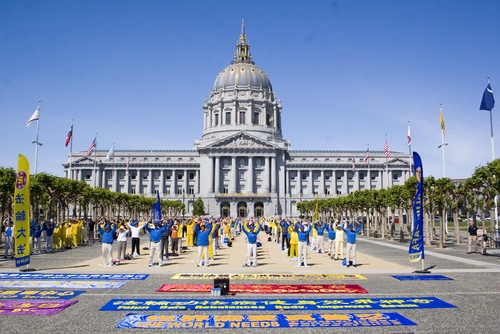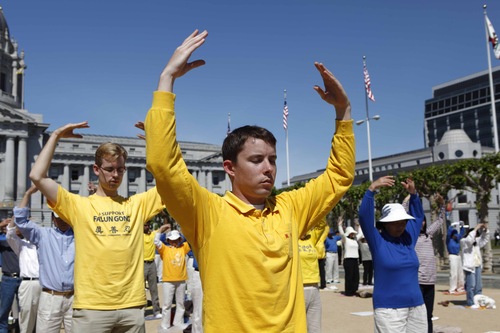 Group exercises in front of city hall
Teaching the exercises
Practitioners assembled in front of city hall to do group exercises at 9:00 a.m. The peaceful movements and music attracted many tourists. Some people took videos, some accepted truth-clarifying materials, and some learned the exercises.
At noon, the grand march set off from the plaza in front of city hall. The march consisted of three teams, with the themes of "Falun Dafa Spreads around the world," "Stop the Persecution of Falun Gong," and "Calling for Justice and Conscience."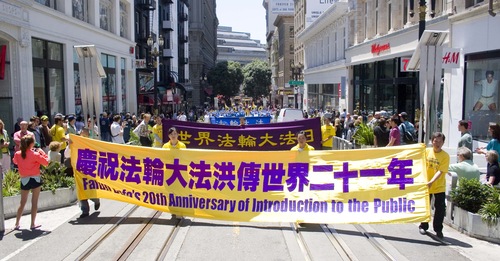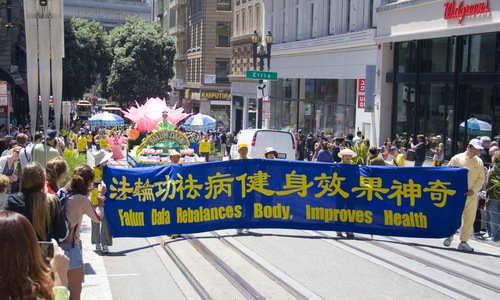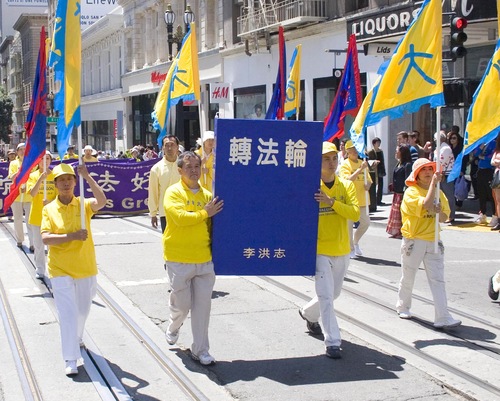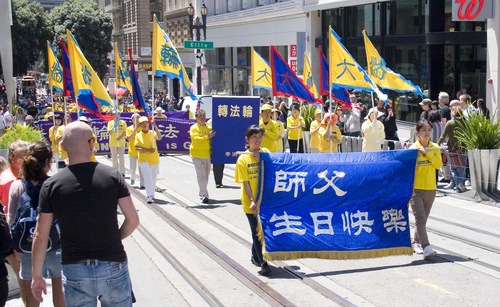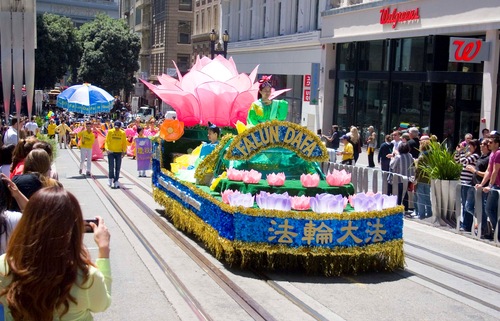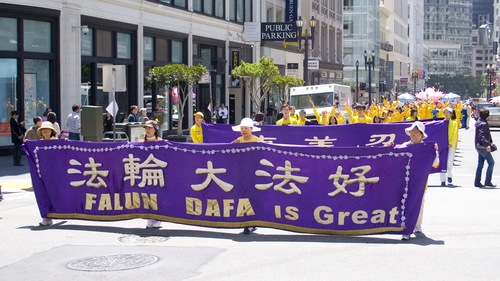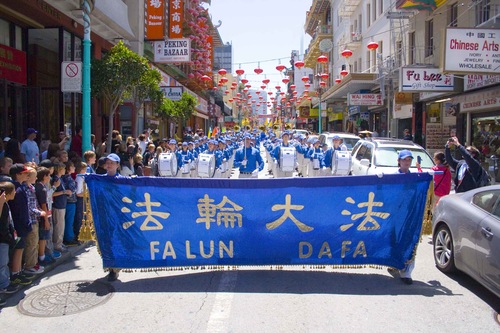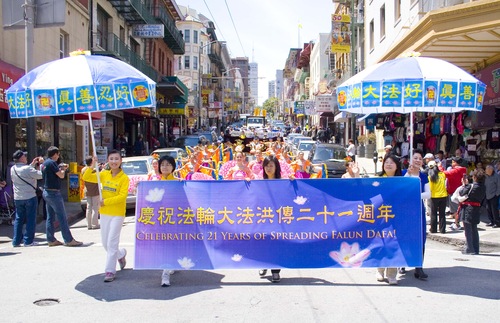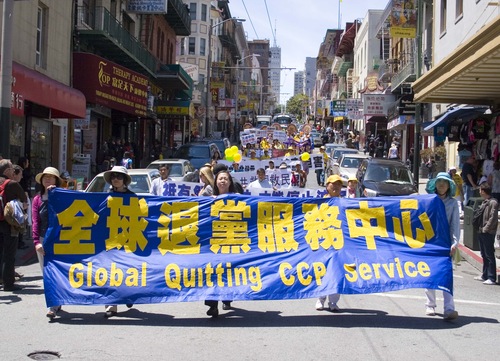 The grand march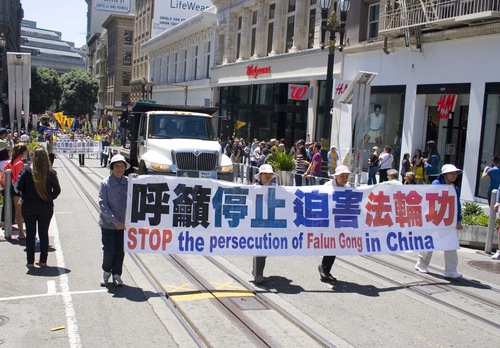 Calling for the end of the persecution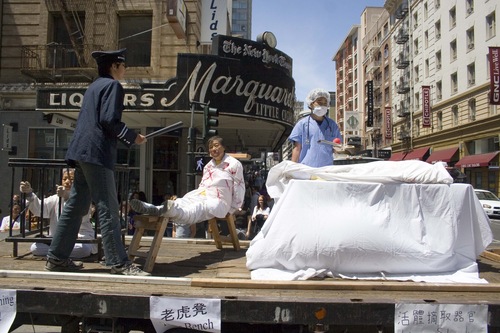 Re-enacting the tortures that the Chinese Communist Party apply to Falun Gong practitioners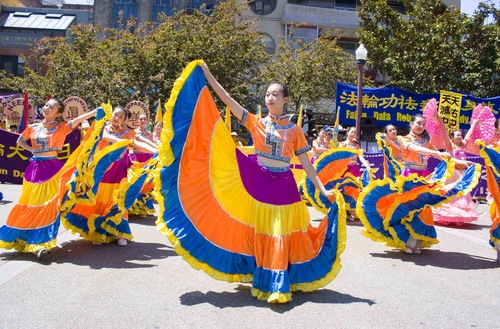 Students from Fei Tian Academy of the Arts California perform
The Divine Land Marching Band, consisting of 100 practitioners, led the march. Following the band, practitioners carried a large model of the book Zhuan Falun, and demonstrated the exercises. The march circled Chinatown and ended at Portsmouth Square, where practitioners performed dances, recited poetry, and shared their experiences of cultivating Falun Gong.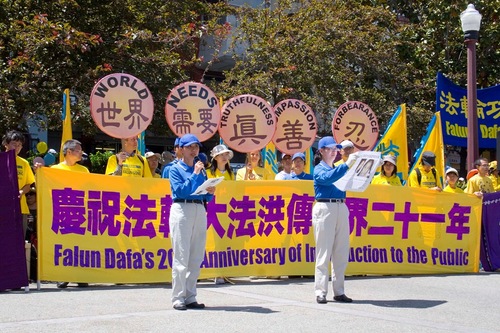 Ms. Zheng gives a speech
Ms. Zheng started practicing Falun Gong in 1998, and healed many diseases, including heart disease, headaches, and a tumor in her ovaries.
Ms. Zheng said, "My daughter, Li Yili, had a skin disease when she was 6, which made her bleed all the time. She was also allergic to many foods. After practicing for a few months, her conditions were healed also."
Mr. Meng, a practitioner, said, "Falun Dafa Day is a great holiday for Falun Gong practitioners. After practicing Falun Dafa, my life was renewed. I want more people to know about Falun Gong, and also benefit from it. It is very important, so I came to attend the celebration."
Mr. Meng said, "I hope that more people will think about it—why so many people practice Falun Gong and so many people come to this celebration. I hope that people, especially Chinese people, will learn more about Falun Dafa, because the principles of Truthfulness-Compassion-Forbearance are the foundation of life. They can help you to choose good from evil, and have a bright future."