U.S. Senator from Delaware Writes in Recognition of Falun Dafa Day
(Minghui.org) May 13, 2013, marks the 14th anniversary of World Falun Dafa Day and the 21st anniversary of the introduction of Falun Dafa to the public by Mr. Li Hongzhi, the founder of Falun Dafa. On this occasion, U.S. Senator Christopher A. Coons from the State of Delaware wrote the following letter in recognition of Falun Dafa Day.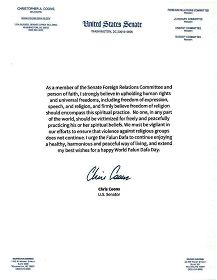 Christopher A. Coons Delaware United States Senate Washington, DC 20510-0805
As a member of the Senate Foreign Relations Committee and person of faith, I strongly believe in upholding human rights and universal freedoms, including freedom of expression, speech, and religion, and firmly believe freedom of religion should encompass this spiritual practice. No one, in any part of the world, should be victimized for freely and peacefully practicing his or her spiritual beliefs. We must be vigilant in our efforts to ensure that violence against religious groups does not continue. I urge the Falun Dafa to continue enjoying a healthy, harmonious and peaceful way of living, and extend my best wishes for a happy World Falun Dafa Day.
Chris Coons U.S. Senator