Japan: Practitioners Display the Beauty of Falun Dafa at Hiroshima Flower Festival (Photos)
(Minghui.org) The Hiroshima Flower Festival celebrated its 37th anniversary on May 3, 2013, in Peace Memorial Park in central Hiroshima City. Falun Gong practitioners have been invited for 12 consecutive years to take part in this cultural festival. The first day of the three-day celebration attracted about 800,000 spectators from across the country, the highest attendance in history. The themes of this year's festival were "the flower of the heart," "blooming smiles" and "a peaceful future."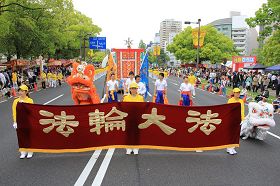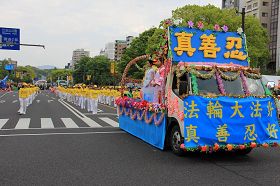 Falun Gong practitioners take part in the 37th annual Hiroshima Flower Festival Parade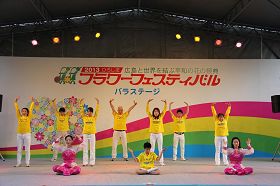 Demonstrating the Falun Gong exercises on the festival stage
The Falun Gong contingent appeared on the first day's parade. A large banner reading "Falun Dafa" led the contingent. Following the banner were the Dragon and Lion Dance Troupes and a float decorated with flowers. A placard with the Chinese characters for "Truthfulness-Compassion-Forbearance" and a banner reading "Falun Dafa Is Good" and "Truthfulness-Compassion-Forbearance Is Good" were displayed on the float. Two huge lotus flowers on the float seated young practitioners in golden exercise suits demonstrating the Falun Gong sitting meditation, while other young practitioners on the float demonstrated the standing exercises. Behind the float was the exercise demonstration group.
The Falun Gong contingent greatly impressed the parade spectators. Some Chinese spectators read out "Falun Dafa Is Good" when the float passed by them. People along the parade route also received beautiful handmade paper lotus flowers from Falun Gong practitioners.
After the parade, practitioners performed the Dragon and Lion Dances, a Fan Dance, and demonstrated the Falun Gong exercises on the festival stage, accompanied by a practitioner's explanation. Some audience members asked for more information about practice sites and free exercise instructional sessions.