Vancouver: Practitioners Celebrate the 21st Anniversary of Falun Dafa's Public Introduction (Photos)
May 11, 2013 | By Zhang Ran
(Minghui.org) On May 5, 2013, Falun Dafa practitioners in Vancouver, Canada held an event in front of the Art Museum in downtown Vancouver, to celebrate the 21st anniversary of Dafa's public introduction. They also respectfully wished Revered Master Li (the founder of Falun Dafa) a happy birthday. Four members of the Parliament of Canada and three city governments issues notices praising Falun Dafa for its great benefits to society.
The Divine Land Marching Band of Vancouver, waist drummers, and a dance group composed of young Falun Dafa practitioners performed at the event to share the joy of Dafa with the public. Many passersby watched the performances and learned about Dafa worldwide and the situation in China. Among them were Chinese people who took photos of the event.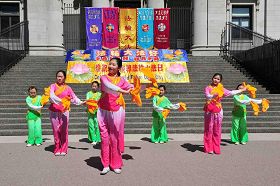 Young practitioners give a dance performance.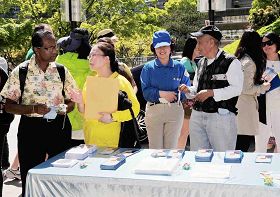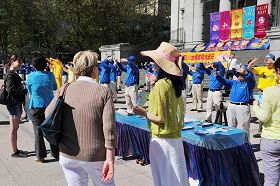 Falun Dafa practitioners talk about Falun Dafa to passersby.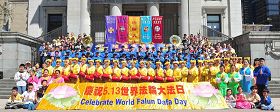 Falun Dafa practitioners wish revered Master Li a happy birthday.
Members of Parliament, Mr. Libby Davies, Ms. Elizabeth May, Mr. Peter Julian and Mr. Murray Rankin, the City of Pentiction, the City of Coquitlam and the City of Kelowna sent their greetings in honor of Dafa's anniversary.
New Practitioner: Experiencing Peace and Happiness Which I've Never Experienced Before
Jeremy Flaming is a new Falun Dafa practitioner. He said that since he started practicing Falun Dafa, especially in the recent year, he had experienced many positive changes in his life. The first time he went to the group practice site, he was surrounded with an unusual and wonderful feeling. He did the exercises with his eyes closed but he could see white light beams around him. He could also see that the whole exercise site was covered in white light and the light became stronger and stronger. He experienced a peacefulness and happiness never experienced before.
Due to family differences, Jeremy had not had any contact with his father for nine years. After practicing Falun Dafa, he changed his mind and began to harmonize the relationship with his father. Now, every aspect of his life has become better.
Ms. Zhang: Benefited From Cultivation Practice
Ms. Zhang moved to Vancouver only two weeks ago from mainland China. She was very happy to be able to participate in the celebration. Her mother is a veteran Falun Dafa practitioner and Ms. Zhang had practiced Falun Gong with her mother since she was very young. When the Chinese Communist Party started to persecute Falun Gong in 1999, she was at first confused and her other relatives developed misunderstandings towards Dafa as a result of all the hate propaganda broadcast by the Chinese state-controlled media. Later, connections with other practitioners were rebuilt and her relatives also changed their attitude toward Dafa after understanding that Dafa is good. Ms. Zhang had a good job in mainland China and believed that this was a blessing due to her practicing Dafa.
She has since moved to Canada and is very happy that she can freely pursue her belief. Her family is also supportive of her. She intends to participate in more activities that clarify the truth about the persecution of Falun Gong in China.