Over One Thousand Chinese Citizens Sign Petition Requesting Release of Falun Gong Practitioners from Jiamusi Prison
April 09, 2013 | By a Minghui correspondent in Heilongjiang Province, China
Since the persecution of Falun Gong began over 10 years ago, a vast majority of Chinese people had been frightened and deceived by the Communist regime's vicious propaganda against Falun Gong. However, Falun Gong practitioners' perseverance in reaching out to the public with the facts about the persecution has gradually turned the situation around.

In a rising trend throughout China, common citizens are finding the courage to sign and fingerprint petitions and letters of support for persecuted Falun Gong practitioners. These petitions are part of the growing tide of public outrage and protest over 14 years of unjust and brutal persecution of Falun Gong. The following is one of several recent cases of public support for Falun Gong.
(Minghui.org) Lin Zehua and Zhang Puhe have been detained in Jiamusi Prison in Heilongjiang Province for practicing Falun Gong. Both men have become disabled due to torture. The local people have voiced their protests--1005 have signed and placed their thumbprints on a petition to have them released. At this time, Mr. Zhang has been released, and classified with a second degree of disability, while Mr. Lin remains incarcerated.
Mr. Lin Zehua Mr. Zhang Puhe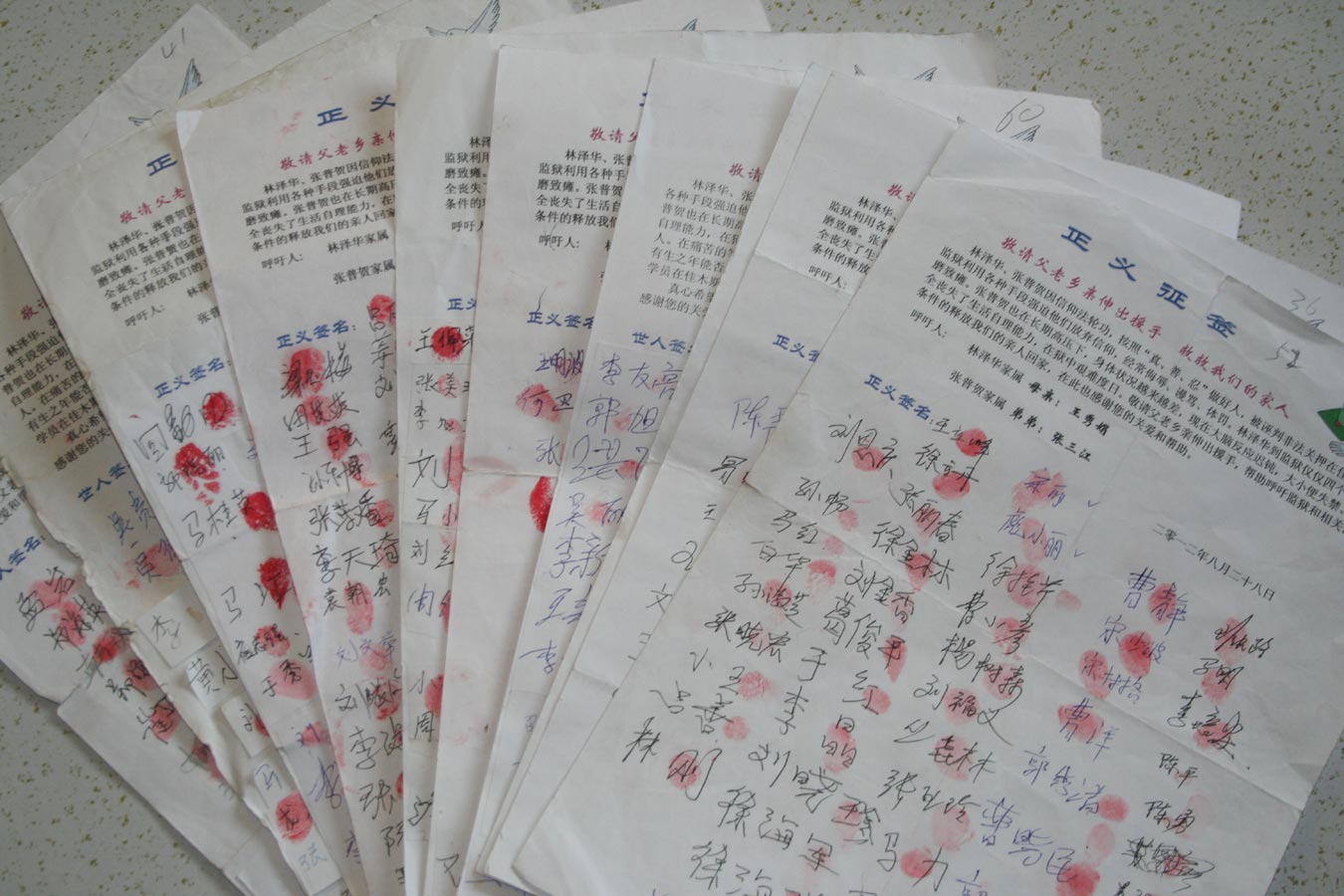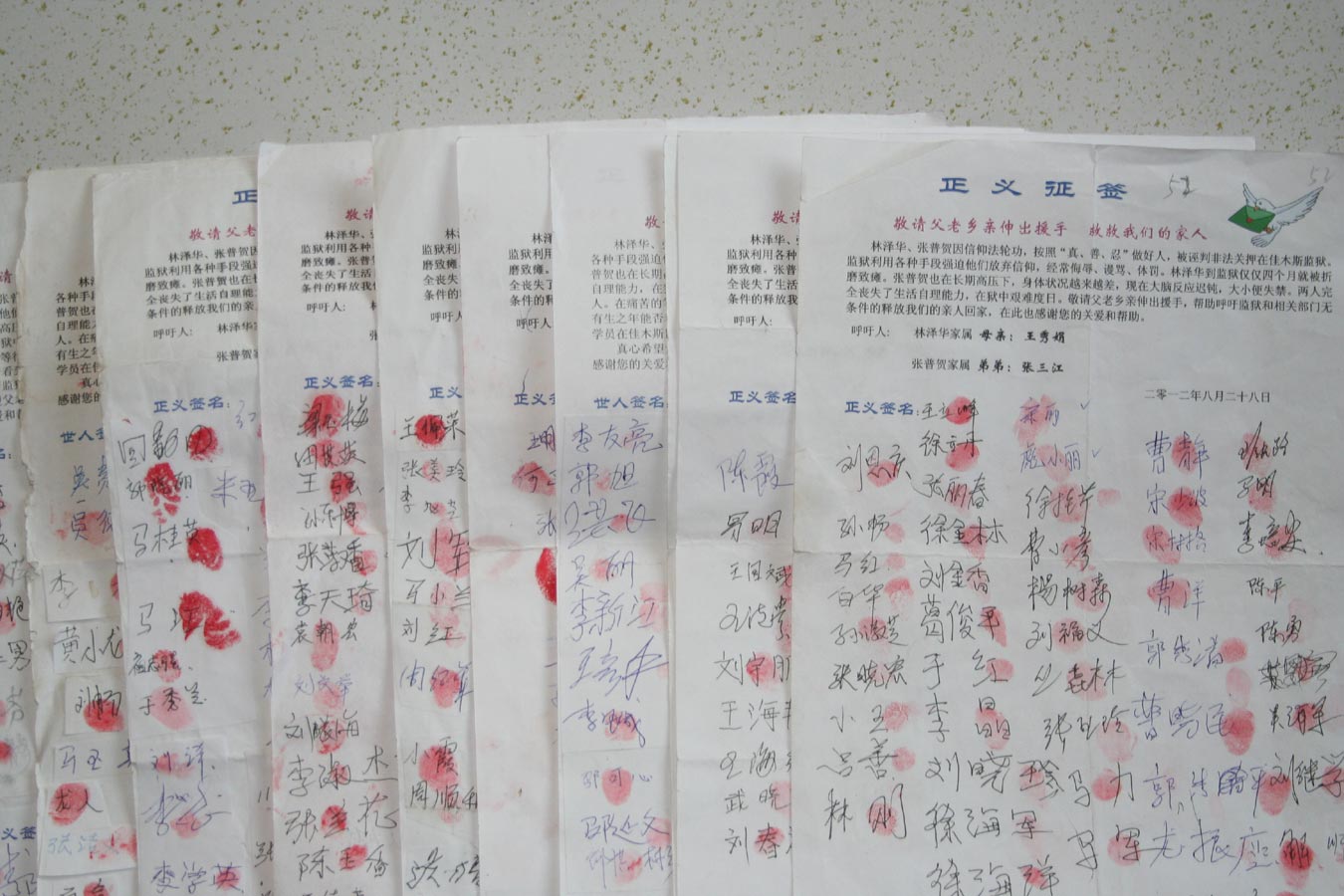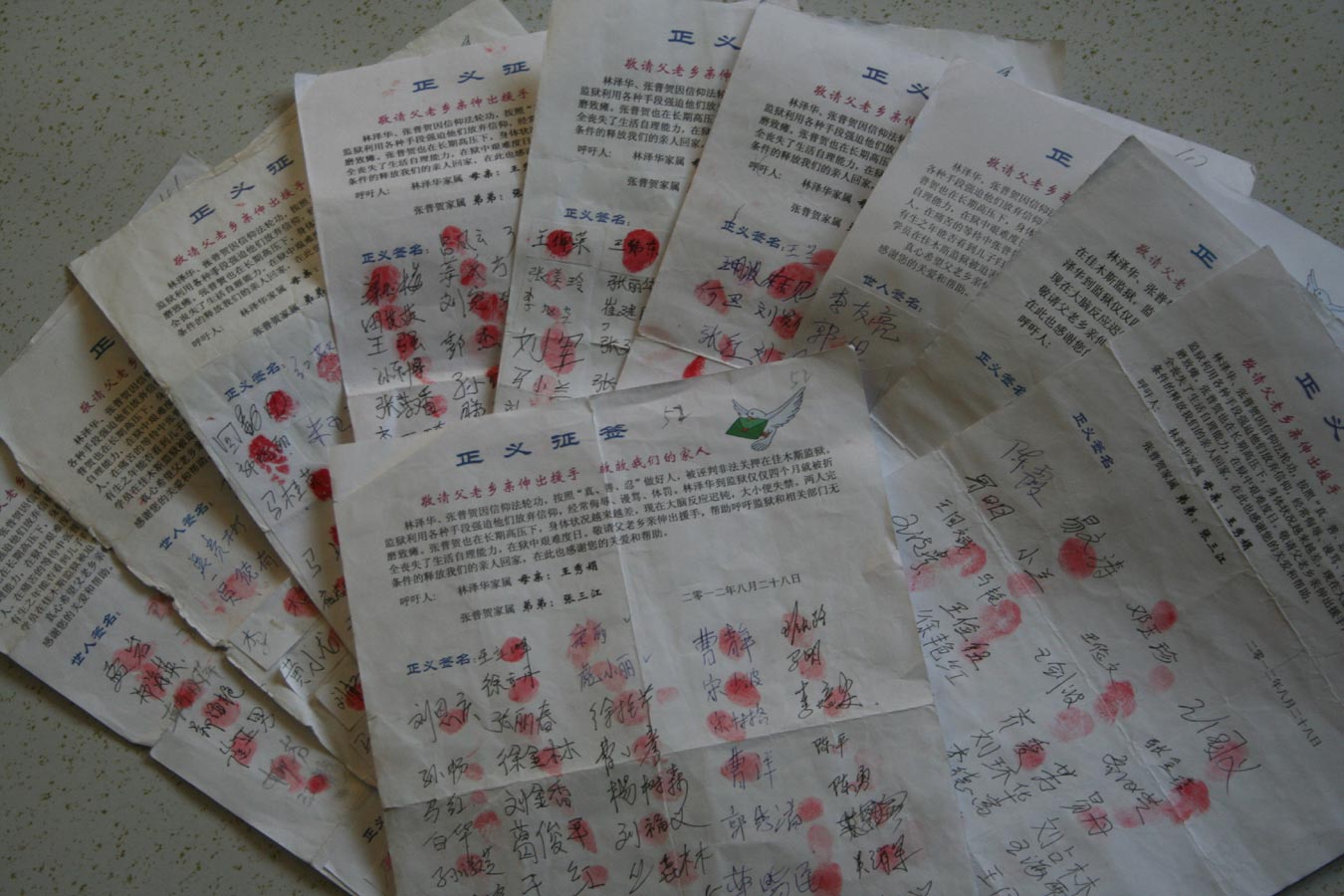 Mr. Lin Zehua Sentenced to Seven Year Prison Term
Mr. Lin Zehua is a practitioner from Fenggang Town, Youyi County, Heilongjiang Province. He was arrested while visiting his younger brother Lin Zhenhua on September 12, 2007. He was sentenced to seven years in prison in March 2008, and sent to Jiamusi Prison on July 10, 2008. The prison guards often ordered inmates to verbally and physically attack him. He became disabled after four months in prison as a result of this abuse. His father passed away while he was in prison, while his 85-year-old mother, overcome with grief, longed for his return.
Mr. Zhang Puhe Receives Ten Year Sentence
Zhang Puhe is a practitioner from Qindeli Farm, Sanjiang Agriculture Administration Bureau, Heilongjiang Agricultural Bureau Headquarters. He had to flee his home and go to Jiamusi in order to avoid further persecution for his faith. The police broke into his home on December 25, 2002 and subjected him to torture during an interrogation. He was sentenced to 10 years in Jiamusi Prison on June 13, 2003. The guards attacked his sensitive areas with electric batons, beat him, kicked him, and kept him in solitary confinement for long periods of time. He was injected with unknown drugs, which caused his legs to swell to the point that he was unable to walk and couldn't take care of himself. His parents passed away while he was in prison, and his wife divorced him.
Their families were heartbroken. They repeatedly asked Jiamusi Prison authorities to grant them bail for health reasons, yet it was never granted. The families eventually decided to ask the public for help by organizing a petition drive.
The petition:
We ask you to please help rescue our family members!
Mr. Lin Zehua and Mr. Zhang Puhe are presently incarcerated in Jiamusi Prison for practicing Falun Gong and following its principles of Truthfulness-Compassion -Forbearance. They constantly face verbal insults and physical assaults. Mr. Lin became disabled after only four months in prison. Mr. Zhang's health is deteriorating due to prolonged stress. He is now very slow to respond and is incontinent. Each day in prison feels like a year to them. We implore you to help by requesting their release. We sincerely thank you for your attention and help.
Organized by:
Wang Xiujian, mother of Lin Zehua
Zhang Sanjiang, younger brother of Zhang Hepu
August 28, 2012
Current Situation
Although 1005 people signed and put their thumbprints on the petition, Jiamusi Prison authorities continue to deny and conceal the persecution of these two practitioners. Mr. Zhang was not released until he had finished serving his full prison term on December 24, 2012. His cerebellum had shrunk, he had atherosclerosis in his legs, and TB. He was classified with a second degree disability.
In related news, three Falun Gong practitioners were tortured to death in Jiamusi Prison during a two week period in March 2011. These crimes have become a target of attention by the UN Human Rights Committee