New York: Grand March in Flushing Chinatown Commemorates Beijing's Historic Peaceful Appeal of April 25, 1999
April 30, 2013 | By Cai Ju
(Minghui.org) Falun Gong practitioners in the Greater New York Area held a grand march in Flushing, New York on April 27, 2013. They commemorated the peaceful April 25 appeal, which took place 14 years ago when more than 10,000 Falun Gong practitioners went to the State Council Appeals Office in Beijing to appeal for justice for Falun Gong.
Participants in the march called upon people from all walks of life to work together to stop the persecution.
"Wow! So many people!" and "Magnificent! Spectacular!" were some of the comments heard from Chinese people lined up on both sides of the parade route. One spectator from China said, "It's my first time seeing a Falun Gong parade. I'm quite excited because this can't be seen in Mainland China. Very moving!"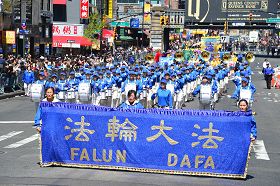 Divine Land Marching Band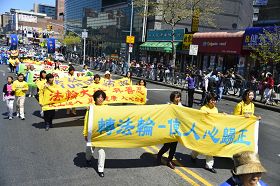 Message on the banner:
Zhuan Falun uplifts the heart and mind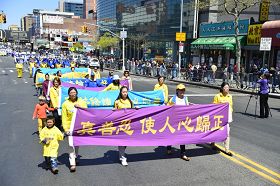 Message on the banner:
Truthfulness-Compassion-Forbearance
uplifts the heart and mind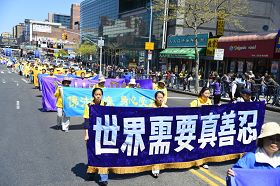 The World Needs Truthfulness-Compassion-Forbearance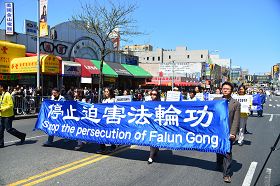 Stop the Persecution of Falun Gong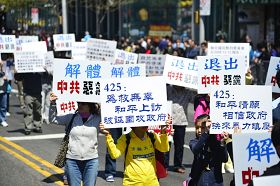 Placards bearing messages about
quitting the Chinese Communist Party
Falun Dafa Is Great
"Falun Dafa Is Great" was the theme for the first section of the parade. The Divine Land Marching Band, made up of nearly 100 Falun Gong practitioners took the lead, playing celebratory songs composed by Falun Dafa practitioners.
Behind the marching band was a magnificent golden "Fa boat" float, followed by elegant "celestial maidens" carrying colorful Chinese lanterns.
A Dragon Dance troupe performed in celebration of Falun Gong's introduction to the public and worldwide spread, while a group of practitioners demonstrated the Falun Gong movements.
Disintegrate the Chinese Communist Party, Stop the Persecution
The second part of the parade was themed "Disintegrate the Chinese Communist Party and Stop the Persecution." A large banner reading "Global Quitting the CCP Service Center" carried by practitioners took the lead.
Hundreds of eye-catching banners recounted the brutal persecution of Falun Gong practitioners by the CCP over the past 14 years--from more than 100 torture methods to the atrocities of organ harvesting from living Falun Gong practitioners.
The joyful performance of the waist drum troupe capped off the parade. They celebrated the nearly 140 million courageous Chinese people who have publicly withdrawn from the CCP and its affiliated organizations.
Under the brilliant spring sunshine, Chinese people in Flushing packed the main street of the downtown area as they watched the parade. The continuous efforts of Falun Gong practitioners over the past 14 years, to raise awareness about the persecution, have seen good results. These Chinese people have changed their attitudes, from being confused and fearful to being receptive and appreciative. Many people captured the event with their iPads, iPhones, and cameras.
The grand march in Flushing once again presents the spirit of the April 25 appeal--peacefully and rationally upholding the truth, raising awareness about the brutal persecution, and demonstrating the wonderfulness, compassion, and dignity of Falun Dafa.