Melbourne, Australia: Practitioners Commemorate the 14th Anniversary of the April 25 Appeal (Photos)
April 29, 2013 | By Chunqing Xia, Minghui correspondent
(Minghui.org) Falun Gong practitioners gathered on Prince Bridge in downtown Melbourne on April 25 to commemorate the 14th anniversary of the April 25 appeal. They held banners and explained the facts to passersby. Many people signed a petition calling on the Australian Government to help stop the practice of live organ harvesting in China.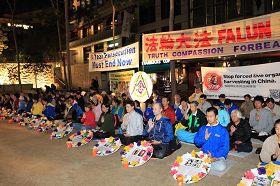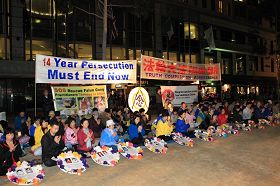 Falun Gong practitioners candlelight vigil on the square in front of the Melbourne city government building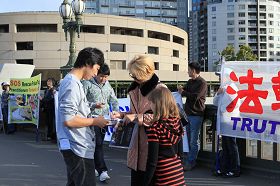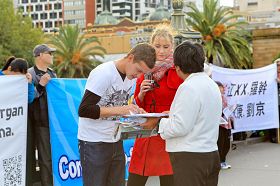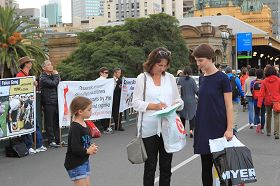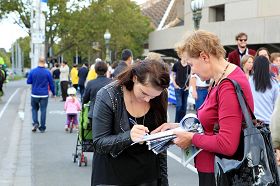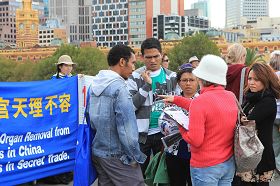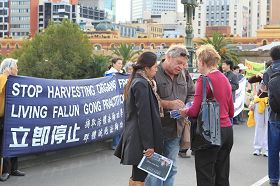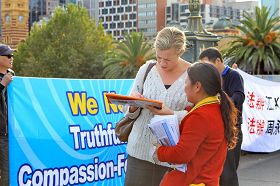 People sign a petition calling on the Australian government to pass a bill to ban live organ harvesting
A veteran with many medals who participated in the Anzac Day celebrations came over and said to the practitioners, "Keep going. I don't know when it will end, but such a totalitarian and violent regime like Hitler's cannot last long!"
An April 25 appeal participant recalls the events of that day
On April 25, 1999, more than 10,000 Falun Gong practitioners went to the State Appeals Office in Beijing to seek the release of practitioners arrested in Tianjin and an end to the government harassment.
Ms. Weian Wang, who participated in the appeal, recalled, "Due to government intervention, Zhuan Falun and other Falun Gong books were in short supply. Our practice sites were monitored and we were often harassed. Hearing that practitioners had been arrested in Tianjin, we were worried and decided to go appeal in Beijing. We arrived after 7 a.m. on April 25. Many other practitioners were there already.
"That evening, the then Prime Minister solved the issue by telling Tianjin police to release the practitioners right away and promising freedom of belief. Hearing that the issues had been resolved, we practitioners returned home. I left a little after 10 p.m. The order was very good that day. We stood quietly. Some of us read. There were no banners, and no one shouted slogans. Everything was peaceful. The traffic was not affected at all. The surroundings were kept clean."
It was shocking that Jiang Zemin, the then head of the Chinese Communist Party portrayed the peaceful April 25 appeal as a "siege of the central government" and used it as an excuse to initiate the brutal persecution on July 20, 1999, which is still ongoing in China.
The world needs to understand the true nature of the Party
Mr. Wang of the Melbourne Service Center for Quitting the CCP said, "Many people do not know about Falun Gong and the persecution, so I felt a sense of urgency to participate in this event. It is an opportunity for people to understand Falun Dafa and the inhumane persecution of its practitioners in China."
Mr. Fan of the Melbourne Falun Dafa Association said, "We want people to know that, over the past 14 years, the Chinese Communist Party has never stopped persecuting Falun Gong. The media in China seldom carry reports on Falun Gong, but hundreds of thousands Falun Gong practitioners are imprisoned and tortured. We want people to understand what the Party is really like and not have any illusions about it.
"At today's event, we are focusing on raising awareness to stop live organ harvesting. Everyone knows that waiting time for an organ in Australia is several months to years. But in China, a suitable organ can be found within a week. Medical experts pointed out only one possibility: a large pool of live people for organ harvesting. Falun Gong practitioners are arrested and examined. All their results are stored in a computer. When a patient needs an organ, one is easily located from the computer database of the live pool. One Falun Gong practitioner has his or her organs harvested and is killed. The remains are cremated. We are collecting signatures to call on Australian Parliament to pass a code to help stop such brutal crimes."
From 6 to 8 p.m. on April 25, Falun Gong practitioners held a candlelight vigil on the square in front of the Melbourne city government building to commemorate the April 25 appeal.