Symposium on Organ Harvesting in China Held in Israeli Knesset
(Minghui.org) A symposium on "The Responsibility of the State of Israel Regarding the Issue of Forced Organ Harvesting from Prisoners of Conscience in China" was held on Wednesday, April 24, 2013, in the Israeli parliament (the Knesset).
The symposium included the screening of the documentary film Free China: The Courage to Believe (winner of 5 international film festival awards) and live testimony from Mr. Lizhi He, a Falun Gong practitioner and former prisoner of conscience in China. Mr. He came specifically for this occasion from his current home in Canada.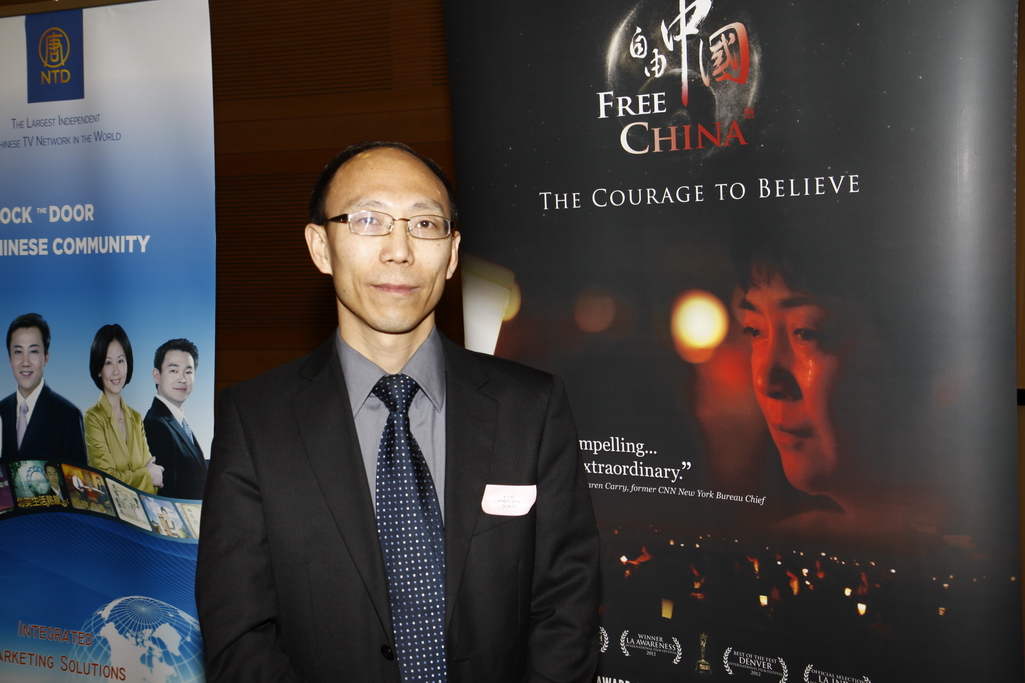 Mr. Lizhi He gives personal testimony about inhuman torture in China
Despite busy schedules, ten members of the Knesset came to participate, as well as Knesset staff and visitors.
The event was covered by a weekly national TV program and other media. Knesset Member (MK) Feiglin and Mr. He were also interviewed for a very popular radio program.
The event was covered by a weekly National TV program "Ro'im Olam"
Speaking out against the persecution of Falun Gong
The initiative to raise the issue in the Knesset was provided by Moshe Feiglin, a newly-elected MK who serves as deputy chairman of the Knesset. Mr. Feiglin has raised his voice repeatedly in recent years against the persecution of Falun Gong and has talked publicly about the crimes against humanity that are being committed by Chinese authorities.
In his opening remarks, Mr. Feiglin said that he had been pressured to cancel the event, and other members were also pressured not to take part in it. Yet he said that many members who did not participate sympathized with the cause.
"You can have arguments," he stated, "but there is a red line, which is not hard to detect, beyond which there cannot be any argument. This atrocity of forced organ harvesting – stealing human organs – is inconceivable, and it happens in our world because the world does not raise its voice enough – it's much too silent. But now, when the world is awakening and parliaments all around the world are raising their voices, it won't do if the Israeli parliament remains silent."
A victim testifies
Mr. Feiglin presented Lizhi He, 49, a victim of incarceration and torture, who came all the way from Canada to testify for this event. Mr. He was rescued from China with the help of the Canadian authorities. The 1280 days (3.5 years) of illegal imprisonment and mental and physical torture that he endured almost took his life.
Mr. He was forced to sit motionless in a fixed posture on a hard board for months, stripped and soaked in freezing water for extended periods in the winter, frequently prevented from sleeping and using the toilet, shocked with high-voltage electric batons, and forced to read literature demonizing Falun Gong. One winter, he was forced to run, jump, and do push-ups in the bitter cold wind, where the sweat on his clothing quickly turned to ice. He was then made to stand outside for long periods of time.
The torture and the subsequent months-long high fever resulted in Mr. He's lungs being severely damaged. He was coughing up blood, having difficulty with each breath, and urinating blood with severe kidney problems. He was on the verge of death, yet was nonetheless forced to dig ditches and carry stones for long hours for several months.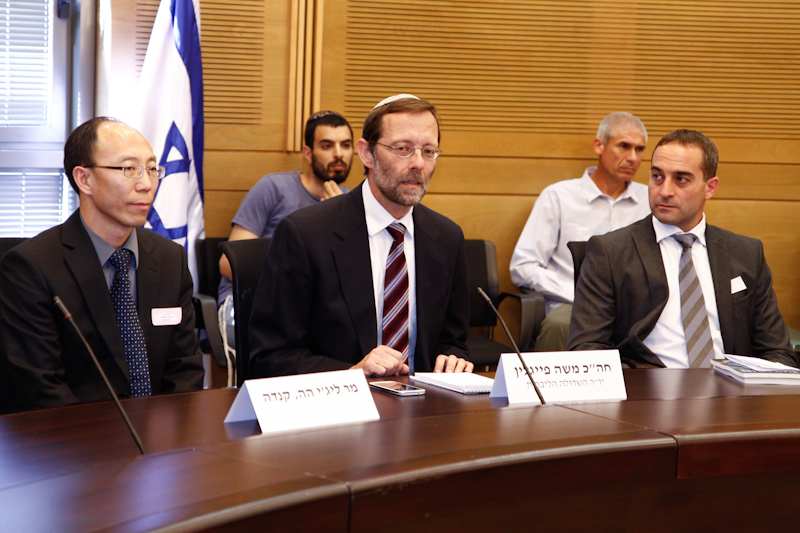 Left to right: Torture survivor Lizhi He, deputy chairman of the Knesset MK Feiglin, and director of the Israeli Falun Gong Information center Mr.Bar-illan
"Never again"
This kind man's live testimony caused a somber reflection. Mr. He concluded by saying, "The Israeli people have a fresh memory of suffering the Holocaust, and I believe are aware of the consequences to victims when the truth and facts of genocide meet with blind eyes and deafened ears. 'Never Again' is our promise to all of mankind, and also an oath heard by God. The persecution of Falun Gong must end. The organ-harvesting crimes must end. We must say 'Stop, now!' to the perpetrators. Your speaking out will help save lives; your actions are blessed by God. Thank you."
"A nation's strength is measured by its moral values"
A distinguished guest came to support the cause: Natan (Anatoli) Sharansky, chairman of The Jewish Agency for Israel. He himself was a prisoner of conscience in the Soviet Union and was rescued after massive worldwide support. Mr. Sharansky spoke of his belief: "As a nation, Israel has a moral message to deliver to the world. A nation's strength is measured by its moral values. A nation can seem strong, yet if it loses its morality it is bound to weaken." He also told the forum that, years ago, as a minister of commerce, he once met with the Chinese PM and told him that he had been a prisoner of conscience, attempting to raise the issue of human rights, which was apparently shocking for everyone in that meeting.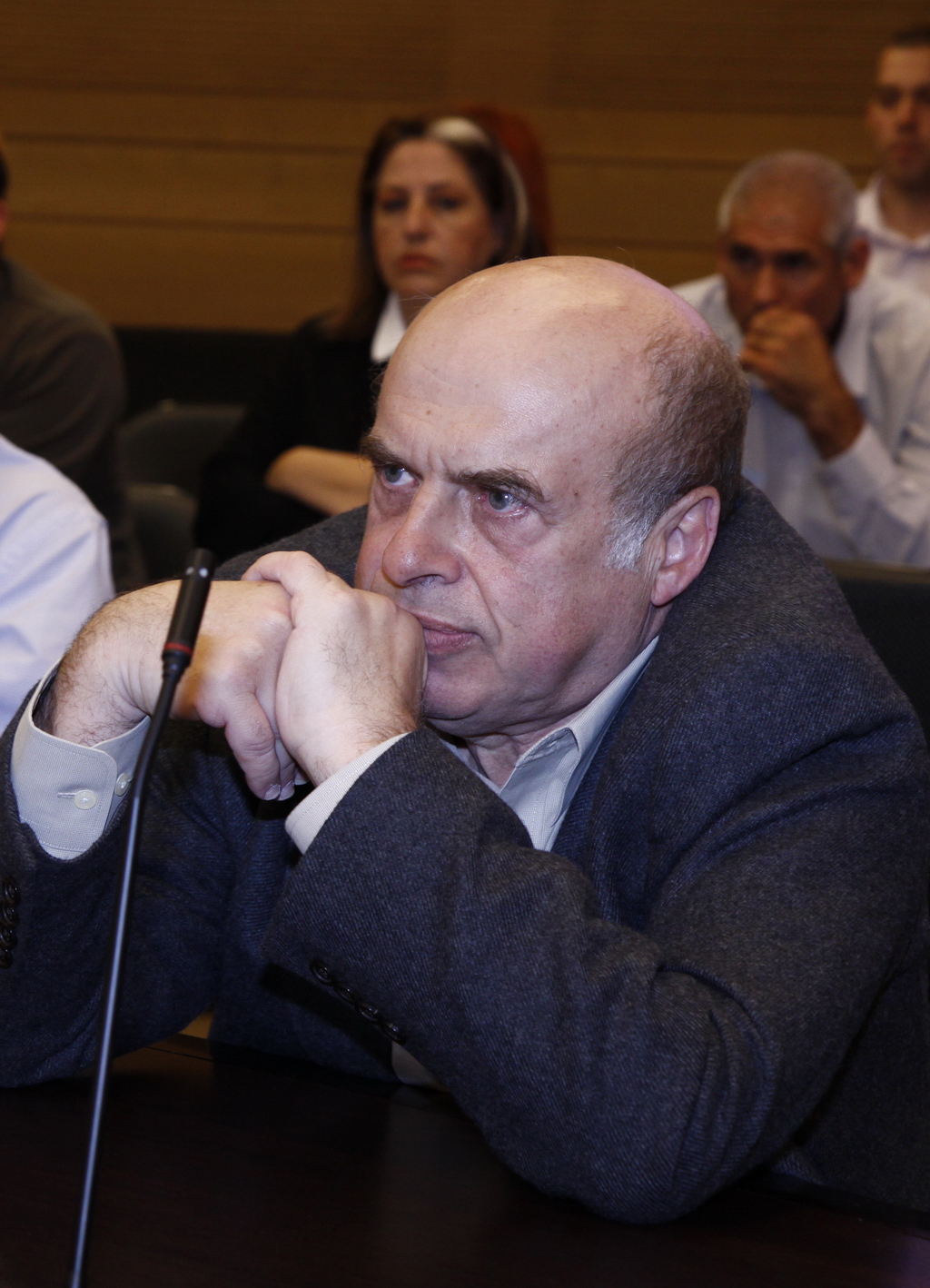 Natan (Anatoli) Sharansky, chairman of The Jewish Agency for Israel, and himself a prisoner of conscience in the Soviet Union, came to offer support.
Long-term rabbinical support
Many rabbis in Israel have actively given their support for years. "Why do they (the Chinese regime) persecute these people?" asked Rabbi Meir Halevi from the revived ancient Jewish Rabbinical Council "Sanhedrin," "Because these people have three principles: Truthfulness, Compassion, and Forbearance. He who persecutes Truthfulness shows that he supports lies; he who persecutes Compassion shows that he supports evil; and he who persecutes Forbearance shows that he is definitely not forbearing." The new "Sanhedrin" started its activity several years ago and chose the persecution of Falun Gong to be their first case (see "Israeli Rabbinical Council Finds Chinese Regime Liable for Falun Gong Deaths")
Rabbi Uri Sharki said that raising the issue in the Jewish people's parliament is highly significant. Rabbi Elyakim Levanon contributed by saying to the victim, "You have faith, we have faith – faith will prevail."
"Stop abusing people for their faith"
The organizers issued a decision that read, "We, the participants of this symposium, demand that the government of China stop the practice of organ harvesting; respect the 'image of God' [of humans], which is mutual to all of us; and stop the persecution and the abuse of people for their faith. The Liberal Lobby of the Knesset will follow-up on the issue of the severe abuse of human rights in China,and will persevere with this moral demand."
The symposium was the first issue to be hosted by the recently established Liberal Lobby and was co-hosted by the Israeli branch of New Tang Dynasty Television.