Singapore: Commemorating the Peaceful April 25 Appeal (Photos)
April 25, 2013 | By a Falun Dafa practitioner in Singapore
(Minghui.org) Falun Dafa practitioners in Singapore held a rally in Hong Lim Park on the afternoon of April 22, 2013, to commemorate the peaceful appeal 14 years ago on April 25, 1999. The practitioners called on people from all walks of life to pay attention to the ongoing persecution of Falun Dafa practitioners in China.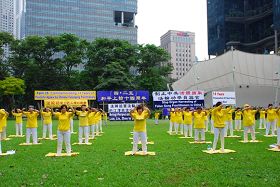 Practitioners in Singapore commemorate the peaceful April 25 Appeal and demonstrate the Falun Dafa exercises.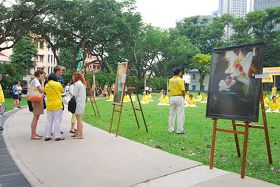 Many passersby come to learn the facts about the persecution of Falun Dafa in China.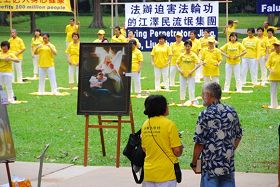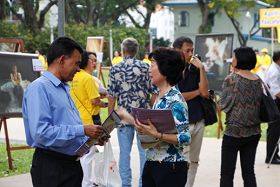 Practitioners display many banners and posters with photos to expose the brutality of the persecution.
Raising Awareness about the Persecution Helps Others
Ms. Li began began practicing Falun Dafa in 2008. She said 14 years ago 10,000 practitioners went to the Zhongnanhai central government building in Beijing and peacefully appealed to the Chinese government. She said it carries great significance and since that time practitioners have made continuous efforts to raise awareness about the persecution around the world, always in peaceful ways.
"Falun Dafa practitioners' peaceful appeal and effort to end the persecution is not just for themselves but to help more people. The evil nature of the Chinese Communist Party (CCP) allows it to hurt innocent people and people should learn about this to prevent it from happening," said Ms. Li.
Becoming a Practitioner Because of the April 25 Appeal
Media reports on the April 25 Appeal allowed people around the world to learn about Falun Dafa. Mr. Liu is one of them. Earlier this year he saw a video on YouTube about what happened that day and wanted to know more about Falun Dafa. He found practitioners nearby from a Falun Dafa website and began reading Falun Dafa books. "I feel so lucky," said Mr. Liu.
This Is the Group of People I Want to Be With
Mr. Chang from China began to read news from outside of China in 2009 through special software that beaks through China's firewall. He said that it allowed him and his family to know what really happened in the persecution of Falun Dafa. He felt sorry that he had once believed the CCP's lies and propaganda. He condemned the atrocities committed by the CCP against Falun Dafa practitioners.
"In China, the information is blocked. Many people only know what the CCP wants them to know. What's more scary is that they do not know this and are comfortable with it." "In China, the red terror the CCP creates makes everyone feel very suppressed. The more I learned about the unlawful persecution, the more indignant I became. The only thing I can do is to let more people around me know the truth, too," said Mr. Chang.
When talking about how he felt being able to participate in the event, Chang said nothing could express his emotion, "Like a pilgrim who sees a miracle, I finally see the group of people I want to be with. They come from different countries, but their goal is the same. They are doing everything they can to help their fellow practitioners in China. Their belief makes them fearless in front of the dictatorship. They breathe the air of freedom and want the same for their fellow practitioners in China as well. Their strong belief brings them together and leads me here. I have yearned to find them and now I am finally among them."
"China Will Be Better Off Without the CCP"
An American who worked in Jakarta knew about Falun Dafa since the April 25 Appeal. "This is a peaceful practice that allows people to reflect on themselves. Falun Dafa's spiritual movement will push China to move toward a better direction. The CCP has done great harm to the practitioners. It never cares about its people's rights. China will be better off without the CCP," he said.