India: Introducing Falun Dafa to the Central Industrial Security Force at Hyderabad International Airport, and to International and Private Schools (Photos)
April 02, 2013 | By an Indian Practitioner
(Minghui.org) The Central Industrial Security Force (CISF) is part of the Ministry of Home Affairs in the Government of India. It is a premier multi-skilled security force that is mandated to provide security to major critical infrastructure installations in diverse areas of the Public Sector Undertakings (PSUs), such as providing security for nuclear installations, space establishments, airports, seaports, power plants, sensitive Government buildings, and heritage monuments.
Among the important responsibilities recently entrusted to the CISF are the Delhi Metro Rail Corporation, VIP Security, Disaster Management, and establishment of a Formed Police Unit (FPU) of the UN in Haiti.
Thanks to our Revered Master, I recently had the rare opportunity to meet the Senior Commandant of Hyderabad International Airport. I explained about our practice of Falun Dafa and showed him some truth-clarifying videos. He was kind enough to permit us to introduce our practice in their township, located near the airport, to nearly 500 security personnel for one week. He, along with other senior officers and staff, participated as well.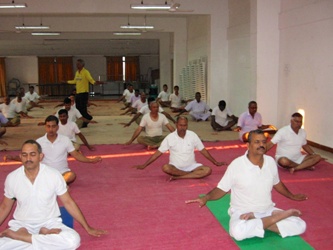 We presented our books (Falun Gong and Zhuan Falun) in English and Hindi to the Senior Commandant. Some attendees bought copies of the books. The attendees expressed appreciation for the practice and the work done by the practitioners around the world for global peace and harmony.
The chief of the force put copies of our Master's exercise photos from Falun Gong on their bulletin board the very next day. It gave us a warm feeling to see them there.
It is very sad that in China, our kind and good practitioners are still persecuted by the Chinese Communist Party, while in other countries, our practice, which is based on Truthfulness, Compassion, and Forbearance, is growing.
While introducing the exercises every day, some passages from Zhuan Falun were read to the force.
We also introduced our practice to primary students in the well-known Aurobindo International School and Pragati Vidyalaya (also known as Gujrathi School) for one week. Most of the students, along with teachers and the principal, enjoyed doing the exercises.
At the end, Falun Gong was presented to the principal. Some of the photos are presented below.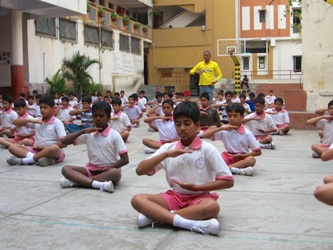 Pragati Vidyalaya (also known as Gujrathi School)
Thanks and Heshi to Master.