Visibly Nervous Prosecutor Sweats as Attorneys Plead Not-guilty for Teacher Mr. Wang Shushen
April 01, 2013 | By a Minghui correspondent from Gansu Province, China
(Minghui.org) Local police arrested Mr. Wang Shushen, a practitioner from Jinchang City in Gansu Province, in May 2012. Jinchuan District Court held a trial on March 7, 2013, attempting to sentence him. Despite official attempts to discourage them, two attorneys defended Mr. Wang and entered a not-guilty plea.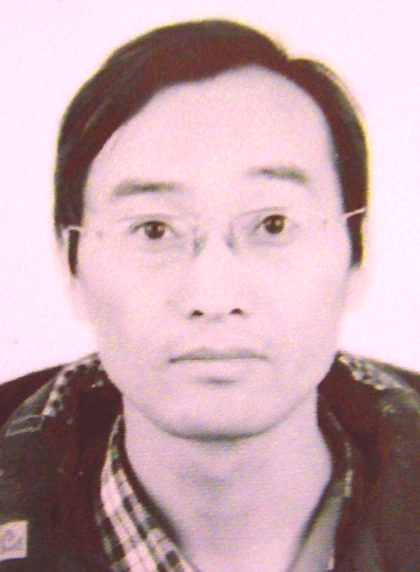 Mr. Wang Shushen
Court Officials Play Tricks
Court officials brought in several people irrelevant to the case, even the cleaning staff, to be present in the court room, while refusing to let Mr. Wang's wife attend. They did permit Mr. Wang's elderly parents to attend.
Before the trial began, the judge talked to Mr. Wang's attorneys in private and told them not to present a full defense. The court also adjusted the sound system. The microphone volume would become unstable whenever Mr. Wang's attorneys spoke, and sometimes they could barely be heard.
Mr. Wang's attorneys ignored the officials' pressure and mounted a strong defense for Mr. Wang, pointing out that his practicing Falun Gong was not illegal. The prosecutor was visibly nervous and frequently wiped sweat off his brow.
The trial, originally scheduled to last 40 minutes, lasted more than two hours. When it was over, police took Mr. Wang away through a back door.
Passersby Filmed
When Jinshan District court judge Li Yongdong notified Mr. Wang's family about the trial on the afternoon of March 5, 2013, he only allowed Mr. Wang's father to attend. The family opposed this and Mr. Wang's wife Xie Xiaofang requested to be present as well. Li Yongdong said that he needed to discuss this with higher officials.
Although the trial was scheduled to begin at 9 a.m. on March 7, 2013, police secretly brought Mr. Wang to the court before 8 a.m. The Domestic Security Division was on high alert. About 80 police agents were stationed near the courthouse, some in uniform and some in plainclothes. Two traffic police agents inspected the drivers' IDs for vehicles parked nearby.
A police cordon was set up in front of the courthouse, and two staff members operated two video cameras filming the pedestrians passing by. When bystanders heard that it was a trial for a Falun Gong practitioner and Beijing attorneys had pleaded non-guilty, many tried to attend the trial. They were surprised to find their entry denied even though it was announced as a public trial.
Family Denied Entry, Except Parents Who Are Barely Able to Hear
After Mr. Wang's family arrived at the courthouse, they once again requested to attend the trial. Chief judge Yan Tianping permitted Mr. Wang's parents to enter. When Mr. Wang's mother said that she had hearing loss and asked her daughter-in-law to accompany her, Yan immediately said, "No, this cannot be allowed. Otherwise, you will not be allowed to enter either." The court officials only allowed Mr. Wang's parents, who are barely able to hear, to attend the trial.
Entry passes were only given to those whose names had been approved by the Political and Legal Affairs Committee, the 610 Office and the State Security Division. Almost all the seats were occupied. Other than Mr. Wang's parents, most of the attendees were plainclothes agents approved by the Political and Legal Affairs Committee and the 610 Office. Members of the cleaning staff were brought in to fill up the seats.
Attorneys Enter Non-guilty Plea
After the trial started, Mr. Wang said, "When I came back home at 10 a.m. on May 12, 2012, five strangers were searching my house. I asked them who they were. They said that they were police agents but refused to show any identification. I told them that it was illegal to search someone's home without a search warrant and asked them to leave. They showed me some ID's, arrested me, and continued searching until after 4 p.m."
Prosecutor Zhao Kai claimed that this was a routine visit by the police. One of Mr. Wang's attorneys said that such a "visit" was violating the law and jeopardized the residents' sense of stability and safety.
When it was time to present evidence, Zhao Kai told someone to present various materials including a computer, a printer, Falun Gong books and Minghui Weekly. He said that according to data from the computer, Mr. Wang had visited the Minghui website at least 190 times. The Lanzhou Police Technical School examined the Minghui Weekly copies and concluded that they were printed on Mr. Wang's printer.
One attorney said, "My client is a Falun Gong practitioner. These books and materials are for his use and study. His right to do so is protected by law. Please return my client's personal belongings." The attorney also questioned the techniques that the prosecutor used to determine which printers had produced the materials. Prosecutor Zhao Kai appeared nervous and kept wiping sweat away.
Mr. Wang Denied His Postgraduate Degree
Mr. Wang Shushen, born on August 8, 1973, was an excellent student of Metallurgical Construction at Xian University. However, because of his belief, the CCP deprived him of his postgraduate qualifications and employment opportunities. After passing the postgraduate entrance exams, he was told to give up practicing Falun Gong during the interview. He refused and was thus denied postgraduate entrance. Jinchang City State Security Division agents arrested him in October 2000 and took him to the Ping'antai Forced Labor Camp in Lanzhou City for a term of two years.
In 2005, to support his family, Mr. Wang started a business to tutor primary and secondary students. The business was named Wise Tutoring Service. His fees were relatively low but the results his students achieved were excellent.
On May 11, 2012, Mr. Wang Shushen and his wife Xie Xiaofang were arrested by police from the Jinchang City Domestic Security Division and taken to the Jinchang Detention Center, leaving their five-year-old son at home alone. His family has not been able to get any details about his situation and are very worried.
Related article:
"Mr. Wang Shushen from Jinchang City, Gansu Province, Arrested Because of his Belief in Falun Gong"
Officials Responsible for the Persecution:
Wang Yonggang, Jinchuan District Court chief: +86-935-8213016, +86-13909459168
Yan Tianping, criminal division director: +86-935-8212537, +86-13993569355, +86-18993503920
Cheng Guang, chief judge: +86-935-8335290, +86-18993503921
For more perpetrators' contact information, please refer to the original article on Chinese Minghui