Grassroots Resistance on the Rise:
619 Villagers Sign Petition Calling for the Release of Mr. Zhao Jiwei
March 03, 2013 | By a Minghui correspondent from Liaoning Province, China
(Minghui.org) In a courageous show of support, over 600 of Mr. Zhao Jiwei's fellow villagers signed a petition demanding his release. They did so when they learned that he was suffering from a relapse of hepatitis in the detention center where he has been illegally held for over ten months.
With the persecution of Falun Gong about to enter its 15th year, more and more Chinese citizens have been taking a stand, publicly supporting fellow countrymen who are being harshly persecuted by the communist regime simply for exercising their freedom of belief.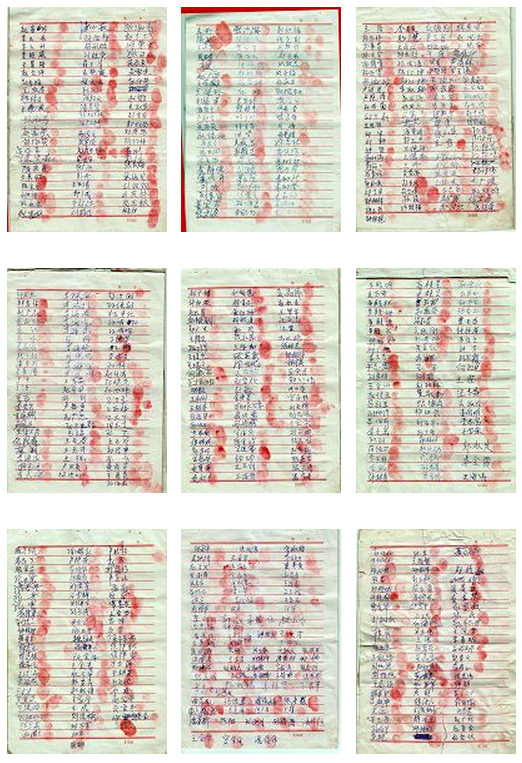 619 villagers took a courageous stand to sign and fingerprint
a petition calling for the unconditional release of Zhao Jiwei
(Note: Clicking photo above leads to a Chinese page where
high resolution images of the petition can be accessed)
Over Two Dozen Local Practitioners Arrested
Falun Gong practitioner Mr. Zhao Jiwei was arrested on April 15, 2012 as part of a large-scale arrest of practitioners in Xinbin County. He has been illegally detained for over ten months.
Peng Yue from Division No. 1 of the Fushun Police Department, with officers from his department and the Fushun District Police Station, arrested two dozen Falun Gong practitioners in Xinbin County. Mr. Zhao Jiwei and his wife Ms. Hu Shaolie were among those arrested.
Police Ransack Home, Cash and Many Personal Items Taken
The police ransacked their home without a warrant. Over 10,000 yuan in cash was stolen from their home, and their Sony digital camera (worth over 3,000 yuan) was also taken. A family member later inquired about the stolen items, but the police denied having taken them.
Zhao's Health Deteriorates and Local People Sign Petition for His Release
Mr. Zhao was sent to Nangou Detention Center in Fushun, where he has been detained for more than ten months. Under the severe living conditions and mental stress of detention, Mr. Zhao's hepatitis relapsed.
He is currently held in isolation because of the contagious disease, yet the detention center has refused to release Mr. Zhao for medical treatment.
Villagers from Xinbin County were outraged upon learning of Mr. Zhao's situation. They signed a petition and sent it to the Fushun Police Department to demand Mr. Zhao's unconditional release.
Mr. Zhao Faced a Sham Trial, as Do Many Falun Gong Practitioners
The Wanghua District Procuratorate pressed charges against Mr. Zhao at the Wanghua District Court in Fushun on July 12, 2012. Mr. Zhao's file was later transferred to the Dongzhou District Court. It was also submitted to the Fushun City Court for further investigation. The Dongzhou District Court intended to try Mr. Zhao on the morning of January 29, 2013 at the Fushun Detention Center in Nangou area. Li Fengjie was to be the judge.
The Chinese Communist Party (CCP), through the Procuratorate, charged Zhao Jiwei with practicing Falun Gong, talking to people about Falun Gong, and having Falun Gong-related materials in his home. Yet according to Chinese Law, freedom of belief is protected by the constitution, and it is entirely legal to practice Falun Gong and expose the persecution.
The trial is just a sham. The true crime is that such sham trials are repeated virtually every day across China unjustly ruining the lives of countless Falun Gong practitioners and their families.
Zhao Jiwei's family had reportedly hired an attorney from Beijing to defend him in court and to uphold Mr. Zhao's civil rights according to the Chinese Constitution.
Background
Article 36 of the Constitution of the People's Republic of China stipulates: "Citizens of the People's Republic of China enjoy freedom of religious belief," while Article 35 of the Constitution stipulates: "Citizens have freedom of speech, publication, assembly, association, procession and of demonstration."
Since the persecution of Falun Gong was started by the CCP and its then-Chairman Jiang Zemin, political agencies and law enforcement bodies at every level of government have been directly involved in the persecution of innocent Falun Gong practitioners. Because the nation's press is under state control, much information is blocked and the truth of the persecution has been covered up.
Officials Involved:
Dongzhou District Court in Fushun
Control Room: +86-24-54670520
Li Fengjie, judge: +86-24-57567476 (Office)
Song Baoyue, judge: +86-18641318737 (Cell), +86-24-57567437 (Office)
President: +86-24-54670776, +86-24-52438155, +86-13304233777