CCP Interference No Match for Shen Yun Splendor
March 27, 2013 | By Minghui correspondent He Yu
(Minghui.org) On February 27, 2013, the Chinese Embassy in Belgium exerted pressure on local officials to cancel four scheduled Shen Yun Performing Arts shows to be held at the Brussels National Theatre. As a result, the sale of Shen Yun tickets was briefly suspended.
After three hours of communication between the organizing party (the Belgian Falun Dafa Association) and the theater, the National Theatre ticket office resumed normal operations. This unexpected episode exposed the Chinese Communist Party's (CCP) most recent attempt to interfere with Shen Yun.
When Mr. McMillan-Scott, Vice President of the European Parliament, found out about the incident, he issued a statement condemning the CCP's intrusive and malicious conduct.
Sabine baroness de Bethune, President of the Belgian Senate, wrote a letter welcoming Shen Yun to the capitol city.
On March 11, opening night, Shen Yun was greeted by a packed Belgian audience, who were not deterred in the least by the snow and wind outside.


The City of Brussels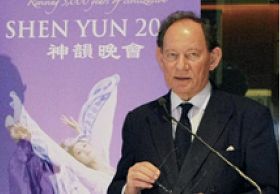 Mr. McMillan-Scott, VP of the European Parliament, issued a statement condemning the Chinese Embassy's meddlesome conduct.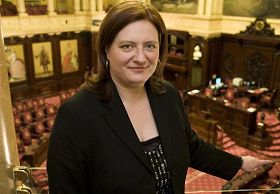 Sabine baroness de Bethune, President of the Belgian Senate, wrote a letter welcoming Shen Yun to Belgium
Despite Its Efforts, the CCP Cannot Deter Shen Yun
Although the CCP has made numerous attempts to interfere with Shen Yun, it has never suceeded. Instead, through its attempts to undermine Shen Yun, it unwittingly reveals to the world its true nature.
People worldwide have condemned the CCP's unwarented obstruction, while welcoming Shen Yun with warm applause and packed houses. The more the CCP tries to interfere with Shen Yun, the more popular Shen Yun seems to become.
In an effort to interfere with Shen Yun's 2013 World Tour, Chinese Embassies around the world have pressured host theaters, asking them to cancel their contracts with Shen Yun.
In addition, the CCP pressures local politicians not to issue letters of greeting to Shen Yun and intimidates sponsors of the show and Chinese community supporters of Shen Yun. Chinese Embassies have attempted to interfere with Shen Yun ticket hotline sales by purposely flooding the phone lines with calls, and has even hired thugs to tamper with Shen Yun busses.
The CCP's efforts to block Shen Yun have met with sustained resistance and condemnation from the theaters hosting the event, as the owners of these theaters circulate news of the CCP's meddlesome deeds among themselves. Many theaters and hosting organizations have filed complaints and submitted evidence to the FBI and other investigative authorities.
CCP Attempts Criminal Sabotage
Another reported incident of the CCP's interference with Shen Yun occurred around 4 a.m. on February 22, 2013. A volunteer helping out with the Shen Yun performance in Texas, noticed an 18-wheel semi approaching the bus used for transporting the Shen Yun artists.
The volunteer saw driver get out, open the bus' gas-tank cap and stick a hose into the tank. When the volunteer approached the man and asked what he was doing, the man said he was "performing maintenance" on the bus. However, it looked like he was trying to put something into the gas tank.
Another volunteer, who was standing close by, called 911. The driver quickly pulled out the hose, jumped into his truck, and drove away. The first volunteer stood in front the truck to try to stop the person from escaping, but the driver accelerated, forcing the volunteer to jump aside. The volunteer then quickly got into his car to chase down the truck.
The volunteer noticed that there were no license plates on the truck, as it raced down the street, running red lights and nearly causing several serious accidents. Finally, five or six police cars managed to stop the truck, but the two suspects in the vehicle jumped out and escaped.
On February 25, police officials announced the arrest of the two suspects. This incident appears to be yet another attempt by the CCP to interfere with Shen Yun. A similar incident occurred in Atlanta, when three men attempted to interfere with the Shen Yun show in January.
Interference in South Korea and Germany
In South Korea, the Chinese Embassy asked local officials and theaters under contract with Shen Yun, to cancel the Shen Yun shows, and used various means to threaten and intimidate the officials. However, despite the CCP's pressure, the theaters refused to give in to the CCP's demand.
On March 4, two German theaters, which had been sponsoring Shen Yun for several years in a row, received calls from the Chinese Consulate in Frankfurt, asking them not to cooperate with Shen Yun's hosting organization and to stop sponsoring it. The management offices of the theaters refused the Consulate's unreasonable request.
Shen Yun, an International Phenomenon
Shen Yun's three companies have been performing in world-class venues for many years. Virtually every show in 2013 has been sold out.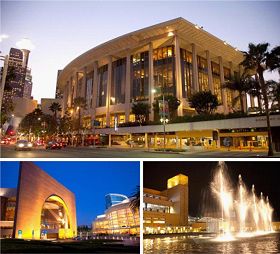 Los Angeles venue welcome Shen Yun
Shen Yun Performing Arts completed a series of 10 sold-out shows in the Los Angeles area, on January 18–27. Due to popular demand, an eleventh performance was added at the Segerstrom Center for the Arts in the City of Mesa. According to the New York-based company, ninety percent of Shen Yun performances in the last two years have been sold out.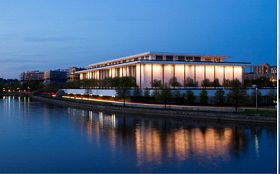 Kennedy Center Opera House in Washington, DC
Shen Yun performed seven shows at the Kennedy Center Opera House in Washington, DC, some of which were standing-room only. Many dignitaries; business and arts celebrities, government officials, both domestic and foreign, have attended the Shen Yun shows.
To date, Shen Yun has perfomed more than 50 shows at the Kennedy Center, presenting a whole new China to Washington. Arts enthusuaists continue to admire Shen Yun and consider it a new artistic benchmark for Kennedy Center performances.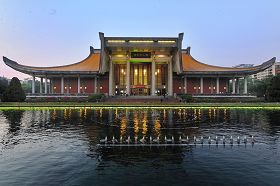 Shen Yun Touring Company staged nine sold-out shows in Taipei on February 20–27.
In Taiwan, Shen Yun Touring Company received letters of greeting from more than 70 Taiwanese politicians, including the Minister of the Interior, the Minister of Foreign Affairs, the chairman of the Overseas Chinese Affairs Commission of the Republic of China, and more than 50 legislators and over a dozen local leaders. President Ma Ying-jeou, along with many other central government officials, presented baskets of flowers to Shen Yun.
Shen Yun Is the Embodiment of the Highest Art

Legendary actress Margaret O'Brien attends Shen Yun
Legendary actress, Margaret O'Brien, who was one of the youngest stars to receive an Academy Award, was thrilled to watch Shen Yun. "It means so much! I cannot tell you how much! It was so fabulous. This is my birthday present – today's my birthday. I wanted to see this show so much!"
Ms. O'Brien was accompanied by her manager, Mr. Malone, who added, "She had been told so many times, from very wonderful performers, how great this [Shen Yun show] was. We are so honored. She is honored to be here."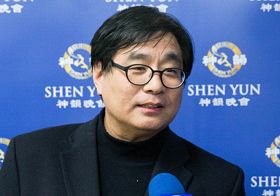 Yang Sen-Hong, member of Taiwan's International Association of Art Critics
Yang Sen-Hong, veteran journalist and member of Taiwan's International Association of Art Critics (AICA), praised Shen Yun Performing Arts for its exquisite presentation of Chinese arts and culture. He saw the company perform on February 21, at Taiwan's National Dr. Sun Yat-sen Memorial Hall.
"Shen Yun is very different this year. From the very beginning of the show, I felt a deep sense of confidence emanating from the performers. In the past, they seemed to be dancing as carriers. But this year, Shen Yun herself is dance. It has changed from 'We are dancing' to 'Dance is us!'"
He elaborated: "When I look at those early works from the Renaissance period, I saw the confidence of the artists. Be it the sculpture or painting, there was a confidence there that said, 'No one could do it better.'
"That same confidence is in Shen Yun. They're showing us that no one will ever dance better than they can. She is the number one. That's the feeling. No critique is ever needed. She is the number one. She represents herself. If there is a cultural renaissance in China, this could be the very start!"
Yang Sen-Hong said the AICA has internal critiques and standards to gauge the overall achievement of art and the definition of arts and dances. "I see (Shen Yun) herself as the arts. She is the culture. This is something hard to come by," he explained.
Faisal Qazi, reporter and editor of the Harbinger Weekly, a Pakistani publication, said Shen Yun Performing Arts symbolizes the real China.
Shen Yun "is a cultural thing," said Mr. Qazi, during intermission at the Kennedy Center Opera House. "It's not Maoist or socialist or anything—it's actually China, not communist China.
"Although people in the world have become extremely materialistic, in the back of our minds we know these [spiritual principles]," he said. "But a performance like this shows all of us that there's a common string of belief—whether you're Chinese, white, black, Muslim, Asian—there's a common stream."
Chinese Artist: "Shen Yun Is the Blessing of China"
Shen Yun is becoming popular in China, even though the company is not allowed to perform there. Some Chinese citizens are able to watch Shen Yun on NTD Television, via the Internet or satellite broadcasts, while others watch it on DVDs that are secretly circulated throughout China.
Having seen Shen Yun perform in Taipei on February 26, Mr. Lee (a pseudonym), an artist from China, excitedly praised the show, saying, "Shen Yun is a blessing for China and the Chinese people. Shen Yun is great! Especially the dance, it is absolutely first class!"
As an arts professional, Mr. Lee has stage-managed hundreds of shows. "Over the past few decades, I have seen numerous arts groups in China. No matter how famous they are, none of them can compare to Shen Yun!"
He continued, "From a dance perspective, Shen Yun's choreography is very good and very professional. They surpass any professional group in China. The costumes, the convergence of the program, the choreography, stage design, orchestration, and the music arrangement, are all very nice."
Mr. Lee, who is both a composer and conductor, recalled the 60 years of CCP rule, saying that the CCP "has completely ruined the traditional divine culture in China. Its atheism has destroyed the spiritual beliefs and values of the Chinese. The environment for artists is very bad. Anything traditional that you intend to do will be eradicated, before you even start."
Mr. Zhang, who is from China, was visiting his relatives in Vancouver, B.C., Canada, when he heard about the Shen Yun show.
"Shen Yun's superb artistry is unknown to most people in China. I, along with eight family members, thoroughly enjoyed every aspect of the show. We especially liked the ethnic values portrayed in the dance and the fine movements of the dancers, which showed their inner bearing and spirit. I have never seen anything like this before!"
Mr. Zhang was amazed by Shen Yun's animated backdrop, saying it is very high-tech.
"From the very opening act, my heart was touched. It seemed like there were divine beings on stage, and we paid humble tribute to them. It was as if all of my feelings and senses emerged at once. My hands were trembling and sweating, and sometimes I even shed tears."
"I am in my sixties," Mr. Zhang said, "and hold an official position in China. It is not very easy for me to experience this range of emotions and feelings, as my view of the world is firmly set. Thus, I was even more touched by what I saw today.
"In China, I have heard only one point of view, for so many years. Today, I was exposed to another point of view, and out of habit, I initially rejected it. That is because I have been completely duped by the CCP's propaganda.
"During the show, I went from rejecting the truth about the CCP, to knowing that I had been fooled by the very regime that I spent my whole life defending. After watching Shen Yun, my entire family knows that Falun Gong is good. Thank you for putting on such a lovely performance. It is really worth watching!"
Mr. Zhu, a Chinese tourist, brought his entire family to see Shen Yun. He said the brilliant performance touched his heart so deeply that he could not hold back his tears.
"I was very moved during the show. Our 5,000-year Chinese culture is so graceful. There were many brilliant moments in the performance, especially the dances featuring the Tang and Han dynasties.
"Shen Yun promotes basic human values to return to truth, compassion, and beauty. Why do human beings exist and develop? Because enlightened beings know that the purpose of human life is for humans to return to their original true selves. Only in this way can a society continue to develop, and only in this way can a civilization be preserved."
Mr. Zhu concluded, "Shen Yun is promoting ancient Chinese civilization, helping humans purify their minds and hearts, and restoring morality and basic human values."