The Story Behind the Firing of China's Vice Minister of Health, Huang Jiefu
March 26, 2013 | By Minghui correspondent He Yu
Introduction
(Minghui.org) On March 12, the State Council of the People's Republic of China announced that the position of Deputy Minister of Health, held by Huang Jiefu, would be eliminated in the latest institutional restructuring plan. In other words, Huang Jiefu was fired.
Huang's firing came on the heels of remarks he made on Feb. 25 suggesting that less reliance on executed prisoners would be necessary for reform of the organ transplantation system in China.
Analysts overseas see Huang's removal as being related to the Chinese Communist Party's large-scale organ harvesting from Falun Gong practitioners.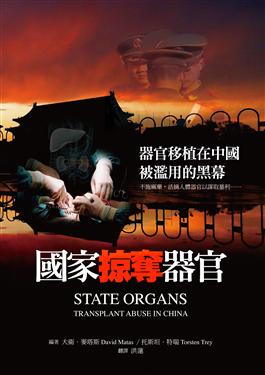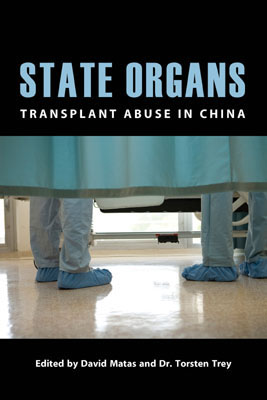 State Organs is a collection of essays by medical, legal, ethics experts and politicians. The book provides a large amount of facts, statistics, testimonies and analysis on organ harvesting from living people in China.
Anonymous Post on a Social Networking Site Embarasses China's Communist Regime
On March 5, the opening day of the National People's Congress (NPC), a Sina Weibo user (a social networking website similar to Twitter) posted screen shots of three contradictory news reports released by the Ministry of Health regarding "organ harvesting from executed prisoners." The post caused quite a sensation and has since been censored (deleted) by CCP authorities. The anonymous user posted under the username of "Forbidden Fairness & Justice."
Screen shots of three contradictory news reports released by the Ministry of Health regarding "organ harvesting from executed prisoners."
Three Contradictory Ministry of Health Reports Explain Why Vice Minister of Health is Fired
The first report cited by Forbidden Fairness & Justice denied that transplanted organs had been taken at will from executed prisoners. The East Day website reported Mao Qun'an, spokesperson of the Ministry of Public Health, as saying on April 11, 2006, "The claim that transplanted organs in China come from executed prisoners is a hoax."
The headline of the second news report was, "Ministry of Health: The Major Source of Organs Comes from Executed Prisoners," which was reported by Beijing Times on March 7, 2012.
The third news report was published on China.org on March 5, 2013, the opening day of the NPC, and was titled "Ministry of Health: In Two Years, the Source of Transplanted Organs Will not Rely on Executed Prisoners."
Background - Organ Transplant Numbers Don't Add Up
According to public reports in China, there were approximately 18,500 transplants in China in the six-year period from 1994 to 1999, and according to the Chinese Medical Organ Transplant Association, some 60,000 transplants were undertaken during the period 2000 to 2005. The sharp increase of organ transplants coincided with the start of the persecution of Falun Gong.
Investigators overseas exposed the CCP's crime of harvesting organs from living Falun Gong practitioners in March 2006. In their book-length investigative report, Bloody Harvest, David Kilgour, former Canadian Secretary of State (Asia-Pacific), and David Matas, renowned human right lawyer, say that 41,000 transplantations took place between 2000 and 2005 for which Falun Gong practitioners were the most likely organ sources. They believe organ harvesting in China continues to this day, with almost all of the 10,000 organs transplanted each year coming from prisoners.
The CCP denied the charges and has argued against it, but as more and more evidence was exposed, it received more and more pressure from the international community. In July 2005, during the International Liver Transplantation Conference, Huang Jiefu, had to make contradicting statements and admitted that most of the organs for the transplants were from executed prisoners. What secret is behind that contradiction?
The Shocking Story Told in the Book "State Organs"
Jiang Zemin, former head of the Chinese Communist Party (CCP), launched the nation-wide persecution of Falun Gong in 1999. Under the policy of "'ruin their reputation, bankrupt them financially, and destroy them physically', thousands and thousands of Falun Gong practitioners who went Beijing to appeal for Falun Gong were arrested. Abduction, detention and torture were taking place around the nation.
As the CCP launched the persecution utilizing state apparatus, harvesting organs from living Falun Gong practitioners became a lucrative way of "destroying them physically." The CCP used the military, armed police, prisons and labor camps for the illegal conduct. The entire process is a state-orchestrated crime directed by the government, facilitated by the military with the participation of the judicial, procuratorate, court and medical system. A large organ bank was established, along with physical examinations of imprisoned Falun Gong practitioners and an organ data network.
In early March 2006, a witness first revealed information about the Sujiatun concentration camp, where Falun Gong practitioners were detained for the purpose of having their organs harvested. A former surgeon's wife soon after testified that her husband had removed cornea from about two thousand living Falun Gong practitioners from the end of 2001 to October 2003. An elderly military doctor from the Shenyang Military Region who wishes to remain anonymous confirmed the existence of Sujiatun Concentration Camp and said there were a total of 36 concentration camps like Sujiatun in China.
The largest camp, codenamed "672-S," was said to hold over 120,000 people, among whom are Falun Gong practitioners and other prisoners of conscience. The fifth-largest camp, located in the Jiutai district of Jilin, holds as many as 14,000-plus Falun Gong practitioners at a time. The Chinese Communist Party's Central Committee decided to treat Falun Gong practitioners as "class enemies" and handle them in any manner that was economically profitable. In other words, Falun Gong practitioners were no longer regarded as human beings, but as raw material for commercial products.
Huang Jiefu Personally Involved in Illicit Organ Harvesting
Huang Jiefu is the former president of Sun Yat-Sen College of Medical Science. Liver transplantation is Huang's major research area. He has published more than 180 articles and won eight research awards.
According to Urumqi On-line and Sina.net, on September 28, 2005, Huang Jiefu and Political and Judicial Secretary of the Chinese Communist Party Luo Gan attended meetings at the First Affiliated Hospital of the Xinjiang Medical University to demonstrate an organ transplant operation.
According to the report, Huang Jiefu summoned two livers in one day and performed a liver transplant for a 46-year-old patient, Yao Shufa.
During a lecture Huang gave at the Third Xiangya Hospital, he said China had conducted more than forty thousand major organ transplants by 2001. The number he stated was close to three times the officially published number.
Medical Community Condemns Unethical Transplants
Though the second largest organ transplant country in the world, China doesn't enjoy any honor in the international community. Instead, organ transplants that violate medical ethics have now become a target in the medical field.
The European Organ Donation Congress of the European Transplant Coordinators Organization (ETCO) in September 2010 refused to invite Chinese doctors.
In October 2011, Internationally renowned medical journal The Lancet called for a boycott on accepting papers at meetings, publishing papers in journals, and cooperating on research related to transplantation unless it can be verified that the organ sources are not executed prisoners.
In November 2012, Doctors Against Forced Organ Harvesting (DAFOH), based in Washington, D.C., and the Taiwanese physician organization International Care Association of Organ Transplants (Organ Care) published a joint declaration demanding that the CCP stop harvesting organs from Falun Gong practitioners and prisoners of conscience, prosecute those responsible for such organ harvesting, end the 13-year long persecution of Falun Gong practitioners, and appeal to all countries and parliaments to amend laws or create legislation to protect and prevent their citizens from contributing to organ harvesting.
The International NGO, Doctors Against Forced Organ Harvesting launched a petition in Europe to stop CCP's organ harvesting on Oct. 6, 2012. Within one month and an half, 166,461 people from thirty-six countries signed the petition, including more than seven hundred parliament members, mayors and other civic leaders.
Organ Harvesting is the Hidden Story Behind Much of China's Recent Political Turmoil
More facts about organ harvesting were exposed during former Chongqing police chief Wang Lijun's defection to a U.S. Consulate in 2012. In the political fallout that followed, Bo Xilai, his wife, Gu Kailai, and Huang Jiefu, major perpetrators of organ harvesting, were removed from their positions.
We believe that all those responsible for these organ harvesting atrocites will ultimately be brought to justice.