Taiwanese Audiences Enthralled by Shen Yun's Consummate Beauty (Photos)
(Minghui.org) The city of Tainan was abuzz with excitement as the Shen Yun Performing Arts Touring Company took to the stage for six sold-out shows at Taiwan's Tainan Municipal Cultural Center, from March 14–17, 2013.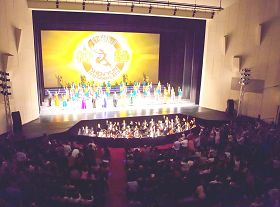 Audiences enthusiastically applaud during Shen Yun's final curtain call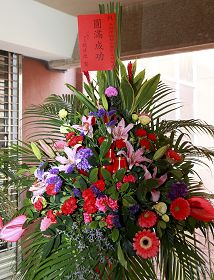 Tainan mayor Lai Ching Te sends flowers to congratulate Shen Yun
City Councilor: Shen Yun Makes Me Want to Stay
Sitting in the front row at the Shen Yun performance was Tainan City Councilor Lin Meiyan.
"One look is worth a thousand words," she said. "Only after I saw Shen Yun in person could I really recognize its consummate professionalism."
Councilor Lin explained: "All the artists wholeheartedly dedicate themselves to the performance, and the expressions of joy, sadness, and delight [of each character] were accurately displayed on their faces. I had difficulty identifying the lead actors, because everyone seemed to be the lead actor!"
She said the artists "are indeed very dedicated and professional."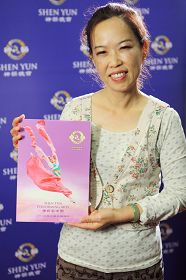 Tainan City Councilor Lin Meiyan
The councilor said the scenes displayed on the backdrops made her "reluctant to leave" the venue.
She was referring to an appointment that she had to attend, but she decided to stay in her seat till the end of the show. "My mind was simply full of admiration and praise [for Shen Yun]," adding, "It is really great!"
Councilor Lin praised the educational value of Shen Yun saying, "Even traditional literature like Journey to the West could be performed in this kind of artistic way. It helps to keep our younger generation aware of Chinese traditional values. It is really very educational."
The dance company portrays stories from classical Chinese literature and poetry, such as "Sand Monk is Blessed," which describes one of the adventures from Journey to the West.
Ms. Lin enjoyed the dances depicting majestic heavenly scenes and divine beings coming to save mankind.
"Since my childhood, I have enjoyed seeing images of fairies and fairylands, because that realm is both peaceful and tranquil. It did remind me of my belief in Buddha and gods in my childhood."
In her opinion, Shen Yun "will make society more peaceful."
She spoke briefly about China's misaligned emphasis on fostering a strong economy.
"On the surface, China has made rapid progress, but it is still lacking in spiritual elements. In fact, spiritual beliefs and building a spiritual civilization are also very important.
"Human beings should not always pursue material things, as the pursuit of spiritual elements is very important, as well. Through Shen Yun performances, we can perceive a spiritual realm, and have the feeling of calm."
"Top Performance in the World!"
Also in the audience was Kuo Lin-Chi, president of the Tainan City Business Promotion Development Association and chairman of the board of Lungmei Curtain.
He expressed his heartfelt praise for the show. "Shen Yun combines art and high-level technology to bring out the essence of 5,000 years of Chinese culture. On stage, I saw heaven on earth and the profound meaning of Chinese divine culture. All I can say is that Shen Yun is the most unique, top, best performance in the world!"
He said he felt very happy after seeing the show. "Superb! Incredible!" he exclaimed.
Having seen many large-scale performances around the world, the businessman said, "There is only one show that occupies the number one position in the arts: Shen Yun. The way the dancers demonstrate their strength and beauty is first rate."
Mr. Kuo said that he admired the skill and artistry of the dancers. "The artists showed strength and beauty. The jumps, turns, kicks, and flips, demonstrate their superb technique. They did a perfect job."
The narrative dance from Journey to the West especially pleased him. "In 'Sand Monk is Blessed,' everything looked so real. The exquisite dancing matched the tempo of the music and the backdrop. I didn't even want to blink. For a moment, I thought I was in the story. It was an amazing experience!" Mr. Kuo said, with a laugh.
He mentioned that only Shen Yun can provide such high-level entertainment, which used to be reserved only for emperors.
"I will most definitely recommend it to my friends and I am coming back next time, for sure!"
Sculptor Praises Shen Yun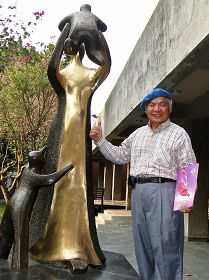 Renowned Taiwanese sculptor Cheng Chun-hsiung
Also enjoying the show was renowned Taiwanese bronze sculptor, Cheng Chun-hsiung.
"Shen Yun creates a perfect combination of Chinese traditional dance and technology," Mr. Cheng said.
"It is actually a combination of all the arts; not only dance, but also fine arts, music, sculpture, literature … and many other artistic components. And movies as well!"
Mr. Cheng said he was "definitely inspired!" by Shen Yun's programs.
"Shen Yun's dancing has deeply impressed my mind, including the style, beauty of movements, and the skills of the actors. I think they're the best!"
He added, "Most importantly, Shen Yun's chromatics. They're really great! The colors of the costumes are matched perfectly. The program, 'Phoenix Fairies,' for example, had dark blue with orange colors.
"It was so beautiful! The actors used their raised arms to form the shape of a phoenix's head. It gave people that exact feeling."
Many of Mr. Cheng's works are phoenixes. "The phoenix is my favorite. It's a divine bird," he explained.
In discussing the show's Western conductor, he said, "It's not easy for him," pointing out that the conductor has to understand Chinese culture so that he can perfectly match the music with the dance.
"I really admire Shen Yun, with so many members, approximately 70-80, and they are all so professional!"
Mr. Cheng continued. "There must be many excellent choreographers and instructors behind them. This is a very successful company. It is worthwhile for Taiwanese dance and music groups to make a study of Shen Yun.
"Shen Yun is the top in the world!" he said. "As for representing the profundity of Chinese culture, Shen Yun is absolutely tops!
"I am grateful to have had this chance [to see Shen Yun] today. I will come next time and tell my friends to come, too!"
Shen Yun Turns "Moments Into Eternity"
Writer and artist Zheng Xingcun (Photo courtesy of The Epoch Times)
Zheng Xingcun, a writer and artist in the field of literature, sculpture, and painting, exclaimed that "Shen Yun is the best! Bravo Shen Yun!"
Being no stranger to artistic performances, he praised Shen Yun.
"First of all, I greatly appreciate the professionalism and dedication of the performers. I think it is a privilege to see it once in this lifetime. And they were so passionate about what they were doing. It was simply awesome."
He described both the animated background and the live orchestra, as a visual and auditory feast. "It was a combination of humanity and technology, with perfect coordination.
"At first, I didn't know there was a live orchestra. When I saw the Monkey King smash the water with his magical staff and the water splashed from the surface, I was stunned. How could the timing of the sound effect be so perfect! [The backdrop] was so unique. That scene was absolutely wonderful."
Mr. Zheng said that the musicians were so "professional that it's just incredible. It was astounding. I was deeply touched."
With a broad smile on his face, Mr. Zheng said: "This was truly phenomenal. I will definitely come next time. I will probably come tomorrow and enjoy the performance again."
Learning from the Performers
Mr. Zheng said that he felt both the performers' passion and compassion. "If there wasn't 'truthfulness' [in the performance], the show would not be what it is.
"I used to think that truthfulness, compassion, and beauty were the peak of all realms … Today, Falun Gong talks about truthfulness, compassion, and forbearance, and it makes me realize it takes great effort to follow the principle of forbearance. It is easy to talk about forbearance, but difficult to put it into practice.
"If one can reach the state of absolute forbearance," he explained, "there will not be any distance between people.
"If you don't cultivate forbearance, and everyone simply does whatever they want to do, the world will become chaotic," said Mr. Zheng.
He thought that people nowadays are indifferent; they do not respect others, and have very little self-control.
"The principle of forbearance starts with restraining oneself … Then, we would have a truly peaceful world. It may seem that this comes naturally. But it all starts from the principle of 'forbearance.'
"Indeed, forbearance is very painful; [as represented by the Chinese character], a knife to a heart. You may say to yourself 'I must forbear,' yet, some peoples' words can suddenly enrage you. So, Falun Gong talks about 'truthfulness, compassion, and forbearance.' This is not easy. Forbearance starts from the heart and is practiced or cultivated in real life."
Mr. Zheng said that he saw the principle of forbearance in Shen Yun, and respectfully said, "I want to learn from Shen Yun, and learn the principle of forbearance."
Shen Yun: "Turning Moments Into Eternity"
While watching the show Mr. Zheng said that he experienced the feelings of "time standing still" and "moments becoming eternity."
"Life is like a one-way train [journey]. We have to reach the other end of life. However, it is not the end, but just a beginning, as life is eternal."
He explained: "While watching every Shen Yun program, I realized what it elaborated was turning moments into eternity." He said Shen Yun reminded him to "seize the day."
Finally, Mr. Zheng said in a passionate tone, "Shen Yun is a world-class performance. I must pay tribute to all the performers. I want to bow 90 degrees to them. I thank all the Shen Yun performers for treating me to such a magnificent and joyful evening. Truly thank them! I will pass on the good word."
Mr. Zheng has his own studio where he devotes most of his time to writing poems, carving sculptures, and painting.
Divine Beings Summon Shen Yun Artists to Earth
Many well-known artists were in the audience, including Wu Feng-Ming, an art gallery owner and painter. He commented on Shen Yun's choreography, saying, "The dancing comes from heaven. Not everyone can see that."
Mr. Wu may have seen the show's choreography in a different light than most people.
"I study the I-Ching and I realized that the entire choreography design was a matrix. The structure and the image that the artists formed, almost all follow the Taoist method. I was enchanted the minute I saw it."
He continued, "I feel that the young dancers are fairies or little messengers, who divine beings summoned a long time ago, and sent to earth to save us from this time in history."
He said the Shen Yun artists are on a mission. "These artists are promoting divine teachings in the form of art. They are telling the world's people how precious and priceless the divine teachings really are.
"Shen Yun, the name itself, means that it is the highest form of everything," Mr. Wu said.
The artist said the show itself was a gift. "In the past, only emperors, their prime ministers, and state officials, were able to savor such dances from celestial maidens. It's such a blessing that I can see it here."
Mr. Wu talked about the digital projections, marveling at how the images on the backdrop interact with the dance movements. "The visual design is highly creative and amazing. The music, the artists, and the backdrop animations come together to create a marvelous drama."
Perfect Combination of Poetry, Music, and Dance
Another arts enthusiast, Huang Jin-Lian, a Taiwanese poet and the chief editor of Haiweng Taiwanese Literature Magazine, said that Shen Yun's poetry in the dance and music programs "perfectly combines poetry, music, and dance.
"Shen Yun reenacts the music and dances that could only be heard in ancient Chinese palaces. The programs contain Chinese traditional elements."
Mr. Huang was impressed by the high-tech digital projection, which makes the figures on the backdrop seem to come magically to life. "Unbelievable! Very creative and novel!"
Being a scholar of classical Chinese poetry, Huang said that he "felt the scent of classical poetry from the dancing and singing, especially the dance movements."
He was pleased by how Shen Yun blended poetry, dance, and music. "It made me feel comfortable, relaxed, and happy," he said.
Mr. Huang saw a deeper meaning in the presentation of "Flowing Sand River" in "Sand Monk Is Blessed," a story from the classic novel Journey to the West: "Most people may see only the surface, but some see more. The river is a metaphor of respect for divine beings."
Having studied music in school, Mr. Huang said he admired the singing skills and voices of Shen Yun's baritone and tenor, "They are true vocalists!"
Professor of Music Feels Inspired by Shen Yun

Performing arts director He Jiayun
Also attending the show was He Jiayun, assistant professor at both the Taipei National University of the Arts and the Institute of Music in National Pingtung University of Education.
Besides holding a doctoral degree in classical music from a university in England, she has long been devoted to studying Buddhist music.
As the director at a performing arts center that offers Buddhist music and dancing, she has choreographed numerous dance performances.
Ms. He said that she was intrigued by what has been referred to as the "Shen Yun phenomenon," or the widespread popularity of Shen Yun in the world.
She felt inspired to study Shen Yun further, saying: "I have learned music and dance since I was little. Now, I focus my study on Buddhist music and dance. My students also perform on stage.
"After seeing Shen Yun tonight, I am inspired to learn more about the inner meanings of the performance, and include it in my field of research."
She talked about the dance techniques and the voices of the sopranos, saying that they "were excellent."
She added, "Overall, the performance was very neat, with the movements of the dancers very precise. The performers' makeup, even for the story about Shaolin Temple, was also extraordinary."
Ms. He said that Shen Yun's high-tech animated backdrop "was the best I have ever seen." She said that the combination of the backdrop and the performance "was well done."
"It was absolutely amazing, especially the dancers [who looked like they were really] flying up to the backdrop, as the transition was perfect and very impressive. Such design in the backdrop was marvelous, perfect, and splendid."
Ms. He said that she burst into tears while watching the dance piece, "An Unexpected Encounter."
"I just cried when I saw the persecution scene in Beijing. I had no idea why I cried. Perhaps the story had awakened my compassion. At that very moment, tears filled my eyes. Also, when the performers returned to heaven with the Bodhisattva, it was stunning."
Ms. He said that everyone should come see Shen Yun. "While I was growing up, I saw all kinds of performances, local, overseas, and even performances from China.
"Today, I can see that Shen Yun's artistic performance achieved the aim of purifying the minds and souls of the audience, while promoting Chinese culture."
Ms. He concluded: "This is a vibrant and uplifting performance. The fact that all of these performers were brought together; and the performance could be choreographed with an Oriental flair, in combination with Eastern and Western music, languages, beliefs and many other things, is a huge success.
"At the same time, [China's divinely inspired culture] is being promoted to the entire world. This is really, really great."
"Let the People in China See the Show!"
"I saw Chinese traditional culture, the 5,000 years of civilization, which can no longer be seen in China." Mr. Yang explained during intermission.
"From the dance, the costumes, to the backdrops and colors, its artistic expression has reached perfection," Mr. Yang said, adding, "The meaning of the lyrics is profound. The vocalists were fantastic."
Ms. Zhao, Mr. Yang's companion, said, "I was deeply impressed by all the programs ... I was deeply moved."
"Seeing the beautiful scenes, I was very touched. I can't express the feelings with language; kind of being moved to tears, especially when watching the program, 'An Unexpected Encounter.'
"It is happening in China. [The Chinese Communist Party] does not allow people to practice Falun Gong." Mr. Yang said.
"We know a lot of people [Falun Gong practitioners] who have been kidnapped. It is freer and more democratic here [in Taiwan]. People here have true rights. There are no human rights in China.
"Here in Taiwan we can see what is shielded off in China. [Shen Yun] really should perform in China. Let the people in China see the show! They have the right to know," Ms. Zhao exclaimed.
"The dance and vocal performances had a lot of power behind them. We can directly feel [what they are conveying to us]. From the performance, we felt the language they want to express, and were within a short distance from them. So I was very moved. I was almost touched to tears!"
"It's Really a Feast for Our Eyes"
Another delighted audience member, Chiu Yang-Hao, who was accompanied by his family members, said that Shen Yun's dance "reflects the essence of the Chinese people."
Mr. Chiu is the head of the 2011 Tainan Industrial and Commercial Enterprises Association, and former head of the Education Bureau and Cultural Affairs Bureau.
Mr. Chiu said Shen Yun "is a synthesis of, and a thorough demonstration of 5,000 years of dancing art. Such dance skills were rarely, if ever, seen in imperial courts. It's really a feast for our eyes.
"Shen Yun's content spans the essence of the East and the West. It's time and space extend from ancient times, particularly through the golden ages of the Han and Tang Dynasties, to modern times. Therefore, the content is rich, fully manifesting the spirit of traditional Chinese dance," Mr. Chiu explained.
"From [Shen Yun], we can see the truthfulness, compassion, and beauty of traditional Chinese dance.
"Once forbearance, [a principle] of the Falun Gong spiritual practice, is included, the excellent traditions of the Chinese people come together; the essence and profound meaning of which is fully manifested. It's really remarkable," said Mr. Chiu.
"Every program is outstanding; in particular the performers have mastered their skills to perfection. It is amazing. Out of all the performances that I have ever watched, this company [Shen Yun] comes out on top, whether we are talking about synchronization, flexibility, or skills.
"In particular, I witnessed everyone's physical fitness, which is never seen in any other arts company. It is absolutely rare!"
Mr. Chiu, who has watched Shen Yun for four years in a row, said: "Shen Yun presents a brand new program each year. They were all fascinating. I hope that everyone can come watch Shen Yun and have a better understanding of the essence of Chinese culture.
"Shen Yun presents divine mercy, truthfulness, kindness, and the beauty of human nature," he added.
"There is a stark contrast between kindness and evil. Then, from human nature we can explore our potential Buddha-nature. By upgrading the sacred part of human nature, hopefully humans can reach the level of a Buddha. [Shen Yun] is guiding us to the profundity of future cultivation of mind and body."
Shen Yun "A Long Lost Picture in My Heart," Says Businessman
Mr. Li, a Chinese businessman, traveled to Taiwan from China to see Shen Yun. He said that he was deeply moved and excited by the show.
Although the Chinese Communist Party will not allow Shen Yun to visit China, some people there secretly circulate Shen Yun DVDs.
Having seen a DVD of Shen Yun in China, back in 2007, Mr. Li arranged a trip to Taiwan to see the show live.
"I feel happy and amazed, because I saw a real China, a China that represents 5,000 years of civilization. Now, I think that Shen Yun does not only belong to Taiwan and America, but to the world. I saw many audience members moved to tears."
He said seeing a live performance is better than watching it on DVD, and that it meant a lot to him to see Shen Yun live.
"We've watched the DVD in China. I watched it all the time, but did not have the feeling of personally participating. Fortunately, I could make the trip here and see it live. I feel very, very happy," said Mr. Li.
He described a deep, emotional, mystical, experience that he had while watching the show.
"When I saw the dynamic backdrop, I felt the scenes were really in heaven. They were very neat and pure. I haven't seen something so pure for a long time. So I felt very, very astonished. Really, I felt it was a long, lost picture in my heart.
"I've believed in the existence of gods since I was little. I felt I saw such scenes a long time ago, as if I had visited heaven. This is how I feel, and it is probably how everyone feels. So I felt very, very stunned."
Speaking of the costumes and performers, Li said, "I've never seen such brilliant colors as those in the costumes. The female dancers are like fairies. They are really like fairies in every dance. I felt that their faces were just like the faces of magical fairies.
"I am more familiar with mainland China, so when I saw Shen Yun representing the persecution of Falun Gong in China, through dance, I saw a kind of respectful perseverance. It deserves the greatest admiration."
Mr. Li wants all of his countrymen to experience Shen Yun.
"In fact, Shen Yun told us that all people came from heaven. I think it's true. When people's thoughts can meet the standard of truthfulness, compassion, and tolerance, they definitely will have a good future.
"The value of truthfulness, compassion and tolerance is universal. It is the truth of the universe, which all human beings must abide by. I hope all Chinese people can understand this truth. I think the show will be performed in China. I hope that the Chinese can see the show and be moved once more.
In the last dance set, 'Divine Mercy,' according to the program book, "When calamity strikes … steadfast faith brings celestial aid." Mr. Li felt that the dance portrayed an actual test for humanity.
"Mankind must go through such a transformation, which cannot be avoided using one's will. I think it will definitely come. It will come for all human beings, not only for the Chinese people.
"Yes, mankind must go through a baptism. I think it is happening now. What I mean is that everyone must pass this test, a test that gods arranged for man," he said.
He concluded, "Shen Yun must be promoted and promoted so that all people can see it. [Seeing] Shen Yun is a process of spiritual purification. This is what I perceived. I feel that all people who see Shen Yun live, are purified."