Family Members in Dalian File Charges Against Police to Save Their Relatives
March 17, 2013 | By a Minghui correspondent from Liaoning Province
(Minghui.org) Family members of Falun Gong practitioners arrested on July 6, 2012, added their fingerprints to their signatures on a lawsuit they filed against police officers and their associates. They also requested that the practitioners be released and that local authorities identify those responsible and hold them accountable.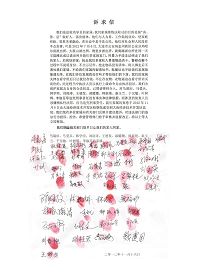 Letter by family members of Falun Gong practitioners arrested on July 6, 2012
On July 6, 2012, a large number of Falun Gong practitioners were illegally arrested in Dalian in joint operations by the 610 Office, Political and Legal Affairs Committee, police department, Domestic Security Division, State Security Bureau, police stations, and many neighborhood community offices. Deception and violence were used to make the arrests in Dalian City in the following districts: Development Zone, Jinzhou, Pulandian, the Republic, Zhuanghe, Wafangdian, and Changhai Xian. Over 70 practitioners were taken into custody. Some of them were tortured and others sent to forced labor camps.
Their homes were ransacked. Cash, bank cards, computers, books, and other personal valuables were taken. The arresting officers did not identify themselves, did not show any search warrants, and did not provide a list of things they had taken. They did not notify relatives of these arrests either, so the families had to find out for themselves.
On November 8, 2012, the public Prosecutor's office of the Dalian Economic and Technological Development Zone filed charges in court against the following 11 practitioners: Ma Ruitian, Ma Aibing, Han Xueming, Liu Qingtao, Wang Defa, Hao Yaoshan, Han Xinyan, Qin Yulan, Yu Yuanmin, Ye Shuhui, and Li Shufen. They are being held in the Dalian Detention Center.
These practitioners' relatives have filed a lawsuit against the officers involved in their arrest. The suit attests that these practitioners are following the principles of Truthfulness-Compassion-Forbearance in order to improve their health and have a harmonious family life and relationship with their neighbors. They also work hard and obey the law, are role models, and have high moral standards. The families have hired a lawyer from Beijing to speak on their behalf.
On November 21, 2012, practitioner Wang Jian was brought before Shahekou Court in Dalian. When Wang's lawyer pointed out that the practice of Falun Gong did not violate any laws, the judge did not let him finish making his defense and declared a recess.
The lawsuit requests an investigation into the police department in the new district of Jinzhou in Dalian, the police station on Harbin Road, police stations in Dagushan, Huanghailu, and Wanlixiang, the detention center in the Development Zone, the Development Zone Prosecutor's office involved in the detentions, and the unlawful ransacking of homes and taking of personal belongings. Furthermore, the public Prosecutor's office of the Dalian Economic and Technological Development Zone knew that these practitioners did not violate any laws and yet filed illegal charges, so it should also be indicted.
The lawsuit also points out that police officers and public officials must obey the laws of the constitution. A day will come when they will be held responsible for carrying out illegal orders.