The Art of Zhen, Shan, Ren International Exhibition Held at Australian Parliament Building (Photos)
March 17, 2013 | By Hua Qing, Minghui correspondent
(Minghui.org) On March 14, 2013, the Art of Zhen, Shan, Ren International Exhibition was held in the Australian parliament building for the first time. Members of Parliament (MPs), Senators and staff shared how they were touched by the paintings.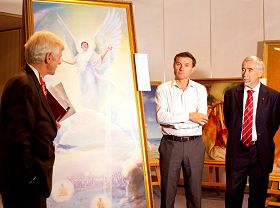 David Kilgour (first left), former Secretary of State (Asia-Pacific) for Canada, speaks to MPs about Falun Gong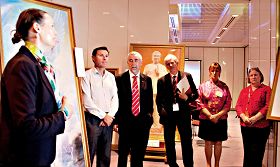 MPs listen to exhibition tour guide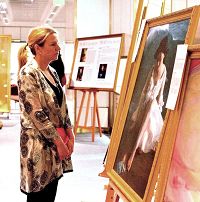 Senator Louise Pratt views the paintings
Senator Louise Pratt viewed the exhibition for the first time. She said that it was a beautiful exhibition which presented touching stories. She said she would tell her colleagues and other senators about the exhibition and indicated that she had learned about the Chinese Communist Party's persecution of Falun Gong from Mr. David Kilgour. She remarked that the principles of Truth-Compassion-Forbearance should be respected.
Senator Bruce Scott said that everyone in the parliament building should see the exhibition. When he saw a painting showing the torture of a practitioner, he commented on how people in countries with freedom can practice freely, but practitioners in China were persecuted. This issue would remind everyone in Australia to support democracy and freedom.
David Kilgour, former Secretary of State (Asia-Pacific) for Canada, was visiting Australia and was happy to see the exhibition in the parliament building. He said it was a good opportunity for Australian politicians to learn about Falun Gong and Falun Gong practitioners. He hoped the Australian government would speak out against the persecution of Falun Gong in China. He also told the MPS and their assistants who viewed the exhibition about the CCP's forced organ harvesting from live Falun Gong practitioners.
The paintings in the exhibition were prepared by Falun Dafa practitioner artists. The works present the grace of Falun Dafa and expose the persecution of Falun Dafa practitioners over the past 13 years, as well as show practitioners' efforts to spread word of the persecution.