Documentary Pre-Release Screening in Australia Exposes Organ Harvesting Crimes (Photo)
March 15, 2013 | By Chunqing Xia from Melbourne, Australia
(Minghui.org) On the night of March 7, 2013, the film "Free China: The Courage to Believe" was screened as a pre-release private screening in Victoria University in Melbourne, Australia. The film is a co-production between NTDTV and World2Be Productions, and is directed by Michael Perlman. The film tells the story of two Falun Gong practitioners who survive the horrors of China's labor camps, including torture, brainwashing and human organ trafficking.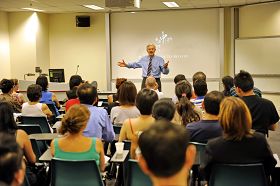 Mr. David Kilgour speaking at a pre-release private screening of the film "Free China: The Courage to Believe" in Melbourne March 7, 2013.
Since its debut in film festivals last April, the film has won a series of awards including the 45th WorldFest-Houston International Film Festival, Free Speech Film Festival in Philadelphia, and West Hollywood Awareness Film Festival. Its soundtrack has been nominated for Best Soundtrack at the 2012 Hollywood Music In Media Awards.
Hon. David Kilgour: Live Organ Harvesting Must Stop Immediately
The organizers of the private screening invited the honorable David Kilgour to speak at the event. David Kilgour was a Member of the Canadian Parliament for seven terms. He has also worked with a well-known Canadian human rights lawyer, Mr. David Matas, and has made great efforts in investigating the Chinese Communist Party's live organ harvesting of jailed Falun Gong practitioners. Thus he was presented the Human Rights Award by IGFM in 2009 and was nominated for the Nobel Peace Prize in 2010.
In his speech, Honorable David Kilgour said that based on an independent survey, since 2000, there have been about 65,000 Falun Gong practitioners who have been killed for their organs. The Chinese regime claims that the organs come from death row prisoners, but in China, only Falun Gong practitioners are made to have health examinations every three to four months with the condition of their organs documented in full detail. In the investigation report written by himself and Mr. David Matas, fifty-two pieces of evidence prove that Falun Gong practitioners are victims of organ harvesting.
David Kilgour shared a story that caused a lot of sighs from the audience. "One Taiwanese businessman went to Shanghai to have a transplantation of two kidneys. The surgeon was in military uniform. After the operation, the patient didn't feel well. He returned to China for a second transplantation in about two months. After another kidney transplant, the result was not satisfactory again. So, the Taiwanese businessman went back to China again, a total of four times, until he felt the kidneys function properly in his body. However, what he did not know was that a person was killed each time he went in for another kidney transplant."
Appealing to the Australian Government to Establish a Law to Prevent Illegal Organ Transplantation
Mr. Kilgour said one purpose of his visit to Australia is to urge the public to be aware of the tragedy of live organ harvesting in China. There are Australians from every state going to China for organ transplantation. He hopes the event can push the government to establish certain laws to prevent illegal organ trafficking and transplantation. He said, "The Australian government can do a lot to prevent the organ trafficking crime. Other governments have already done so. Israel is the most dramatic where they were actually paying for people to go to China. When Dr. Lavi discovered that this was happening he brought in a new bill with support from all parties. Israel have now stopped organ trafficking completely now and they have since put some organ brokers in jail. And I gather nobody goes to China from Israel anymore for organ transplants. So it would be ideal if nobody was going from Australia to China for organs either, and it wouldn't take very much action among the parliamentarians in this country to achieve that."
He said that stopping such a crime is the duty of every person and there are a lot of things we can do. "Raising awareness to the public, passing a law to make the transplantation trip to China so it becomes impossible, condemning the China regime at every forum and every meeting. I believe eventually it will work. And it must be stopped immediately."
For an average citizen, he said one can use the internet to share the information with their friends, their representatives, with their doctors, etc. At this time, actions from medical doctors are the most effective.
The Australian Government Is Working on a Legislation to Regulate Organ Transplantation
The New South Wales Parliament discussed a petition "calling for a legislation to take action to stop the persecution of Falun Gong and end collaboration on organ transplantation between New South Wales and China" on the afternoon of February 28, 2013.
This topic was proposed by Jamie Parker, Greens MP for Balmain in NSW Parliament, and was discussed that same day. Mr. Parker submitted the petition, which has more than 10,000 signatures, to Parliament.
David Shoebridge, Member of the New South Wales Legislative Assembly also produced a comprehensive consultation paper on February 19, 2013 proposing new legislation to make it a criminal act equivalent to manslaughter to buy trafficked organs.
Audience Reaction to "Free China: The Courage to Believe"
Mr. Bill Schlink is an owner of a real estate company in Melbourne. After watching "Free China" he said, "The film taught us Australians a lesson today. I only know a little of the Chinese Communist Party's persecution of Falun Gong, but I never knew of such a scary crime as live organ harvesting. Although what we can do is limited, at least we must prevent such things happening here in Australia and in other European countries."
Mr. Schlink believes one solution is to educate people with higher moral values. "Every country has a moral obligation, besides economy and law, that there shall be a moral standard to judge what is right and wrong. For example, even if the law allows you to have a new kidney from China, if the new kidney was taken from a live person, it is immoral." He said that he would bring more friends to the next private screening.
Mr. Tony Anketell runs a Ford car dealership. He said, "Before, I couldn't believe that live organ harvesting existed. Mr. Kilgour said that there are 52 pieces of evidence. Now I believe it.
"To prevent such crimes, we must help more people become aware of this atrocity, and spread the message through Facebook and Twitter, etc." He said he will send Mr. Kilgour's web link to his friends and relatives and recommend they see the film "Free China: the Courage to Believe."