The Maoming City 610 Office Brainwashing Center
March 14, 2013 | By Minghui correspondents from Guangdong Province, China
(Minghui.org) The courtyard of the Transportation Management Office is located on Hongqizhong Road, in the Hexi District of Maoming City. It is always busy and crowded with people and cars. Across the street there is a building that seems quite different from the surrounding environment. This five-story structure looks like an abandoned building, but in fact this is the location of the 610 Office of Maoming City, where Falun Gong practitioners are illegally detained. It claims to be a "Law School," but has no sign at the entrance. Over the past ten years, inhumane persecution against Falun Gong practitioners has been taking place in this building.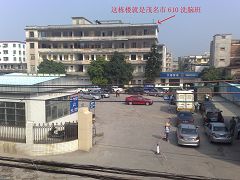 The Maoming City 610 Office brainwashing center
Ms. Su Xiaoping, 54, was a Falun Gong practitioner from Xinyi City, Guangdong Province. She was arrested on August 13, 2012 by agents from the Xinyi City 610 Office and detained at the Yinyi City rehabilitation center for fifteen days. On the afternoon of August 28, officials from the 610 Office arrived at her home and attempted to have her sign a document stating that she committed crimes. She firmly refused. They then took her to the Maoming 610 Office, where she was tortured. As a result of the torture, she suffered urinary incontinence, edema, could no longer hold food in her stomach. After she became bedridden, on September 26, the Xinyi 610 Office notified her family to take her home. Mrs. Su passed away on October 7.
Ms. Liang Shaolin is a former engineer of the Maoming City Petrochemical Corporation. On September 24, 2009, seventeen police officers from the Maoxi Public Security Bureau broke into her home by breaking through two layers of doors with an electric chainsaw. She was taken to a brainwashing center and later transferred to the Maoming First Detention Center. She was secretly sentenced to a nine-year prison term in May 2010 by Chinese Communist Party (CCP) officials.
In Maoming City, the 610 Office brainwashing center tortures practitioners and keeps them in solitary confinement. Falun Gong practitioners are not allowed to talk to anyone, watch television, listen to music, or receive visits from friends and family. In a normal prison, inmates are allowed to go to the courtyard daily, can talk with each other, and solitary confinement is only for inmates who violate the rules. However, in the brainwashing center, solitary confinement is routine for Falun Gong practitioners.
There are no defined periods of detention at the brainwashing center. No one can predict what will happen from one day to the next. There are hired "helpers" who perpetrate mental torture on practitioners. They are the "psychiatrists" in this environment, who have never received the training of a psychiatrist. Although the practitioners are caring wives and husbands, competent leaders, scholars, or officials, they are forced to listen to the constant bombardment of falsehoods.
Due to the past years of wrongful persecution and the CCP's misleading propaganda, many people in China hold incorrect understandings about Falun Dafa. This is especially so for the security staff in the brainwashing center. They are the ones who have truly been brainwashed. Thus, they are very hostile toward practitioners. They don't even realize that their actions violate the law.