Ms. Hu Aiyun Repeatedly Tortured Through Nine Years of Imprisonment (Photos)
February 16, 2013 | By a Minghui correspondent from Heilongjiang Province, China
(Minghui.org) Falun Gong practitioner Ms. Hu Aiyun from Harbin City has been detained and tortured by prison guards and inmates for nine years. She almost died many times from the relentless persecution. The authorities at the Heilongjiang Women's Prison have not allowed Ms. Hu's family to come and see her for over three years.
On November 15 and 16, 2012, under the direction of prison guards, three inmates-- Wang Wei (from Harbin City), Sun Xiaodi, and Li Tongtong (from Daqing City)--forcibly put a prison uniform on Ms. Hu. They tied up her hands and legs, and stuffed toilet paper into her mouth. Wang yelled at her and cut her hair with scissors. Then, they violently punched her in the head and face. They also stomped on her ankles with their leather shoes. They then pushed her to the cold floor.
Wang Wei threatened: "I can tie you up for as long as I like." They released Ms. Hu at about 9 p.m., when she appeared to have symptoms of a heart attack.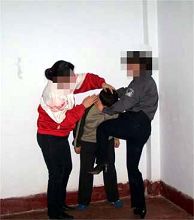 Torture re-enactment: Beatings
On November 21, 2012, because Ms. Hu refused to be forced-fed, Wang Wei and Li Kun tugged on her hair and repeatedly hit her until she fainted. Wang also used a needle to poke her. Ms. Hu was tortured for two days. As a result, she couldn't get up from bed. Wang Wei threatened, "It is normal for some people to die in here."
On December 6, 2012, when warden Bai Yingxian and official Zhao Huihua came to the Supervision District Hospital, Ms. Hu ran out of her cell (Room 305, where she was monitored by two inmates) and told Bai and Zhao how the inmates abused her. She also handed them a written account of the persecution. She was later transferred to the 10th Supervision Unit, where there were over 20 people kept in one room.
Repeated Torture
Ms. Hu lived at the Cao Village, Xingfu Township, Xiangfang District, Harbin City. On June 21, 2003, she was illegally arrested by the Harbin Domestic Security Division. On May 12, 2004, after being severely tortured, she was sent to the Heilongjiang Women's Prison in Harbin City. There, she was taken to the "water room" and beaten by over a dozen inmates by order of Lu Jinghua, captain of the Training Team in the prison, and police officer Tao Dandan.
Ms. Hu was locked up in a cell, where she was handcuffed to a "floor ring." On August 12, 2004, Ms. Hu protested the persecution by going on a hunger strike. She was force-fed by inmate Shang Xiaomei, who intentionally injured her nose when forcibly inserting a tube into her stomach. When the tube was drawn out, a large of amount blood sprayed out.
In September 2006, Tao Dandan ordered over a dozen inmates to seal Ms. Hu's mouth with tape and handcuff her to the 11th Supervision Unit (a special unit used to "transform" practitioners through torture and brainwashing.)
On July 11, 2007, Ms. Hu went on a hunger strike again to protest against the persecution and demanded her unconditional release. After five days, inmate Sheng Qiaomei forced-fed her with brine, which caused severe dehydration, dizziness, diarrhea, and vomiting.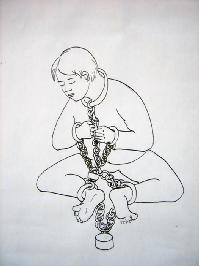 Torture re-enactment: "Floor ring"
On March 8, 2008, Ms. Hu again went on a hunger strike to protest the persecution and demanded unconditional acquittal. Under the order of Li Yanping, inmates then hit her, causing bruises and injuries all over her body. Inmate Zhang Xiuyuan dug at her eyes and pinched her throat with her fingers.
On October 21, 2008, He Yingjie forced-fed Ms. Hu with hot water. The gastric tube that she used for force-feeding was intended only for one-time use. However, inmates used the same tube over 90 times to force-feed practitioners.
Related articles:
"Practitioner Kept in Solitary Confinement for Half Her Term at Heilongjiang Women's Prison"
http://en.minghui.org/emh/articles/2007/11/17/91408.html
"Hu Aiyun on Hunger Strike for Three Months"
http://en.minghui.org/emh/articles/2008/8/3/99470.html
"Ms. Hu Aiyun Describes Her Persecution Experience and Ten-Month Hunger Strike"
http://en.minghui.org/emh/articles/2009/4/5/106236.html
"Ms. Hu Aiyun Recounts Years of Cruel Torture and Inhumane Treatment"
http://en.minghui.org/html/articles/2011/6/17/126080.html