CCP Official Chen Deming Encounters Widespread Protest throughout Taiwan Visit
December 09, 2013 | By Minghui correspondent Liu Wen-Hsin
(Minghui.org) Falun Gong practitioners throughout Taiwan staged peaceful protests in multiple locations across the island in response to human rights criminal Chen Deming's visit to Taiwan. Chen is the President of the Chinese Communist Party's (CCP) Association for Relations Across the Taiwan Straits. Based on an investigation by the World Organization to Investigate the Persecution of Falun Gong (WOIPFG), Chen was actively involved in persecuting Falun Gong when he was Vice Governor and then Governor of Shaanxi Province from May 2002 to July 2007.
Chen Deming visited 50 sites in Taiwan over eight days, from November 26 to December 3. The practitioners' peaceful protests called for an end to the brutal 14-year persecution of Falun Gong in China.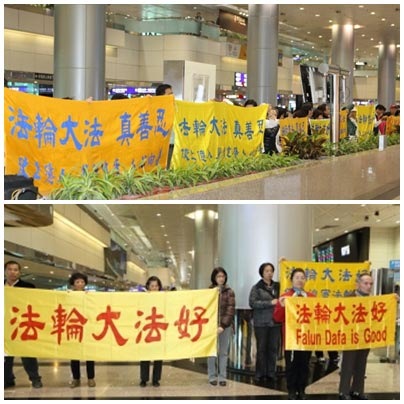 Falun Gong practitioners hold banners at the airport demanding an immediate end to the persecution in China
During his eight-day visit, Chen faced protests wherever he went. Upon his arrival in Taiwan, Chen and his delegation left by a side door after seeing a large crowd of protesters in the airport. Police attempted to block the protest with increased numbers of officers. Wherever Chen visited, Falun Gong banners worded "Falun Dafa is Great" and "Stop the Persecution of Falun Gong" accompanied him.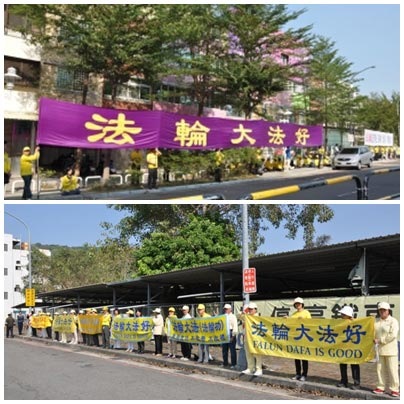 Chen Deming passes by Falun Gong practitioners protesting the persecution en route to south Taiwan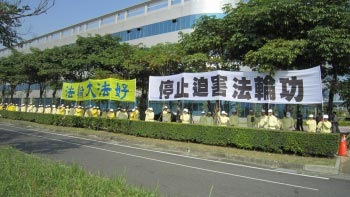 Falun Gong practitioners from Pingtung hold banners to protest the CCP's persecution
Chen Deming visited south Taiwan by train. Upon stepping out of the Chuoying Train Station his delegation faced protesting Falun Gong practitioners, as well as protests from other civil groups. They hurriedly got into cars and fled the scene. The practitioners stood across the street and shouted, "Falun Dafa is great! Stop persecuting Falun Gong!"
Falun Gong practitioner Cheng Chi-mei, who took part in the protests, said that she hoped Chen Deming would try to learn a bit about Falun Gong and grasp why so many are standing up against the persecution.
Many other groups also held protests wherever Chen's delegation visited. But at minus 3 degrees Celsius in Alishan, only Falun Gong practitioners were seen holding banners, persisting in their peaceful protest.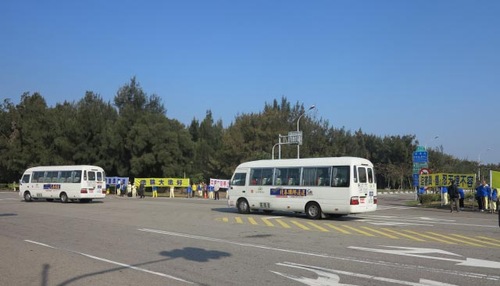 Practitioners hold banners for Chen Deming and his delegation to see when he visited Taichung Port Services Branch on the morning of November 30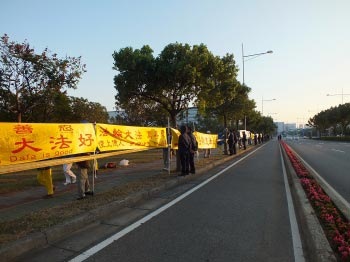 Practitioners hold banners in front of Taichung Science Park
Widespread Support
Many Taiwanese police officers on duty at the protest sites expressed their support for the practitioners' dedicated and peaceful efforts. Some even recommended more ideal locations for practitioners to hold their banners. They even assisted the practitioners by alerting them when the delegation was approaching, saying, "They are coming, start shouting," or, "They have left, you can take a break."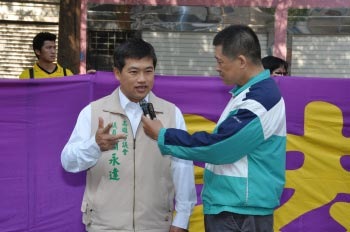 Kaohsiung City Council Member Hsiao Yong-da supports Falun Gong
Kaohsiung City Council Member Hsiao Yong-da said that the CCP's control of China involves widespread persecution of human rights. He noted that Falun Gong practitioners follow the principles of Truthfulness-Compassion-Forbearance and are not involved in politics and power, yet they are being brutally persecuted in mainland China.
Executive director Yang Yueqing of Taiwan's Youth Anti - Communist National Salvation Corps requested the Taiwanese government to openly announce to the public all agreements signed between the Taiwanese government and the Chinese regime, as a lot of closed-door agreements have been made. She requested the Chinese regime to release all prisoners of conscience, including all Falun Gong practitioners. Ms. Yang stressed that human rights, freedom of belief and the rule of law must be respected in China before any meaningful talks can take place between the two governments.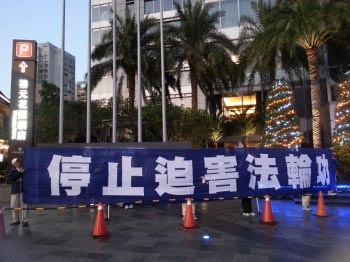 A large banner stating: "Stop the Persecution of Falun Gong"
The CCP delegation stayed at the Windsor Hotel in Taichung. Ms. Wang, a hotel employee, said, "I saw a large banner with the words 'Stop the Persecution of Falun Gong.' I believe that live organ harvesting [of Falun Gong practitioners and other prisoners of conscience] is indeed taking place in China." She gave a thumbs up to show her support for the practitioners standing outside in the cold wind.
Several other groups also protested the CCP delegation at the Windsor Hotel. As they passed the practitioners, they said, "Keep it up! We support you!" They joined the practitioners in shouting, "Falun Dafa is great! Stop persecuting Falun Gong!"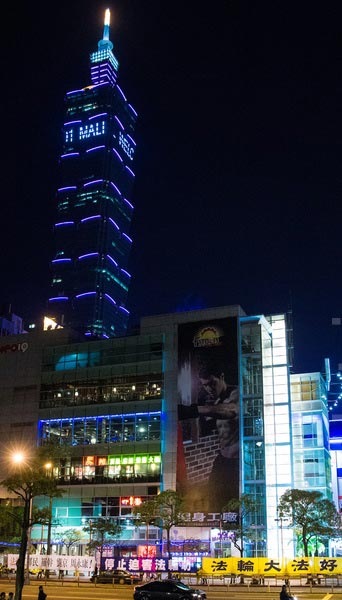 Falun Gong practitioners hold banners around Taipei 101 and Hsin-yi Square.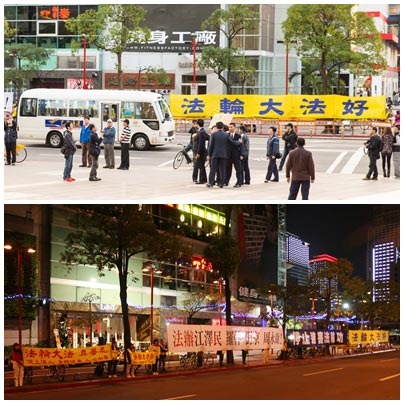 Falun Gong practitioners hold banners at the main intersection next to Taipei 101
CCP Delegation Leaves Taiwan in a Hurry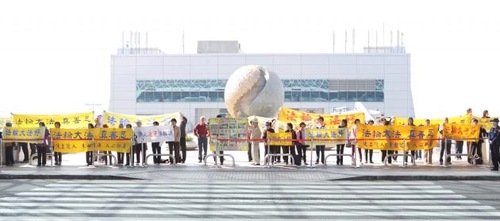 Practitioners protest Chen Deming outside the airport, demanding an immediate end to the persecution of Falun Gong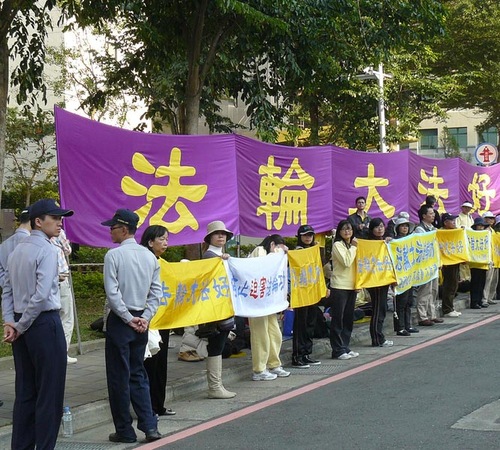 Chen Deming arrives at Taoyuan Airport to the sight of Falun Gong practitioners protesting
Chen Deming concluded his 8-day visit accompanied by protests. At noon on December 3, the delegation arrived at Taoyuan Airport and had no way to avoid the colorful banners stating, 'Falun Dafa is Great', and the sound of practitioners shouting in unison, "Stop persecuting Falun Gong!"
The Mainland Affairs Committee promised to hand over a petition letter from the Legislative Council requesting the CCP to release 18 prisoners of conscience including Falun Gong practitioners Wang Zhiwen and Li Chang, human rights lawyer Gao Zhisheng, democratic activist Wang Binzhang and Peng Ming. A reporter asked Chen Deming when he stepped out of his car, "Have you received the petition letter requesting the release of the 18 prisoners of conscience?" Startled, Chen evaded the reporter, busying himself with someone else.
For the duration of Chen Deming's visit to Taiwan, including stops in Taipei, Hsinpei, Taoyuan, Taichung, Chiayi, Kaohsiung and Pingtung, he heard practitioners' shouts of "Stop persecuting Falun Gong" wherever he went.
Falun Gong can be freely practiced in every country except mainland China.