Vancouver, Canada: Falun Gong Practitioners Participate in Rogers Santa Claus Parade
December 05, 2013 | By Minghui correspondent Zhang Ran
(Minghui.org) Falun Gong practitioners participated in the Rogers Santa Claus Parade in Vancouver, Canada on December 1. This was the 10th year for the parade, a much anticipated annual family tradition in downtown Vancouver, one of Canada's biggest cities. About 300,000 people came out to enjoy and celebrate the holiday season. Local media covered the parade and tens of thousands watched on TV.
Falun Gong practitioners contributed to the festive event with their Divine Land Marching Band, "celestial maidens" dancers, a beautifully decorated float on which practitioners demonstrated the Falun Gong exercises, and a group of traditional waist drum performers. They were one of the largest entries in the procession.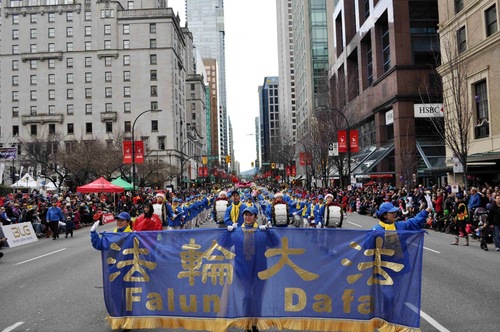 Falun Gong practitioners participate in the 10 th annual Rogers Santa Claus Parade in Vancouver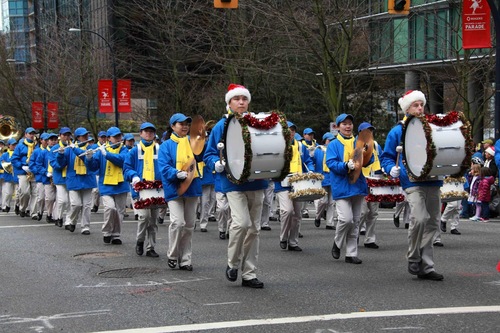 Divine Land Marching Band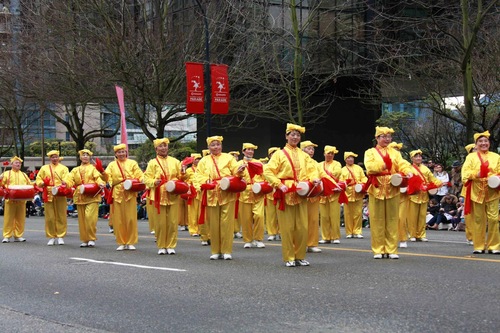 The energetic and enthusiastic waist drummers
Exercise demonstration on the beautifully-decorated float with the Chinese characters: Truthfulness-Compassion-Forbearance
Using their Hearts to Perform
"We participate in the parade to demonstrate the beauty of Falun Gong and to wish everyone a Merry Christmas and Happy New Year," said Ms. Liu, one of the coordinators of the Falun Gong parade entry.
The Falun Gong contingent was warmly received and drew the attention of the media. Spectators applauded, cheered and took photos all along the route. "Here comes Falun Gong!" could be heard from time to time from Chinese spectators.
"They're performing from the heart, I can feel it," said Mr. Stephen Dionic. He stood on the roadside smiling and waving to the Falun Gong practitioners in the parade. He pointed at his heart and said, "I can feel that they're putting their hearts into their performance, and I'm grateful to them for bringing beauty and joy to us." He added, "I love their performance." He smiled and gave the thumbs-up to the practitioners as they passed by.
The Lively Waist Drum Group
Ms. Liu, coordinator of the waist drum group, talked about how she changed after she began practicing Falun Gong. She used to be plagued by illnesses, but practicing Falun Gong enabled her to recover her health. She is delighted with her recovery and says she feels energetic after she does the exercises every morning.
She introduced her group, saying that many of the practitioners in the waist drum group are over 65 years old, the same as her. They are full of energy as a result of practicing Falun Gong, and they were still in high spirits even after the parade was over.
Ms. Liu said, "Falun Gong is still being persecuted in China. Many people have been deceived by the Chinese regime's lies. We come to participate in the parade, hoping to share the beauty of Falun Gong and to help everyone understand that Falun Gong is wonderful!"