Wei Yanjun Forced Into Homelessness after Four Years in An Isolated Prison Cell
December 18, 2013 | By a Minghui correspondent from Shandong Province, China
(Minghui.org)
Summary of Key Persecution Facts:
Name: Wei Yanjun(魏延军)
Gender: Male
Age: 39
Address: Taian City, Shandong Province
Occupation: Employee of Taian City No. 3 Telecom Plant
Date of Most Recent Arrest: October 11, 2009
Most recent place of detention: Taian Prison(泰安监狱)
City: Taian
Province: Shandong
Persecution Suffered: Detention, extortion, interrogation by torture, iron chair, starved, sleep deprivation, illegal trial, illegal sentencing, imprisonment, brainwashing, forced to sit on a small bench for a long time, brutal beatings, slapped in the face, and solitary confinement
Mr. Wei Yanjun of Taian City, Shandong Province, was arrested in October 2009, and sentenced to a four-year prison term. He was held in an isolation cell in Taian Prison, where he suffered insults, beatings, and other types of torture. Mr. Wei was released from prison this year. He was injured all over and had to become homeless because his family had broken up.
Mr. Wei used to work at the Taian City No. 3 Telecom Plant. In July 1994, he attended the lectures given by Master Li Hongzhi, the founder of Falun Gong, in Jinan. After that he understood the true meaning of life, became a good person, and lived by the principles of Truthfulness-Compassion-Forbearance.
Steadfast Falun Gong Practitioner Tortured
After the Chinese Communist Party (CCP) banned Falun Gong and started the persecution of the practice in July 1999, Mr. Wei remained a steadfast practitioner. He went to Beijing to appeal for the right to practice Falun Gong in January 2001, was arrested by Beijing police, detained by Taian City police, and had 5,000 yuan extorted from him. He became homeless in September 2001 to avoid being taken to a brainwashing center.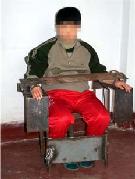 Torture Reenactment: Iron Chair
Mr. Wei was arrested at his rental residence on October 11, 2009, by captain Zhang Guangfeng, vice captain Qi Xin from the Domestic Security Division of the Taishan District Police Department, and officers from the Dongguan Police Station.
The police interrogated him using torture. Officers Zhang Guangfeng, Qi Xin, and others cuffed him to an iron chair and deprived him of food and sleep. Police Bi Xin and others from the Taishan District 610 Office threatened his family and prevented them from hiring a lawyer. On March 16, 2010, Taishan District 610 officers, the Taishan District Procuratorate, and the Taishan District Court put him on trial. He was sentenced to four years in prison on March 24 and transferred to the Taian Prison Division No. 5 (now Division No. 1) on April 13.
He refused to be "transformed," so supervisor Liu Xinrong and instructor Gao Lingshan of Division No. 5 monitored him around the clock. He was held in the No. 7 Management Team, one of worst areas in the prison. He was assigned to a group that was known to be involved in the forced "transformation" of Falun Gong practitioners. The team leader of that group, Yu Zhijun, was very corrupt. The team members included Zhao Yupei, who was guilty of assault; drug trafficker Du Shanhui; and embezzler Feng Dongjun. They took turns monitoring him, forced him to watch videos that slandered Falun Gong daily, forced him to sit on a small stool for long hours, and deprived him of sleep.
Due to long term sitting, Mr. Wei's buttocks festered, blood stained his underwear, his blood pressure rose to over 160, and he was barely conscious.
He was then transferred to the No. 9 Management Team where the torture continued. Instructor Gao Lingshan of Division No. 1 said to him, "You have to 'transform.'" He also instructed embezzler Zhang Qingshu, murderer Wang Yibing, Zhao Yupei, Yu, and others, "I want to see results. I don't care how you achieve it." These prisoners beat him, kicked him, slapped him, spitting in his face, and inserted rags into his mouth. They were ruthless.
Mr. Wei was held in isolation, monitored by between three and seven criminals, forbidden to talk with anyone, and could not look into anyone's eyes. Whether he went to the toilet or the hospital, he was monitored by two or three criminals. He was regularly abused and bullied.
Mr. Wei's wife could no longer bear the pressure, so she took their child, and divorced him. Therefore, he had nowhere to go when he was released and became homeless.
Those Involved in Persecuting Mr. Wei:

From the Taishan District Police Department:
Qi Jinghui, former director
Zhang Jun, former deputy director
Zhang Guangfeng, former captain of Domestic Security Division
Qi Xin, captain of Domestic Security Division
Shen Dayong, police
From Taian Prison:
Liu Xinrong, former supervisor of Division No. 5
Gao Lingshan, former instructor of Division No. 5
Zhu Xuhu, supervisor of Division No. 1
Lu Wenfeng, instructor of Division No. 1
Liu Zengzhong, deputy instructor of Division No. 1
Zhao Yong, police of Division No. 1 carried out the transformation persecution