Amnesty International: China's Abolition of the Labor Camp System "a Cosmetic Change"
(Minghui.org) Abolishing the "re-education through labor" (RTL) system appears to be "a cosmetic change just to avert the public outcry over the abusive RTL system where torture was rife," states Corinna-Barbara Francis, Amnesty International's China Researcher.
"Re-education through labor" is a term that the Chinese regime coined to disguise what really goes on in its forced labor camps – torture, overwork, hazardous working conditions, and often brainwashing.
Amnesty International released a new report regarding China's forced labor system on December 17. The report concludes that "it's clear that the underlying policies of punishing people for their political activities or religious beliefs haven't changed. The abuses and torture are continuing, just in a different way."
The Amnesty International report confirms what the Minghui website has reported repeatedly since early 2013 when Chinese authorities first announced the closure of the labor camp system.
Abuses Continue Despite Labor Camps Closings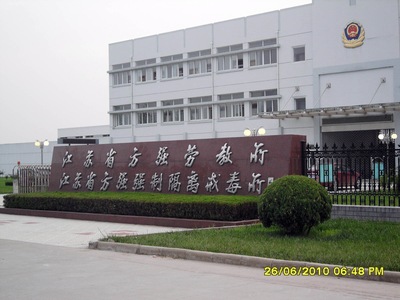 The Jiangsu province Fangqiang Labor Camp (pictured) was shut down in February 2013, according to the Amnesty report. However, Falun Gong practitioners were transferred to another labor camp when "released." The names at the gate say both "reform through labor" and "drug rehabilitation center." While we know the labor camp has been declared "shut down," it doesn't mean the drug rehabilitation center at the same location is also closed.
A few trends are identified through the research of Amnesty International. Many labor camps have simply changed their name when they are declared "shut down." In many cases, they are renamed drug rehabilitation centers and continue to serve as facilities for arbitrary detention and torture.
Chinese authorities are increasingly making use of so-called "black jails," drug rehabilitation centers, and "legal education centers" (a euphemism for "brainwashing centers") to take the place of "reform through labor" camps.
The Amnesty report states that 610 Office authorities and police officers routinely show up at the local labor camps on the day Falun Gong practitioners are released to transfer them directly to brainwashing centers and continue with the torture and other indignities typically forced upon them.
For example, Zhang Zhi, a Falun Gong practitioner and former teacher at the Heilongjiang Agricultural Farm Middle School, was released in June 2013 from the Harbin Drug Rehabilitation Center. Staff from the Harbin 610 Office waited at the gate and tried to transfer her to a brainwashing center. Zhang was able to escape only because her family was there and intervened. She had to go in hiding, fearing that the 610 Office would try to take her from home to the brainwashing center again.
There are also cases where Falun Gong practitioners were sent to brainwashing centers established at former labor camp locations.
The information released in the Amnesty International report is consistent with statements of Falun Dafa Information Center (FDIC).
FDIC stated in an earlier press release: "Such trends put Falun Gong practitioners and other detainees at greater risk because brainwashing facilities are even less legally codified than the Reeducation through Labor (RTL) system. Having no official existence, brainwashing centers are known to have been arbitrarily set up in facilities as varied as schools, apartments, or even old Buddhist temples."
Forced Labor Plays a Key Role in the Persecution
The forced labor system has played a key role in the persecution of Falun Gong, absorbing large numbers of practitioners over the years. Thousands of practitioners were sent to labor camps within a year of July 1999, the beginning of the persecution.
"Evidence suggests that Falun Gong [practitioners] constituted on average from one third to in some cases 100 per cent of the total population of certain RTL camps." the report states.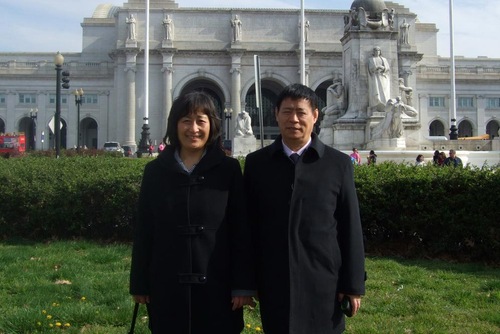 Zhang Lianying and her husband Niu Jinping on Capitol Hill. Ms. Zhang told Amnesty International that she personally knew 21 practitioners who died of torture in labor camps. (Photo from April 2011)
Ms. Zhang Lianying told Amnesty International that she personally knew 21 practitioners who died of torture in labor camps. In the notorious Masanjia Labor Camp, she was subjected to the "racking" torture as many as ten times within two months between July 14 and September 2008, in addition to sleep deprivation, electric shock, and beatings.
The Amnesty report published a recount of Ms. Zhang at the Beijing Women's Labor Camp:
"The most unbearable memory, which still chills me to recall, was that my nose and mouth were covered for long periods of time and repeatedly, so that I was not able to breathe until I lost control of my bladder and bowels. Over a period of months, I repeatedly experienced such torture. They stuffed my nose and mouth with wet towels so that I was unable to breathe... The pain was so severe that I felt I would explode and my whole body lost strength and my legs became limp until I was incontinent."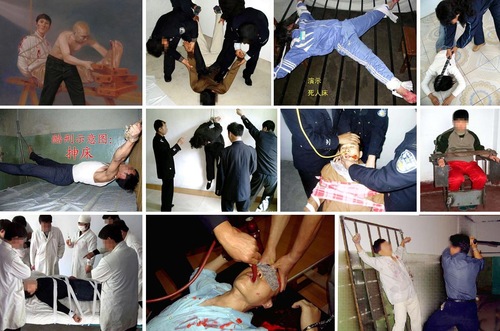 Methods of torture in "black jails:" tiger bench, violent beatings, death bed (Stretching bed, also called five horses splitting the body), electric shock, hanging cuff, force-feeding, iron chair, injection with unknown drugs
The report also points out that careers of labor camp staff are directly linked to their "performance" in persecuting Falun Gong practitioners. Such a persecution campaign utilizes tens of thousands of officials to control people's mind and torture people for their beliefs rather than engage in crime control.
"There is the very real risk that the Chinese authorities will abolish one system of arbitrary detention only to expand the use of other types." The Amnesty report warns.
Related News: • CNN Video and article: Amnesty report: China's abolition of labor camps a 'cosmetic change' • Amnesty International news report: China's 'Re-education Through Labour' camps: Replacing one system of repression with another? • Amnesty International full research report (PDF): "Changing the soup but not the medicine?" :Abolishing re-education through labour in China • Epoch Times article: "Amnesty International: New Name, Old Abuses as Labor Camps Close in China