Human Rights Day 2013: Worldwide Events Call for an End to Forced Organ Harvesting in China
December 14, 2013 | By practitioners in New York, Germany, Finland, and Malaysia
(Minghui.org) On December 10, 1950 the United Nations General Assembly adopted the Universal Declaration of Human Rights – the first global expression of rights to which all human beings are inherently entitled. Ever since this ground-breaking declaration over half a century ago, December 10 has marked Human Rights Day with worldwide events focusing on human rights abuses around the globe.
This year, non-governmental organizations (NGOs), governments, and Falun Gong practitioners held various events on or near Human Rights Day to condemn forced organ harvesting in China and to call for an end to the 14-year persecution of Falun Gong.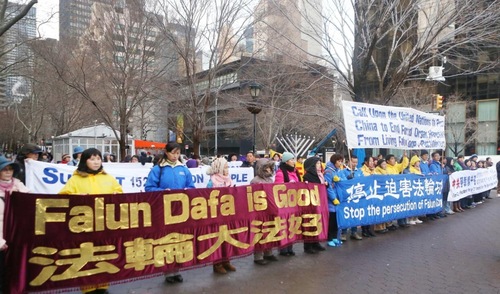 Falun Gong practitioners hold a press conference in front of the United Nations headquarters in New York on December 10, condemning the Chinese regime's brutal persecution and live organ harvesting.
New NGO Special Report Released on Human Rights Day
Mr. Wang Zhiyuan, a representative of the World Organization to Investigate the Persecution of Falun Gong (WOIPFG), announced the release of a Special Issue on Evidence of the CCP's Live Organ Harvesting from Falun Gong Practitioners, at a press conference in front of the United Nations headquarters in New York. The report details evidence from long-term investigations, including phone records and witness accounts.
The Special Issue listed 19 phone records and other investigation reports. In the report, a riot policeman who witnessed a live organ harvesting when he was on duty described the entire process of removing a heart from a living Falun Gong practitioner.
In phone conversations with investigators posing as potential organ recipients, doctors in organ transplantation centers in China, from north to south, including Beijing, Tianjin, Shanghai, Wuhan, Guangdong, and Guangxi, admitted that they used donor organs from Falun Gong practitioners and went so far as to guarantee organs for transplant within one to two weeks.
Chen Qiang, a contact person for kidney transplants in the Department of Organ Transplantation, Military Hospital 307, Fengtai District, Beijing, admitted that the organ trade was operated jointly by government officials, the police, and the prison system. He said that he could provide information to confirm that the donors were Falun Gong practitioners. A policeman from the Jinzhou Criminal Court said explicitly that Falun Gong practitioners' organs could be obtained depending on the price tag.
DAFOH: 1.5 Million People Say "No" to Organ Harvesting
A global petition initiated by DAFOH (Doctors against Forced Organ Harvesting) collected nearly 1.5 million signatures from over 50 countries on 4 continents between July and November 2013. The petition calls on the UN to take action to help end forced organ harvesting in China. DAFOH hand delivered these signatures to the United Nations headquarters in Geneva on December 9 and held a press conference to announce the results on Human Rights Day, December 10.
Voices from the Arctic Decry the Persecution
Falun Gong practitioners held a candlelight vigil in Rovaniemi, Finland, on Human Rights Day to protest the Chinese Communist Party's (CCP) persecution and to call for an end to the Party's atrocity of organ harvesting from living people – innocent prisoners of conscience.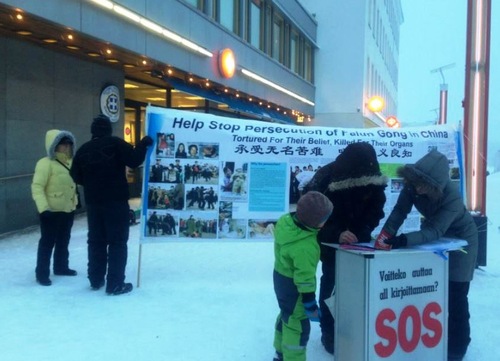 Falun Gong practitioners collect signatures in Rovaniemi, Finland, to help end the persecution.
Rovaniemi is located on the Arctic circle. It was dark at 2:30 p.m. and the temperature was 30 degrees below zero Celsius on December 10. There were crowds of people downtown for the Forest Week Festival. Many tourists were happy to receive fliers about Falun Gong, and a number of local residents signed the petition to show their support.
Germans Condemn the Persecution
Every day, hundreds of tour buses from Britain, France, Holland, and Belgium visit the great Cathedral of Cologne, Germany. At this popular tourist destination, Falun Gong practitioners recently collected signatures on a petition initiated by the International Society for Human Rights (ISHR/IGFM) calling for immediate release of Lu Kaili, a Falun Gong practitioner in China. Many tourists and locals signed this petition, as well as the one against forced live organ harvesting.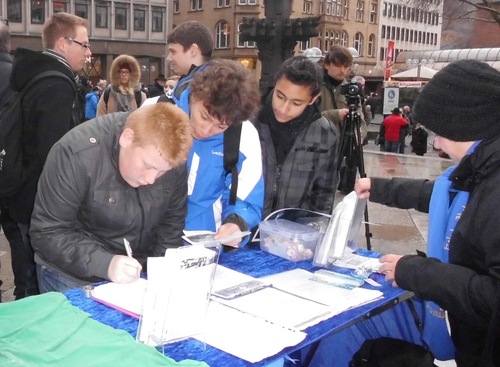 Germans sign petitions calling for the release of Mr. Lu Kaili and condemning live organ harvesting.
The petition explained that Mr. Lu Kaili, a lawyer in Dalian, Liaoning Province, China, went to Beijing to appeal for Falun Gong in 2000. He has been imprisoned since then in forced labor camps and has been subjected to torture. Mr. Lu was sentenced to 10 years in prison in 2006. He was imprisoned in Yongkou Prison and later transferred to Panjin Prison.
Mr. Lu was shocked with electric baton for several hours in one day and sustained injuries over his entire body. He is now paralyzed and incontinent after one of his lower vertebrae was fractured. He was sent to Jinzhou Prison in May 2012. His friends and family are not allowed to visit him because he refuses to give up his belief in Falun Gong.
A tour group from France signed the petition after learning the facts. They were shocked to learn that the CCP is involved in live organ harvesting from prisoners of conscience.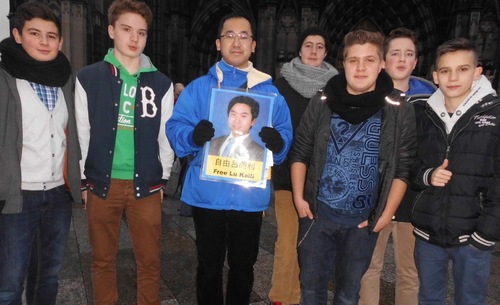 Young men call for the release of Mr. Lu Kaili, who is imprisoned in China for his belief.
Falun Gong Practitioners in Malaysia Expose CCP Atrocity of Live Organ Harvesting
Falun Gong practitioners in Malaysia staged a peaceful protest of the CCP's organ harvesting atrocities in front of the Chinese Embassy on December 10, 2013.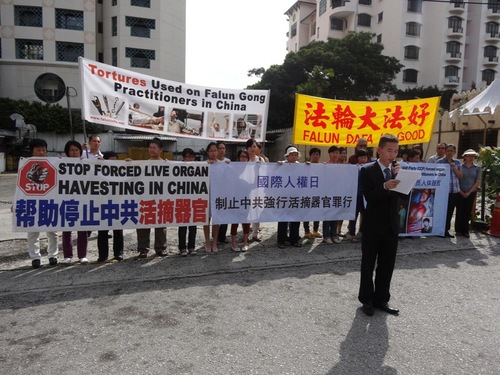 Practitioners in Malaysia protest live organ harvesting on December 10, 2013, International Human Rights Day.
They supported the DAFOH signature campaign and collected over 69,000 signatures in Malaysia, including signatures from 480 doctors, 227 lawyers, and 15 Members of Parliament.
Chairman Yang Sheng of the Falun Dafa Study Center hoped that each government would pass a law prohibiting unlawful transplant tourism to China. He said, "The Malaysia Ministry of Health has stopped providing immune suppression drugs to those patients who get organ transplants overseas, as a step to prohibit organ trafficking. It is the right thing to do."
Falun Gong practitioners also accepted an invitation to participate in the Aboriginal Resident Charity Dinner held by the Malaysia Bar Association. The practitioners gave details of the CCP's atrocity of live organ harvesting to more than 700 lawyers. The presentation was well received and many guests expressed appreciation to the practitioners for telling them about the genocide taking place in China. Many were shocked at the crime and took informational materials to share.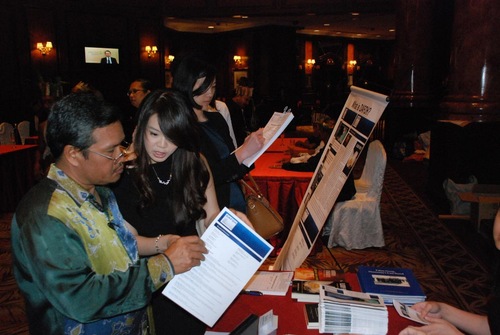 Event at the Malaysia Bar Association had a positive impact on lawyers.
The Persecution Continues
Although rarely in the forefront of the news, the persecution of Falun Gong continues to this day in China. Practitioner Ms. Wang Huilian said that her former colleague, Ms. Yao Changli, was arrested in July 2013 for distributing Falun Gong information. Ms. Yao is being held in the Changchun Detention Center and faces a prison sentence. Che Pingping, an outstanding Northeast Teachers University graduate, was taken away by police in front of his house in October 2013. He is being tortured with punitive forced-feeding and his life is in danger.
As long as the persecution continues, Falun Gong practitioners in China face the threat of imprisonment, live organ harvesting, torture, and death.
Ms. Wang, who used to be a lecturer at Northeast Teachers University, said at the New York press conference on December 10, "I was illegally arrested in March 2004, and several times in the labor camp I had my blood drawn. The blood draw was supposedly part of a physical examination. Actually, the Party carries out its persecution policy to eliminate Falun Gong. Live organ harvesting is a part of the brutal policy to eradicate practitioners."
Related articles (Chinese versions): http://www.minghui.org/mh/articles/2013/12/12/世界人权日-来自北极圈里的反迫害之声(图)-283864.html http://www.minghui.org/mh/articles/2013/12/12/国际人权日-马国法轮功学员揭露中共活摘罪行-283899.html http://www.minghui.org/mh/articles/2013/12/12/世界人权日-德国民众谴责中共迫害-283897.html