Munich, Germany: Informing Tourists and Locals of the Chinese Regime's Organ Harvesting Crimes (Photos)
(Minghui.org) On October 26, 2013, Falun Gong practitioners held several truth clarification activities in Marien Square in central Munich, Germany. They set up an informational booth, demonstrated the five Dafa exercises, and collected signatures denouncing the Chinese Communist Party's (CCP) practice of harvesting organs from living Falun Gong practitioners.
After three German men spoke to a practitioner about the Party's crimes against humanity, they immediately signed the petition form initiated by Doctors Against Forced Organ Harvesting (DAFOH), which calls on the United Nations to help stop the CCP's chilling practice of live organ harvesting.
Having lived under communist rule, the men were acutely aware of the evils of communism. "Thanks to the fall of the Berlin Wall, we've gotten rid of communism, for now," said one of the men. They said that it would be good if the Chinese people could take back their country from the clutches of the CCP. "Only in this way will the Chinese people know the true meaning of freedom," added one of the men.
Passersby sign a petition denouncing the CCP's crime against humanity.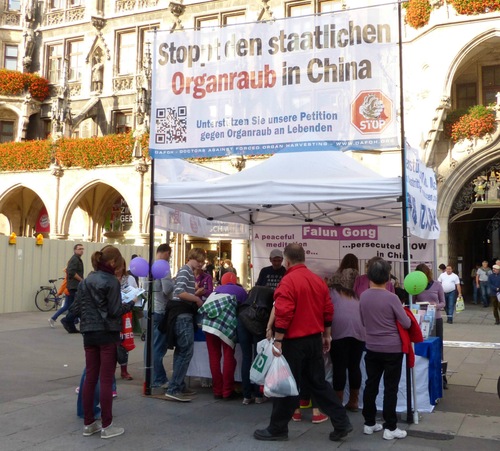 Practitioners hold activities in Marien Square in central Munich.
Tourists learn the truth about Falun Gong.
"Well done! Keep it up!" exclaimed a Chinese girl to the practitioners. "What a good example you are setting for all of us!"
Crowds of people gathered around the practitioners as they performed the Dafa exercises. Next to them, was a large banner with the words, "Falun Dafa is Good." Some people followed along with the practitioners' exercise movements to learn.
Almost every person who learned the truth about the persecution, signed the petition form. When some Chinese tourists saw the practitioners' banners, "Quit the CCP" and "Falun Dafa is wonderful," they took photos.
Some Chinese tourists asked for informational materials on Falun Gong and chatted with the practitioners. Several Chinese said that the CCP is no longer on their minds because they had withdrawn from it, many years ago.
A German organ transplantation surgeon was visibly shocked when she read the practitioners' display boards, detailing the Party's practice of live organ harvesting.
She asked for a stack of fliers to take with her, so that she could hand them out to the people she knows. She also mentioned that she was going to look into the Chinese regime's alleged crimes of organ harvesting, and if they were true, she would do her best to help stop the atrocity.
A U.S. Government official said that he would look into the CCP's crimes of forced organ harvesting, when he returned to America.
A German couple signed the petition form and then said, "If we don't sign this form, things may never change in China. What else can we do to help?"
Mr. Heib was visiting Munich from nearby Freising. As a devout Christian, he said that he could not tolerate the evil deeds perpetrated by the CCP.
When a group of Russian tourists was passing by the practitioners' informational booth, one of them stopped to request a flier in Russian. It took a while for the practitioners to locate one, thus his group had walked a considerable distance away. That didn't seem to bother him one bit as he carefully signed the petition form.
Mr. Hügel Dieter, a civil servant in Munich, said that no one has a right to take another person's organs without their consent. He had learned about the rampant theft of human organs in China from the German media.
He recalled a news story from a few months ago about a little boy in China who was kidnapped and had his corneas stolen. "I don't know how he'll be able to trust people when he grows up." He promised to do everything in his power to help stop the Chinese regime's crimes against Falun Gong.
"It must be stopped!" exclaimed a local Bavarian woman, referring to the CCP's practice of live organ harvesting. While she was adding her signature to the petition form, she asked if her teenage son, who standing beside her, could sign as well.
When Ms. Guan, a Falun Gong practitioner, boarded a bus to attend the practitioners' event in Munich, she asked a German man sitting next to her to sign the petition. The man eagerly signed it and then told her: "It's great that you're going to Munich today to tell people about the persecution of Falun Gong. I wholeheartedly support your efforts!"