Xishi Court Secretly Sentences Kindergarten Teacher to Five Years in Prison
November 04, 2013 | By a Minghui correspondent from Liaoning Province, China
(Minghui.org) Bao Haimin, presiding judge of the Xishi District Criminal Court in Yingkou City, Liaoning Province, illegally sentenced Yingkou City Falun Gong practitioner and kindergarden teacher Ms. Si Guanyan to five years in prison, without informing her family or attorney. When Ms. Si's family went to reason with Bao, he refused to see them or to give them the written judgment. Ms. Si has appealed to the court.
On September 28, 2012, at 10 a.m., under the orders of Dong Jianguo, director of the Political and Legal Affairs Committee of Yingkou City, Jiang Mingfu, captain of the National Security Division of Xishi District; Wang Yizhen, captain of the Wutaizi Police Station; and police officer Liu Zhenlong barged into Guanqun Kindergarten in Xishi City and arrested Ms. Si. They ransacked the kindergarten and confiscated a printer and other office supplies. It was rainy and cold, but Ms. Si was handcuffed and not allowed to put on her shoes or clothes. The handcuffs left marks and bruises on her arms and made her blood pressure go up.
The local detention center refused to take Ms. Si, so the police took her to the Yingkou City Detention Center. After the arrest, the police went to Ms. Si's home and ransacked it. They confiscated her notebook computer and other personal belongings. Three days later, the police installed monitoring equipment in front of Ms. Si's kindergarten.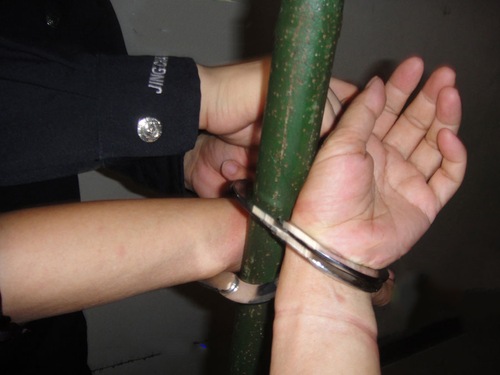 Handcuffs
Dong Jianguo ordered the National Security Division and Wutaizi Police Station to fabricate evidence to frame Ms. Si. Because the "evidence" was full of loopholes, the procurator's office sent it back to them twice. At last, the public security offices, including the Public Security Bureau, the procuratorate, and the court conspired with one another to hold a hearing against Ms. Si on July 26, 2013.
On July 26 at 8 a.m., the Xishi District Court was heavily guarded with police cordons everywhere. Many police cars were parked in front of the courthouse. Only two of Ms. Si's family members were permitted to attend the hearing; the rest were kept out. Undercover police and uniformed officers were taking pictures of and videotaping the spectators outside the courthouse. During the hearing, Ms. Si's attorney, from Beijing, tried to defend her, but Bao Haimin repeatedly interrupted him. Later, without informing Ms. Si's family or lawyer, Bao secretly sentenced Ms. Si to five years in prison.
Related article: Lawyer Demands Release of Kindergarten Teacher Ms. Si Guiyan